Death toll in China earthquake up to nearly 9,000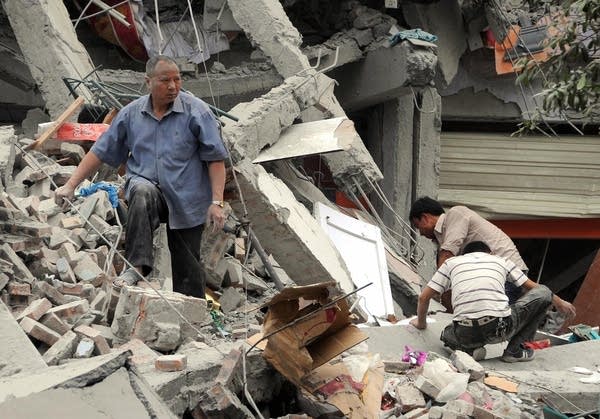 One of the worst earthquakes in decades struck central China on Monday, killing nearly 9,000 people, trapping about 900 students under the rubble of their school and causing a toxic chemical leak, state media reported.
The 7.8-magnitude earthquake devastated a hilly region of small cities and towns in Sichuan and nearby provinces. The official Xinhua News Agency said 8,533 people died in Sichuan alone and dozens of other deaths were reported in surrounding areas.
Xinhua said 80 percent of the buildings had collapsed in Beichuan county in Sichuan province after the quake, raising fears the overall death toll could increase sharply.
State media said a chemical plant in Shifang city had cratered, burying hundreds of people and spilling more than 80 tons of toxic liquid ammonia from the site.
The earthquake sent thousands of people rushing out of buildings and into the streets hundreds of miles away in Beijing and Shanghai. The temblor was felt as far away as Vietnam and Thailand.
The quake posed a challenge to a government already grappling with discontent over high inflation and a widespread uprising among Tibetans in western China while trying to prepare for the Beijing Olympics this August.
Before you keep reading ...
MPR News is made by Members. Gifts from individuals fuel the programs that you and your neighbors rely on. Donate today to power news, analysis, and community conversations for all.
It hit about 60 miles northwest of Chengdu in the middle of the afternoon when classrooms and office towers were full. There were several smaller aftershocks, the U.S. Geological Survey said on its Web site.
The temblor struck hilly country leading up to the Tibetan highlands, toppling buildings in small cities and towns in the largely rural area. About 1,200 pandas - 80 percent of the surviving wild population in China - live in several mountainous areas of Sichuan.
The earthquake, China's deadliest since 1976, occurred in an area with numerous fault lines that have triggered destructive temblor before. A magnitude 7.5 earthquake in Diexi, Sichuan that hit on August 25, 1933 killed more than 9,300 people.
Xinhua said 50 bodies had been pulled from the debris of the school building in Juyuan town but did not say if the children were alive. Xinhua reported students also were buried under five other toppled schools in Deyang city.
Xinhua said its reporters saw buried teenagers struggling to break loose from underneath the rubble of the three-story building in Juyuan "while others were crying out for help."
Two girls were quoted by Xinhua as saying they escaped because they had "run faster than others."
Photos showed heavy cranes trying to remove rubble from the ruined school. Other photos posted on the Internet and found on the Chinese search engine Baidu showed arms and a torso sticking out of the rubble of the school as dozens of people worked to free them, using their hands to move concrete slabs.
Calls into the city did not go through as panicked residents quickly overloaded the telephone system. The quake affected telephone and power networks, and even state media appeared to have few details of the disaster.
"In Chengdu, mobile telecommunication convertors have experienced jams and thousands of servers were out of service," said Sha Yuejia, deputy chief executive officer of China Mobile.
Although it was difficult to telephone Chengdu, an Israeli student, Ronen Medzini, sent a text message to The Associated Press saying there were power and water outages there.
"Traffic jams, no running water, power outs, everyone sitting in the streets, patients evacuated from hospitals sitting outside and waiting," he said.
The road to Wenchuan from Chendu was cut off by landslides, state media said, slowing the rescue efforts.
The earthquake also rattled buildings in Beijing, some 930 miles to the north, less than three months before the Chinese capital was expected to be full of hundreds of thousands of foreign visitors for the Summer Olympics.
Li Jiulin, a top engineer on the 91,000-seat National Stadium - known as the Bird's Nest and the jewel of the Olympics - was conducting an inspection at the venue when the quake occurred. He told reporters the building was designed to withstand a 8.0 quake.
"The Olympic venues were not affected by the earthquake," said Sun Weide, a spokesman for the Beijing organizing committee.
Skyscrapers swayed in Shanghai and in the Taiwanese capital of Taipei, 100 miles off the southeastern Chinese coast. There were no immediate reports of injuries or damage.
The quake was felt as far away as the Vietnamese capital of Hanoi, where some people hurried out of swaying office buildings and into the streets downtown. A building in the Thai capital of Bangkok also was evacuated after the quake was felt there.
A magnitude 7.8 earthquake is considered a major event, capable of causing widespread damage and injuries in populated areas.
The last serious earthquake in China was in 2003, when a 6.8-magnitude quake killed 268 people in Bachu county in the west of Xinjiang.
China's deadliest earthquake in modern history struck the northeastern city of Tangshan on July 28, 1976, killing 240,000 people.
Gallery
1 of 1