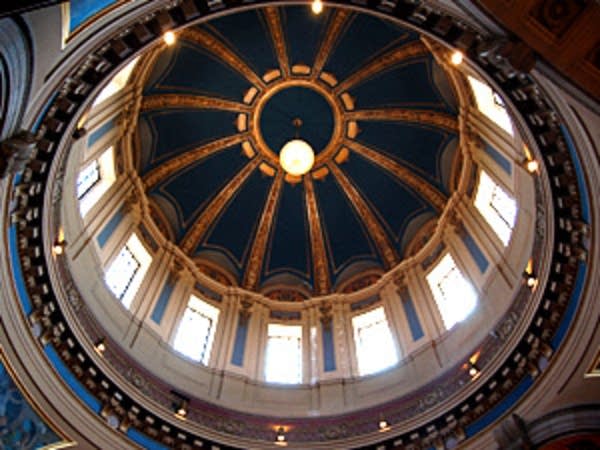 With four days to go until the Legislature is constitutionally required to adjourn, Gov. Pawlenty and legislative leaders have still not reached an agreement on the best way to erase the state's $935 million projected budget deficit. They will continue negotiating behind closed doors this morning, but seem to be stuck on the best way to provide property tax relief.
Democrats met Gov. Pawlenty's demand to cap property tax increases at 3.9 percent but also want $75 million in aid to local government and and $30 million in direct property tax relief for homeowners.
House Speaker Margaret Anderson Kelliher, D-Minneapolis, said the governor is now making other demands.
"Like the runner who is running the race who thinks they're running the 5K who is suddenly is told they're running the 10K who then is told they're running the marathon, It's becoming a little more difficult to know exactly where the finish line is," Kelliher said. Pawlenty has repeatedly said in recent weeks that a property tax cap was the key to budget negotiations.
His spokesman, Brian McClung, said they are pleased with the cap offer but will not take the property tax issue off the table since they need to reach agreement on the entire budget package. "If the Democrats are willing to do that at 3.9 percent, that would be positive. There are numerous other details that you mentioned, LGA, direct property tax relief and essentially the entire package as a whole and we'll continue to look at those and work on those issues," McClung said. Health care reform has also resurfaced in budget talks. Key health negotiators were seen shuttling in and out of the governor's office throughout the night on Thursday.
Sen. Betsy Wergin, R-Princeton, and Rep. Paul Thissen, D-Minneapolis, both said they can craft a health care reform package that Democrats and Pawlenty can live with.
"I think that was possible from the beginning," Wergin said. It appears that the governor and lawmakers have reached agreement on some issues. Sen. Tarryl Clark, D-St. Cloud, said they have reached agreement on the use of more than $400 million from the state's budget reserves.
She also said they agreed to $300 million in spending cuts out of a total budget cut of $355 million. Clark also said they plan to capture $109 million by closing the so-called corporate tax loophole.
If an agreement is not reached, the House and Senate appear ready to pass a budget related bills that the governor said he would veto. Pawlenty has two options if a budget agreement is not reached by Monday. He can either cut spending on his own through a process known as unallotment or call lawmakers back into a special session. It is uncertain if the House and Senate will try to override an expected veto of an education funding bill.
It passed both bodies with a veto proof majority but House Minority Leader Marty Seifert, R-Marshall, said it would be "nuclear war" if Democrats try the veto override.
He said they will uphold Gov. Pawlenty's veto of the education finance bill and was optimistic that another education funding bill could be part of an agreed upon budget package. Seifert also said his caucus would uphold a bill that would require the state to opt out of federal driver's license standards.
Seifert said he had a strategy involving Real ID but did not offer specifics. When asked if it could involve an executive order by Gov. Pawlenty, Seifert replied, "It could." The House is also expected to take up a whittled down transportation policy bill on Friday that has tougher restrictions on teen driving. Supporters of the bill were forced to remove a provision that would have allowed police to pull over motorists just because they were not wearing their seat belts.
Critics argue that police could practice racial profiling by pulling over suspicious drivers. Others say drivers should be allowed to decide whether they want to wear a seat belt.
Current law allows police to ticket drivers and passengers for not wearing a seat belt but police need to have another reason for making the traffic stop.