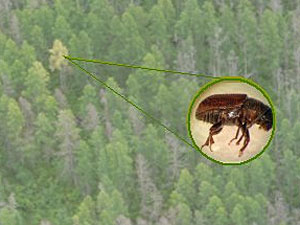 Minnesota Department of Natural Resources forester John Cofort is crossing a railroad bed that runs along Highway 2 east of Bemidji.
There's a swamp just below the rail line and it's the perfect habitat for tamarack tree, but many of the trees here are dead.
"We've got a tamarack stand here," said Cofort. "There are lots of standing dead trees that you can see. We've got one that was killed last summer right in front of us. We've got some live tamaracks to the side, and they're probably infested right now."
An insect called the larch beetle is killing these trees. The bugs favor tamarack and other tree species within the larch family.
The dark-colored insect is about the size of a grain of rice. They burrow holes in the trees. The females lay their eggs beneath the bark.
When the larvae hatch, they feed on the inner bark. That cuts off the tree's ability to transport water and nutrients.
"They come out about this time of year and they start colonizing in the tops of the trees," said Cofort. "They'll eventually work all the way down. It can take up to three to five years to completely kill a tree."
The larch beetle outbreak has already killed thousands of tamarack trees in northern Minnesota. About 65,000 acres are infested.
The bugs are nothing new. Larch beetles have been around for thousands of years. Experts aren't sure why the population has exploded, but they believe it's partly because of several years of drought.
Dry conditions weaken trees and make them more vulnerable to attack. Cofort says warming trends in the climate may also help the beetles thrive.
"It takes about 40 below to kill them off completely and right now we haven't had those cold temperatures for quite a few years," he said.
Cofort says there's no good way to fight the bugs. He says the best approach is to log affected stands so that at least some of the wood can be salvaged.
"It takes about 40 below to kill them off completely, and right now we haven't had those cold temperatures for quite a few years."

John Cofort, Minnesota DNR
There's a good market for tamarack at paper and lumber mills, Cofort says, and there's also a small but growing market for extracting chemicals from the trees for pharmaceutical and cosmetic products.
Larch beetle outbreaks like this aren't unusual in North America. The last big infestation in Minnesota was in the 1970s. Cofort says it's part of the natural cycle.
"There's no reason to panic," said Cofort. "The tamarack will survive this. We're going to lose a portion of our mature trees, but in most cases they will come back."
That survival will depend on young tamarack seedlings, which typically aren't affected by the pests.
The larch beetle is just the latest critter to threaten Minnesota trees. There have been recent outbreaks of native insect pests like pine bark beetles and jackpine budworms in the state. The threats have some property owners wondering what they can do to protect their trees.
According to U. S. Forest Service entomologist Steve Katovich, the simplest thing homeowners can do is to water their trees generously when things get dry.
Katovich says people should also be strategic about planting new trees.
"I think a really good thing to encourage people to do, is think about planting a diversity of trees," said Katovich. "We do have an array of different insects that are out there attacking. We have a whole new array of exotic non-native insects coming into the country, diseases, other problems for trees. The impact will not be as bad if you have a diversity of trees out there."
Katovich says one species people should avoid planting is the ash tree. That's because there's a looming threat from an Asian invader called the emerald ash borer. It's already killed millions of ash trees in the U.S.
Some experts say it could potentially wipe out the ash species in North America. Katovich says it's only a matter of time before the emerald ash borer arrives in Minnesota.
"It's a very impressive tree-killing insect, so that's a big concern," he said. "There's a lot of ash in northern Minnesota, and a lot of our communities have a lot of ash in them. Once that arrives, it's going to be a big problem for ash trees. We think that we're going to just basically lose almost all of our ash."
The threat of the ash borer and other tree-killing bugs has resulted in new laws in Minnesota.
It's now illegal to bring firewood onto state lands unless its obtained locally. Experts say that'll prevent harmful insects from hitchhiking into new territory.