McCollum criticizes Franken over Playboy article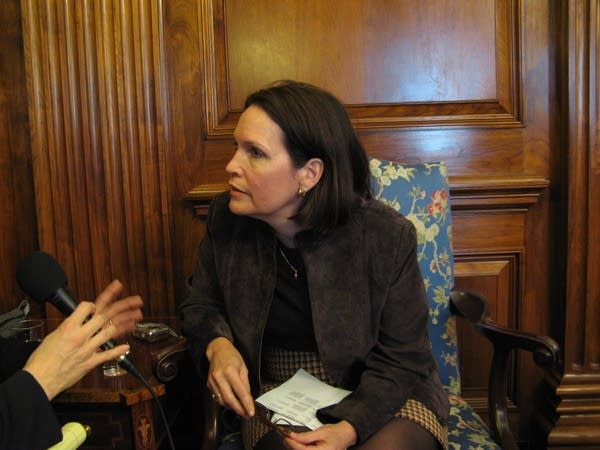 Democratic Rep. Betty McCollum said that a Playboy column written by Senate candidate Al Franken eight years ago was offensive and presents a serious political problem for Democratic candidates this year. McCollum, who had supported Franken rival Mike Ciresi until he dropped out of the race, told The Associated Press on Thursday that she was worried that Minnesota Democratic congressional candidates will be running with a candidate "who has pornographic writings that are indefensible."
"Do they spend all of their time defending him, or do they spend their time talking about issues that are important to this election?" she asked. "The whole story was a shocking surprise."
Two other Minnesota Democratic lawmakers, Keith Ellison and Tim Walz, also expressed concerns Thursday about the 2000 sexually explicit satirical column, which Republicans began circulating last week. But Franken campaign spokesman Andy Barr made no apologies.
"Al understands, and the people of Minnesota understand, the difference between what a satirist does and what a senator does," he said.
Grow the Future of Public Media
MPR News is Member supported public media. Show your support today, donate, and ensure access to local news and in-depth conversations for everyone.
McCollum, Ellison and Walz are up for reelection in the fall.
Franken, a former "Saturday Night Live" star and best-selling author, is the Democratic front-runner to take on Republican Sen. Norm Coleman.
In the Playboy piece, entitled "Porn-O-Rama!," Franken envisions visiting a "Minnesota Institute of Titology." He jokes that "since I've been married 23 years, I naturally chose" receiving virtual oral sex.
He also calls the Internet a "terrific learning tool," writing that his 12-year-old son was able to use it for sixth-grade report on bestiality.
That section, in particular, drew the ire of some Minnesota lawmakers.
"As a parent and an aunt, and talking to other parents, people are very concerned about the type of Internet use that's out there, and how it has a potentially harmful effect on children," McCollum said. "Sexually explicit material is one of the things that parents are very concerned about, and want to make sure that they're steering their children away from."
Added Ellison: "There were parts that made me feel a little uncomfortable," citing the sections on oral sex and bestiality.
"It presents a challenge," he said. "I have to ask myself, can I explain it to my 11-year- old daughter? I'd have considerable difficulty." Ellison said that constituents who have talked to him about it are "just sort of appalled."
But Ellison stressed that if Franken receives the DFL endorsement next week, as expected, he will support him.
McCollum was making no such promises.
"I'll have to see," she said.
McCollum said she hasn't encouraged Ciresi to get back in the race, but she noted she hasn't endorsed anyone since he left. Ciresi did not return telephone messages left Thursday.
McCollum said she spoke briefly with Franken Thursday morning, and that the candidate wanted to speak again.
"I told him this is a serious problem," she said. "I told him my cell phone's ringing off the hook. Union leaders call me, state House members are calling, I've had people in the coffee shop approach me, very concerned about this. They really feel this article is politically radioactive."
Democratic members of the Minnesota congressional delegation discussed the column at regularly scheduled meeting last week.
Walz, a freshman who received help from Franken in his 2006 race, said he found Franken's piece "pretty inappropriate."
"I'm concerned that from the top of the party all the way on down, people make a simple assumption that there are commonalities if we're all in the same party," he said. "I don't want to get associations made that I can't control."
Gallery
1 of 1