The 1900 block of Berkeley Avenue in St. Paul was buzzing a few weeks ago when a four-legged canine creature bounded by in the morning sun. Now it wasn't an Irish Wolfhound and it wasn't even a Labradoodle. But Phil Lundblad could only think of his own small dog's safety when he crossed the street, looked up...
"And down the middle of Berkeley comes this coyote, he said. "I mean he was really moving. He was travelling fast and he was big, and a grey coat. And just, God, beautiful animal. Amazing."
A coyote? In the middle of one of St. Paul's most densely residential areas? Lundblad had his disbelievers at first but he also had a corroborating witness.
"There was a woman out," he said. "She was across the street and she said 'did you see what I saw?' I said 'it was a coyote!' And she goes 'yes, it was a coyote.' "
Word of the coyote encounter got around fast, and the neighbors started sharing their own urban wildlife stories. There were tales of sharp shinned hawk sightings and other vaguely exotic birds of prey, foxes, raccoons and wild turkeys. Rabbits are as ubiquitous as squirrels on Berkeley Avenue these days.
Elaine and Bob Willis invited everybody to see the pair of ducks that have turned their backyard into a retreat for three years running.
"They just appear in the yard, she said. "And when they come I put out the water and they have come and stayed every day."
"Minnesota's supposed to be flyover country but these guys stayed," Bob Willis said.
Judging from the calls he's been getting in recent years, Brian Lueth can confirm, at least anecdotally, that interactions between people and animals in Minneapolis/St. Paul are on the upswing.
Lueth, an urban wildlife specialist for the Department of Natural Resources, says contrary to popular belief, animals aren't being forced into the city by encroaching development in the suburbs. They're being drawn here by the habitat.
"We're sort of reaping the benefits of our own efforts at protecting open space," he said.
Lueth says the core cities' success at preserving local parks and natural areas, combined with their proximity to two major rivers, have created a welcoming environment for wildlife. An animal re-colonization is taking place. And unlike their rural counterparts, many city dwellers want the animals around.
"Most urban residents leave them alone or give them space or even encourage them," he said.
The growing likelihood of urbanites and wildlife living in the same space has kept St. Paul Animal Control Officers such as Todd Carey on their toes.
"So, what we're going to do now is just gonna set this woodchuck trap, and they got a woodchuck living in this flower bed near the Schiller Statue in Como Park," he said.
The woodchuck in question has indeed made its mark on the flower bed, and Carey sets up a cagelike trap to capture it. You lure it in with food says Carey and a trip plate mechanism shuts the door.
"The type of bait that you use depends on the type of animal, whether it's a carnivore or an herbivore," he said.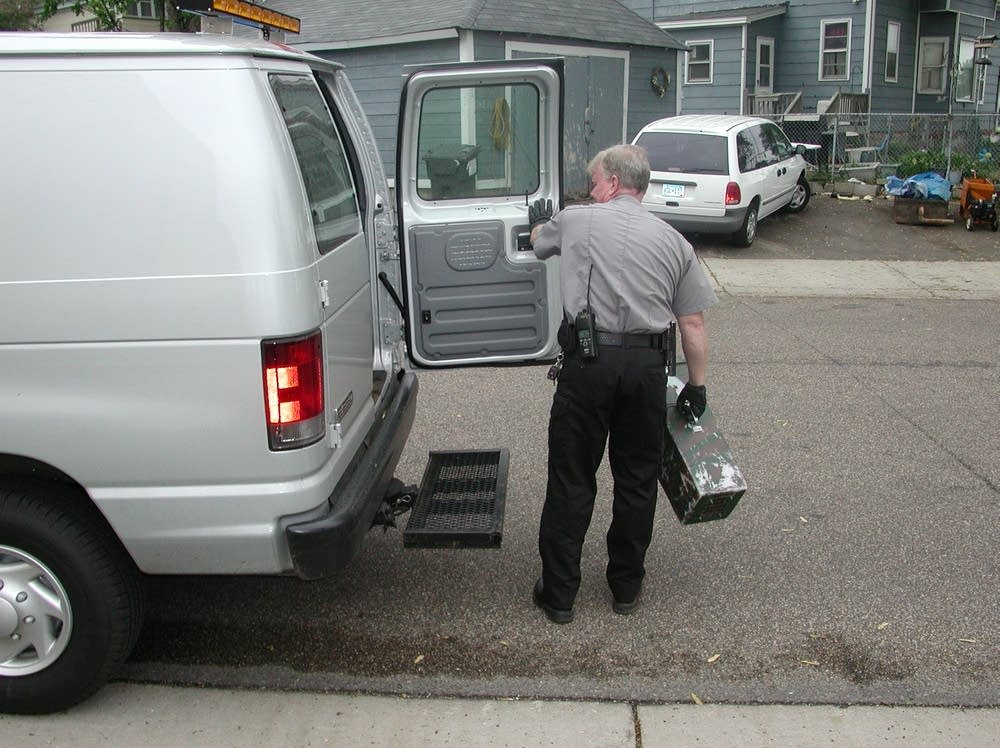 Carey uses carrots for the woodchuck and cat food for raccoons and skunks.
Setting traps and retrieving them is a daily task for Carey, in between taking calls from frazzled residents with bats in their bedrooms or raccoons in their chimneys.
He's also had some pretty amazing adventures, like the black bear he faced down in Dayton's Bluff, or the wild turkey he ran down in the Ford Plant. All in a day's work in St. Paul's wild kingdom.
"There are spots in St. Paul, there's so much wildlife it's like you're in the north woods," he said.
Two days after he planted the woodchuck trap in Como Park, Carey returns to another trap he set in someone's backyard just a few blocks away.
"And here we have a woodchuck that we captured in the trap, and now we're just going to remove the animal and take it to the animal control center," he said.
And what will happen there?
"This animal will be euthanized," Carey said.
It's the most unpleasant aspect of Carey's job, but he says it's city policy. The woodchuck's fate is upsetting news to April, a surveyor for Excel Energy who happened to be walking by the truck when Carey loaded in the cage.
"I think they belong in the wild and they should be released in the wild," April said.
"Well, where do we take them?" asks Carey.
"Take em to a nearby suburb that has a wooded area," April says, or maybe even deeper in the woods up north. Carey replies that it isn't practical or fair to dump the problem on another community, or to disrupt the balance in another habitat. He thinks it would also be labor intensive and costly, but he's familiar with the sentiment.
"I hear that quite often from folks," Carey said.
One partial solution, according to St. Paul Animal Control Supervisor Bill Stevenson, is for people to reduce the opportunities for wild animals to be pests.
"In the event that it may be a deer, or coyote, wild turkey even, you want to be more of a pain to them than they are to you," he said.
Cover your bird feed containers, says Stevenson, and when the animals enter your yard, bang some pots or squirt them with a hose.
"Eventually they get tired of frequenting your property and they're gonna say this is too much hassle and now I'm going to move down to the neighbor's house and it's the neighbor's problem," he said.
If all neighbors respond the same way, Stevenson says you'll keep the creatures leery of humans but still be able to enjoy them from afar.