Small wooden bowls filled with flowers and water encircle the baseball field in Powderhorn Park in Minneapolis.
Inside this circle, almost 100 people representing several Native American communities from Latin America and the United States dance and sing together to celebrate a traditional Aztec water ceremony, called Chalchiutlicue, from central Mexico.
Although individual native groups each have their own unique ceremonies, they've come together here to celebrate this one, because water is universally sacred to them. Water represents life. This water ceremony, put together by a community group called Danza Mexica Cuauhtemoc, allows people to pray, reflect, and learn together about environmental issues.
Nee-Gon-Nway-Wee-Dung, which means "Thunder Before The Storm" in Ojibwe, an honorary speaker, delivers the prayer.
"Mother, we ask you to continue to provide that fresh powerful medicine called water that pours through your rivers and streams and your veins, Mother Earth, and continues to nourish all of the earth, all living things."
The prayers are meant to bless and honor all waters, including the water in a bowl that sits on an altar at the center of this circle.
"After the ceremony, normally, we'd want to drink that water. But that water is not drinkable," says Jerry Lopez, one of the coordinators of the ceremony. "A long time ago, that water was perfectly safe to consume in small amounts but today we know we can't. The water and its pollution does prevent us from consuming that water."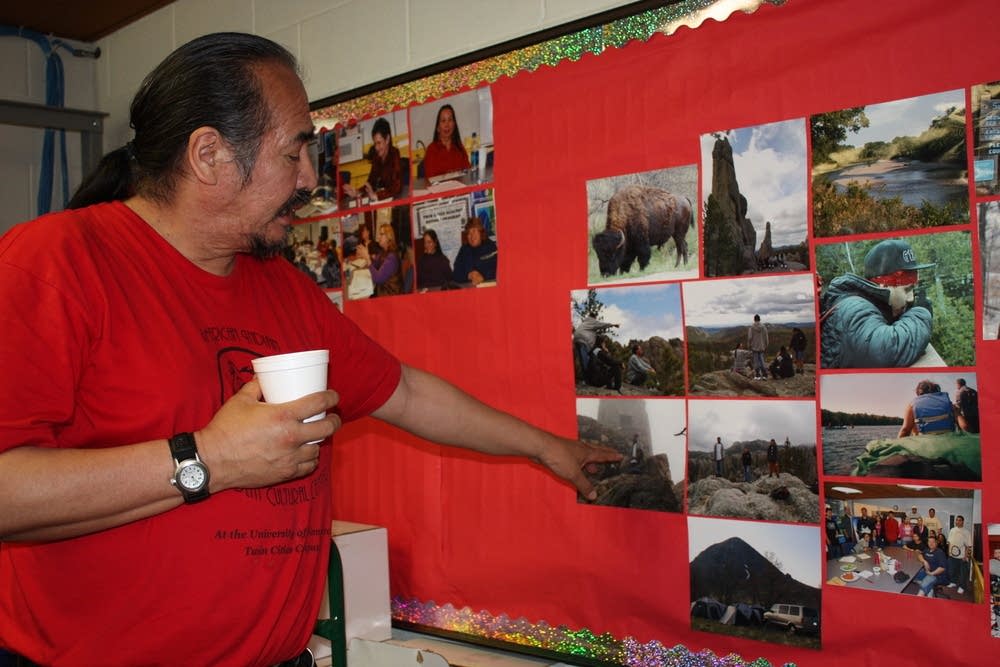 Instead of drinking the water, he says, people return the water to the lake. Powderhorn is among the 40 percent of Minnesota waters considered impaired because of contaminants.
Lopez and other organizers of the water ceremony put together an environmental justice conference to go hand in hand with the ceremony.
Many Native Americans are also testing the water themselves. Sharon Day, the executive director of the Indigenous Peoples Task Force, describes a simple way she teaches women and kids to test for water quality.
"You reach down in the water and you take up some of the soil and then you put it through a strainer and...when you sift the soil through the strainer, you'll see these invertebrates, and the more there are, of course, the healthier the water is," she says.
Other efforts in the Twin Cities are underway to teach young people how to use water quality testing kits and others help kids explore and document threats to water quality. This week, a group of inner-city Dakota teens will go on a canoe expedition from Lake Mille Lacs to Minneapolis, says LeMoine LaPointe, program director of the Healthy Nations Program at the Minneapolis American Indian Center.
"We have access to about 10 canoes and we are going to utilize those to place our young people on these rivers and take a look at what's affecting our rivers, what kind of pollutants are in them," he says. The teenagers will share the results of the water quality testing with land management groups, LaPointe says. But the ultimate goal is to reconnect kids to the environment with a cultural and spiritual approach. He wants youth to learn how to manage their own natural resources. Teenagers will learn about fish and plant life and the natural water cycle.
Ceremonies honoring water take place all the time in the Twin Cities, from individual private ceremonies to collective social ones, says LaPointe, who is originally from South Dakota. He, too, has made some changes around the Sweat Lodge ceremonies he celebrates.
"I've minimized attending purification ceremonies here and go all the way back to my home reservation where I know that we have clean water in some areas that we use and so I'm not afraid of going into purification ceremonies there."
These ceremonies continue to reconnect people with their culture even if it involves making adjustments, La Pointe says. The ceremonies ultimately serve as vehicles to learn about the environment and how to care for it.