An ethanol tanker rolled over near Lanesboro last week spilling ethanol into the Root River. The 8,000 gallon tanker was headed north from the Preston ethanol plant when it rolled over.
3,000 gallons were dumped into the river. Unlike oil or gasoline, ethanol is water soluble and evaporates quickly.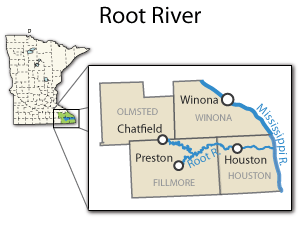 Nonetheless, officials were worried the ethanol could cause a fish kill. The DNR's Steve Klotz said he did not find any evidence of that.
"To create a concentration that would kill fish, trout, you'd really have to have a huge volume of ethanol or a much smaller resource. If that would have gone into a smaller stream that would have been a different story," Klotz said.
Klotz says there is very little research on what ethanol does to aquatic habitat. He added that this is the fourth time an ethanol tanker has rolled over and spilled into the Root River.