Katherine Wojtan doesn't want to believe that the scene surrounding the RNC will result in violence, but she says in the current political climate, it won't take much to set things off.
"People are feeling heated about a lot of things in this country right now," Wojtan said. "A lot of people are angry that we are still in Iraq, that we have as much of a military presence in other places in the world. There is a lot of potential for people who have differences to lose their cool a bit."
Wojtan is helping coordinate the Minnesota Peace Team. But her group isn't the only one preparing for possible melees during the convention.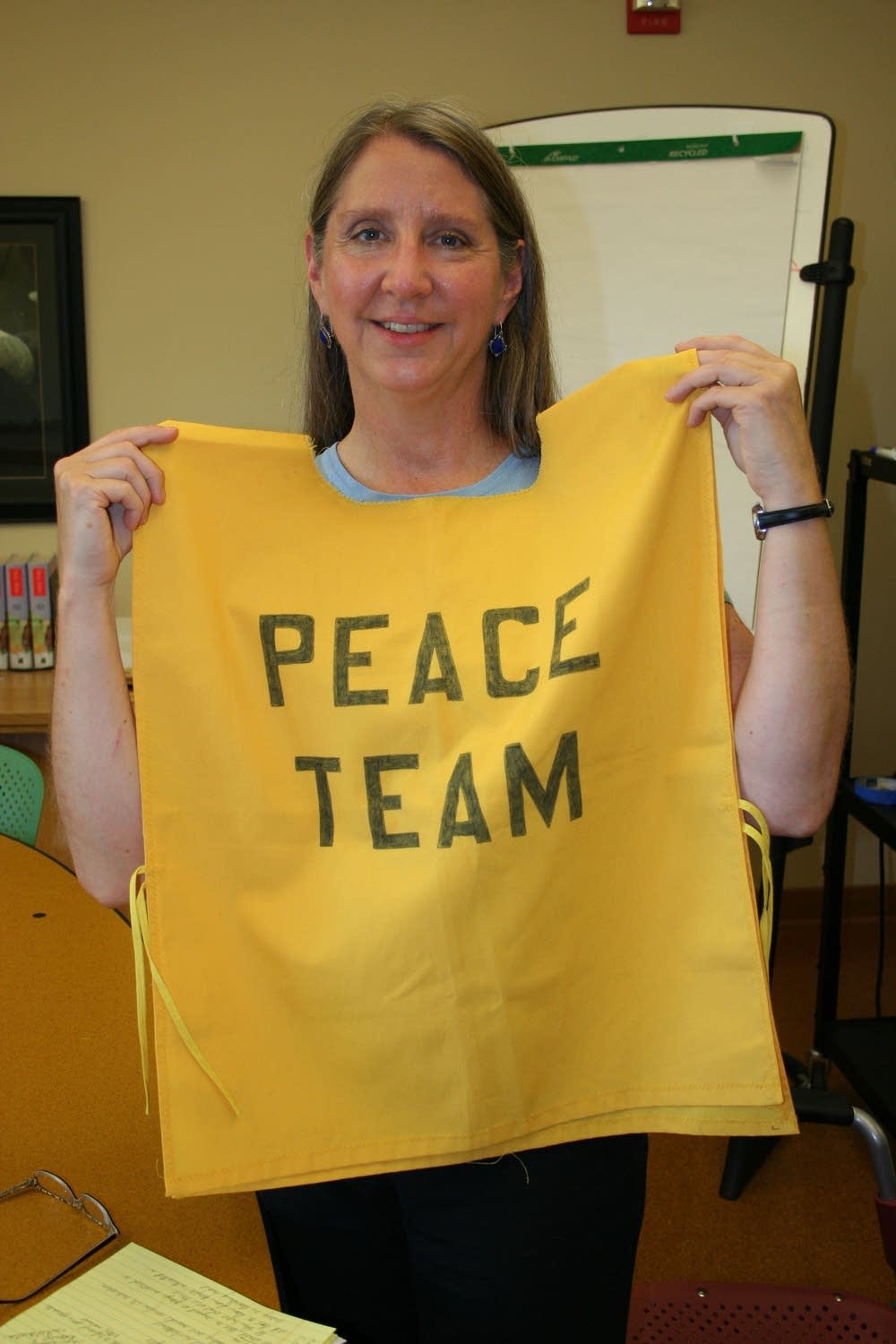 The St. Paul and Minneapolis police departments are offering training for protesters to become peace marshals.
And members of another Twin Cities group promoting non-violence have reserved the sanctuary of Central Presbyterian Church in downtown St. Paul for what they're calling a "peaceful presence."
It's intended to serve as a quiet getaway for people who want to escape intense activities surrounding the convention and allow them to pray and reflect, said organizer Connie Walsh of the Twin Cities Ignatian Associates.
"It would be available to anyone, whether you're a police officer having to work in the heat and crowds, or maybe someone in the hospitality industry who works long shifts," Walsh said. "I really don't think I'm that naive. This is an option that some people might want to put their energies into. The anger, the angst, the violence, the name-calling -- to me, it's all part of a cycle that doesn't have to be."
Wojtan, of Apple Valley, has waist-long hair and two grown children. She acknowledges that the idea of being a peace broker is a little scary. If she can't break up a fight with words, she may decide to stand between the two parties and risk getting injured in the process.
She attended a five-day training in Detroit this spring and participated in various role-playing exercises. In one scenario, she acted as a peace-keeper at an abortion clinic where a group of protesters started throwing rocks at their opponents.
"And I went right between them, feeling not scared they were going to hurt because I wasn't their target, but feeling that I was protecting the person who was on the other side of me," Vojtan said. "So it was just a real interesting experience -- because I haven't been involved in violent situations -- to feel myself say, 'Oh yeah, I can do this.'"
"They can yell at each other, they can call each other names, heckle speakers. Our job is to not to stop that. Our job is to see there is no violence."

Rev. C. Peter Dougherty, founding member of the Michigan Peace Team
But she still doesn't know for sure how she'll respond to a given situation until it happens. She admits, with a laugh, that the rocks used in the role-playing were actually paper wads.
The Minnesota group is asking the long-established Michigan Peace Team for help with an initial training next month. Founded 15 years ago, the Michigan nonprofit has been deployed to Ku Klux Klan rallies, gay-pride marches, and even the Middle East to practice their methods of achieving non-violence.
One tactic is called "the puppy pile." That's when the peace-team members lie down on a person to shield him or her from being hit. Rev. C. Peter Dougherty, a Catholic priest and founding member of the Michigan Peace Team, says even singing can be effective.
He recalls when a peace-team member started to sing, "If you're happy and you know it, clap your hands."
"People in the crowd started doing it," he said. "It just changed the whole environment."
The role of a peace-team member is to protect people, even if those people are spewing hatred and racist rhetoric, Dougherty said.
He recalls the story of Keshia Thomas, a black teenager who saved a white man's life in 1996 when she shielded him from angry counter-protesters at a Ku Klux Klan rally. The man was wearing a T-shirt with the Confederate flag
"We're not there to prevent conflict," Dougherty said. "People have First Amendment rights. They can yell at each other, they can call each other names, heckle speakers. Our job is to not to stop that. Our job is to see there is no violence."
Organizers for the Minnesota Peace Team are looking for 50 to 150 volunteers to work during the Republican convention in early September. They hope that the peace team outlives the convention and will be well-prepared to monitor future events in the region.
Meanwhile, area police departments are working on a similar program for peace marshals.
Crisis negotiator and St. Paul Police Sgt. Jane Laurence will attend a training next week offered by the U.S. Department of Justice. Laurence's team typically responds to armed stand-offs, but now they plan to bring their conflict resolution skills to the RNC protest scene.
The training aims to teach crisis negotiators, protest groups and security volunteers how to identify potentially dangerous confrontations during the convention. After the training, Laurence and her counterparts in Minneapolis plan to pass on what they know by holding similar workshops for protest groups.
Laurence has also begun e-mailing leaders of known protest groups, hoping to start a dialogue with them in the weeks leading up to the RNC. The idea, she said, is based on community-oriented policing. She said she wants the protesters to feel free to ask her questions and even meet her for coffee.
But so far, most groups haven't been receptive, she said.
"At this point, I don't think there's a lot of trust," she said. "They probably are thinking this is an information-gathering effort by the police -- that somebody's going to keep records of who they are and their tactics. It isn't. It's an exchange of phone numbers and a way to meet face to face."
Laurence is hoping she can gain their trust in the coming weeks.
To volunteer or learn more about the Minnesota Peace Team, e-mail minnesotapeaceteam@gmail.com.