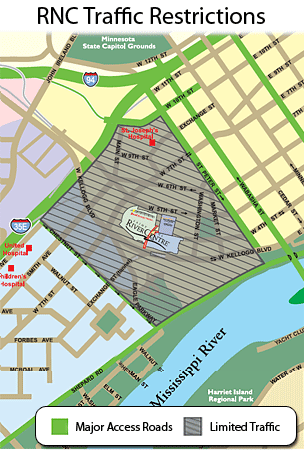 The area is roughly bounded by I-35E and Shepard Road on the north and south, and by St. Peter and Chestnut streets from east to west.
Concrete road barriers will be set up to block vehicles from entering the area.
But Assistant Chief Matt Bostrom says people will be able to get inside by foot.
"Look at it this way: It's a walking area. It's a place where you can walk. If you can walk there today, generally speaking, without many changes, you'll be able to walk on those same sidewalks in the future," said Bostrom. "But if you're driving through here, that's where things change for a few days."
Another security perimeter will be set up even closer to the Xcel. Only guests, media and convention-goers will be allowed to get in.
The plan will be in effect from Aug. 29 to Sept. 6.