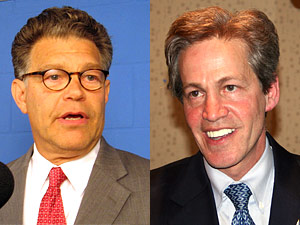 Al Franken and Norm Coleman don't have any debates scheduled yet in the U.S. Senate contest. But you can see them answering questions about the issues on your own computer.
The candidates are the first in the country to participate in YouTube's 2008 election project, which the popular Web site is calling "YouChoose '08."
YouTube users submitted questions on topics ranging from energy policy to jobs to their own personality traits. Video clips featuring the candidates answering the questions are now live on the site.
In the coming weeks candidates in races all over the country will be participating in similar forums.
---
On the Net: The Franken/Coleman answers can be found at: http://www.youtube.com/user/YouChoose08