Early this afternoon, Clinton delegates began lining up by the hundreds at the Denver Convention Center, several blocks away from the Pepsi Center's main stage. They were there to hear Sen. Clinton speak again.
Near the front of the line, which snaked hundreds of feet through two floors, were several Clinton delegates from Minnesota. The mood was anything but melancholy.
JoAnne Cardenas Enos had wanted Clinton to win the Democratic nomination, but said she would be casting her ballot for Barack Obama.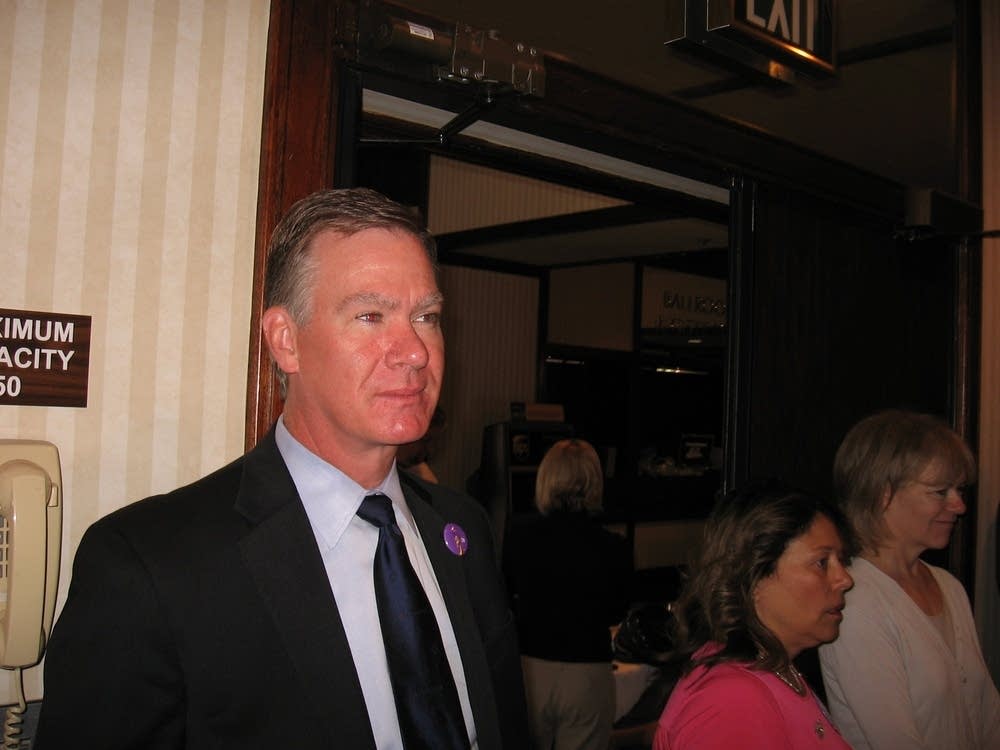 "I am because Hillary wants me to," Enos said.
Minnesota DFL leaders say their delegation is not deeply split over Clinton's loss. Enos says that's not just wishful thinking.
"I can't speak for other states, but our delegation is not like that. We're here to support a president of the United States," she said.
The Clinton meeting turned out to be an emotional one. Some of her supporters shouted "NO!" when Clinton released her delegates, freeing them up to vote for Obama.
From the start, today has been a day designed to stress the unity theme.
Even before Minnesota's sleepy delegates shuffled into their daily 7 a.m. breakfast meeting, party leaders who had been backing Clinton held a news conference to say how much they now want Obama elected.
Former DFL Sen. Mark Dayton had been backing Clinton's presidential bid for years.
"I am [supporting Obama] because Hillary wants me to."

Minnesota DNC delegate JoAnne Cardenas Enos
"We're united. I think that's what the message is. We're united," said Dayton.
Former Vice President Walter Mondale also made the appeal, citing what he called the "catastrophic" consequences of four more years of a Republican-controlled White House.
St. Paul Mayor Chris Coleman called the situation too important to do anything other than unite.
Others quoted Clinton's Tuesday night convention speech.
"I think she was speaking to Minnesotans, to Americans, as she talked about, 'Did you vote for me?'" said Minnesota House Speaker Margaret Anderson Kelliher. "'Did you support me because of me, or because of the veteran who's returning home or because of that mother with cancer who's struggling without health care?'"
"We supported Hillary Clinton because we believe in these issues," Kelliher continued. "And we know we have to take this all the way across the line to November and finish the race, and win the race, and that means that now we have to unite behind Senator Obama."
Clinton delegate Tammy Tesky of north Minneapolis was wearing a campaign button that said "Clinton for Obama." She says she'll be putting up an Obama lawn sign, and doing whatever she can to convince Clinton supporters to back him.
Clinton is getting a lot of credit from the Minnesota delegates for gracefully stepping aside.
Tesky says Obama could help speed the movement of Clinton supporters to his side not only by thanking Clinton, but also by making it clear that if he's elected, his administration will look to her for help.
"Specifically on policy issues. I mean Hillary is by far a national expert on health care, and America is crying out for health care reform," said Tesky. "And I think that Barack could really benefit from her experience in that area. So I would like to see him appoint her in some way to lead that effort."
Obama will accept the Democratic Party's nomination for president on Thursday night in Denver.