Obama avoids race on King's 'Dream' anniversary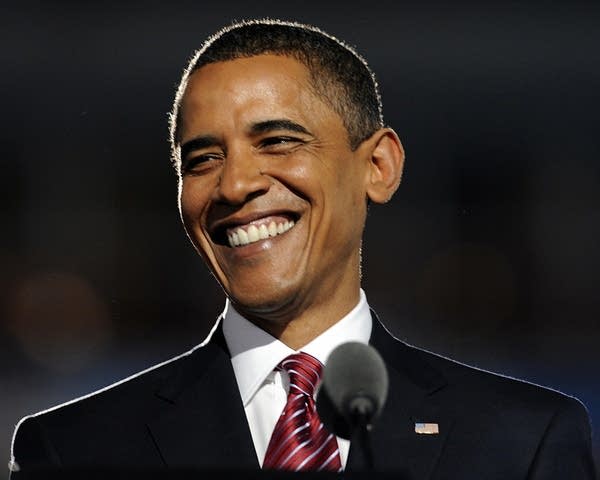 Long before Denver, the drum roll of history began: If Barack Obama could capture the Democratic nomination for president, he would deliver the biggest speech of his life exactly 45 years after Martin Luther King Jr.'s immortal "I Have a Dream" address.
And so Obama accepted the nomination Thursday night standing on the shoulders of King and thousands of others who suffered and bled to give blacks the right to vote - yet Obama did not speak King's name.
In only briefly paying homage to "a young preacher from Georgia," Obama illustrated how much America has changed in those 45 years, and how much it has stayed the same. Yes, Obama could actually become the first black president of the United States - but he must somehow become raceless to do it.
Many older blacks who heard the historic speeches of both King and Obama are happy to pay that price.
"I think Dr. King would have been proud to have witnessed tonight's events," said Joseph McNeil, one of the four black students who started the 1960 desegregation sit-in at the Woolworth's lunch counter in Greensboro, N.C.
"No place in my mind, or I'm sure his, would we have imagined seeing so many people of all type of backgrounds rallying behind someone like us who had been denied full participation for so long," said McNeil, who retired as a major general in the Air Force Reserves and lives in Hempstead, N.Y.
"The walls that (King and Obama) are trying to tear down are much different," said Calvin Smyre, a 34-year veteran of the Georgia statehouse. "King was trying to tear down the walls of injustice. Obama is trying to build walls of opportunity."
Yet others, while staunchly backing Obama's candidacy, remain alarmed by his avoidance of all things racial as he seeks to mollify the white voters needed for victory.
"It looks like he's running from history," Dr. Cornel West, a professor of African-American studies and religion at Princeton University, said after the speech. "He couldn't mention Martin, he couldn't mention the civil rights movement, he couldn't mention those who sacrificed and gave so much. It's very, very difficult to actually create a new world if you don't acknowledge the world from which you are emerging."
Talk show host Tavis Smiley said that the deeper significance of King's "Dream" speech and life's work, which included aggressive demands to end poverty, inequality and the Vietnam War, had been pulled out of context.
"If we were being true to King's dream, we'd be talking about poverty, how to eradicate it, and the long list of things that mattered to him," Smiley said. "I just fear that his legacy will get glossed over."
The Rev. Jesse Jackson said that King's most famous speech was being "reduced to a sound bite."
"For most Americans, August 28, 1963, was the dream speech day, and for them it's like a happy day," Jackson said. "That is a one-dimensional view of the risk and terror of that day."
Terror, indeed. The 1963 March on Washington for Jobs and Freedom took place as Southern states fought violently to keep blacks as second-class citizens. Nonviolent protesters were being beaten, jailed and killed. Images of vicious police dogs and pummeling fire hoses helped galvanize world opinion in favor of the movement as the FBI waged an active campaign against King and other civil rights leaders.
Before the march, the National Guard was mobilized, paratroopers were put on alert and the Washington Senators postponed their baseball games for fear of riots. Yet calm prevailed among the 250,000 people who showed up to hear King and others speak.
Behind closed doors, there were bitter arguments as the speakers debated the balance of hope and anger that Negroes should show the world. But King kept his speech to himself until he stepped to the podium in the shadow of the Lincoln Memorial to close out the day's remarks.
He started by proclaiming the march to be "the greatest demonstration for freedom in the history of our nation." America, King said, "has given the Negro people a bad check, a check that has come back marked 'insufficient funds.' But we refuse to believe that the bank of justice is bankrupt. We refuse to believe that there are insufficient funds in the great vaults of opportunity of this nation."
King's message became urgent as he demanded immediate action, repeating that "now is the time" for real democracy, justice and equality. As he neared the end of his speech, King veered from his prepared text, began to improvise - and his dream took flight.
Forty-five years later, another black man seized the attention of the nation. After two of King's children addressed the audience, Obama took the Denver stage protected by federal agents, not targeted by them. He spun a vision of America's promise, not a bad promissory note. And he used King's words, almost certainly deliberately, to proclaim repeatedly that "now is the time" for better access to education, energy independence, health care and equal pay.
Obama "offered a bridge to a new tomorrow," said Robert W. Bogle, CEO of the Philadelphia Tribune, an African-American newspaper in Philadelphia. "I feel that he truly does offer hope for this nation for all Americans. Not some Americans. All Americans."
In the early days of his candidacy, Obama frequently credited King and the civil rights movement for making his ascent possible. Now, to reach the summit, he must render them all but invisible.
Forty-five years later, Obama did not utter the words "black" or "African-American." He said "McCain" 21 times, according to the transcript released beforehand. He said "American" 25 times and "promise" 32 times as he sought to create a new definition of, and a new path to, that immortal dream.
(Copyright 2008 by The Associated Press. All Rights Reserved.)
Gallery
1 of 1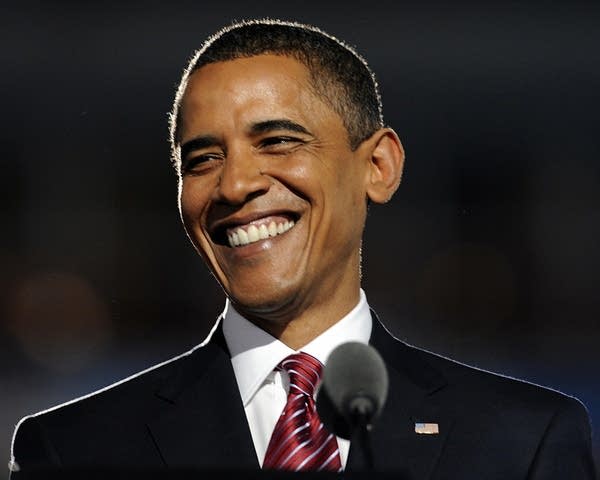 Your support matters.
You make MPR News possible. Individual donations are behind the clarity in coverage from our reporters across the state, stories that connect us, and conversations that provide perspectives. Help ensure MPR remains a resource that brings Minnesotans together.