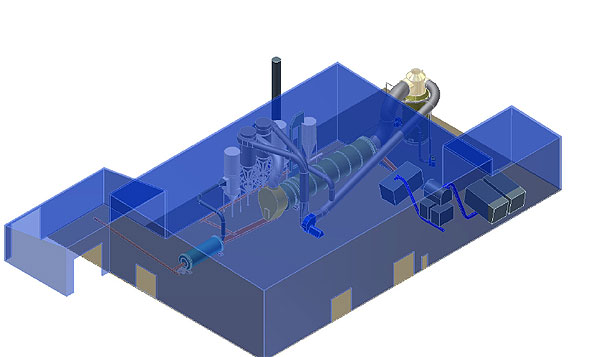 Cleveland Cliffs is investing $15 million into a new manufacturing plant to be built near the small St. Louis County town of Orr.
The plant will produce a renewable biofuel they call Renewafuel. It's a briquette about the same size as what backyard barbecuers use and that can be burned in the kinds of boilers that heat industries and schools and generate electricity. They can also be burned in kilns where rock is cooked into taconite pellets at Minnesota mines.
"We use a variety of green, renewable sources, such as switch grass, corn husks, wood byproducts, oat hulls, and corn stover, and turn these materials into a dense fuel cube that's specifically engineered for the end user," said Bill Brake, a vice president with Cleveland Cliffs.
Renewafuel was developed by a Rosemount-based company that Cliffs acquired last December.
The Orr plant will likely use logging leftovers, like tree tops and small branches. Other fuels like switch grass could be brought in from farming country.
The cubes produce a fraction of the emissions of coal, 90 percent less sulfur dioxide and 35 percent less particulate matter. They're also considered carbon-neutral.
Brake couldn't say how the cubes will compare in cost to coal, but he said the real potential savings to customers are in the reduced emissions.
State DFL Sen. Tom Bakk of Cook, said Renewafuel will help industries meet pollution standards and utilities meet new stringent renewable energy requirements.
"If this project develops like we hope and anticipate that it will, this is a whole another area of renewables for the state that can replace coal," Bakk said. "So, it's good for the environment, it's good for our utilities that have to meet the renewable energy objective, and it's certainly good for the mining companies.
The project is placed in northern Minnesota's timber country. Just ten miles south, in Cook, a large, oriented strand board plant is idled, and is expected to remain idle for at least another year. Orr Mayor Dale Long, said the project, while creating just 25 direct jobs, is welcomed in this struggling region.
"Everything is so down right now," Long said. "Our logging's down. It's hard for the local businesses to survive, you know. They're based on primarily tourism, and basically the wood products industry. With this coming into place it's huge."
Going green has been good for business, said Norm Voorhees, an official with the ironworkers union. His members have been busy this summer building area wind turbines and updating pollution equipment at industries. He said the project will help keep the work coming.
"That'd be huge," Voorhees said. "That'd be another great construction project for not only the iron workers, but all the craft workers in the building trades. That would be very exciting if something like that would move forward."
The plant would produce some 150,000 tons of fuel per year. Cliff's Renewafuel subsidiary has a small plant in Battle Creek, Michigan, and is planning another in Marquette, Michigan. Between the three, the company expects to produce 500,000 tons of fuel, making it the largest producer of blended biomass fuels in the United States.
The project north of Orr is contingent on unspecified loans and grants from the Iron Range Resources Board and the Minnesota Department of Economic Development. They hope to start up in the fourth quarter of 2009.