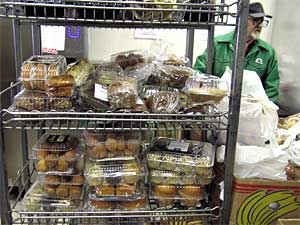 Minnesota Food shelves are bracing for more hungry people and fewer donations due to the ailing economy.
Second Harvest Heartland Vice President Jon Guy said the bad news on Wall Street means his organization will need to find new ways to help people.
"So we actually have borrowed from some areas what we call a mobile food shelf. Where we find when their are neighborhoods that are really struggling and the local food shelf isn't able to keep up. We're going to help by bringing a truckload of food in to that area. And work through local agencies to provide emergency food relief," Guy said.
Guy said Second Harvest has access to free food from some manufacturers. He said the most effective way to help Minnesota food shelves is to make a cash donation to help pay for transportation.