Economic pain stresses people and services
Seventy-eight-year old Burnsville resident Joanne Jones lives on Social Security benefits. Jones lost a big portion of her retirement savings when the 2001 dot com bubble burst.
And the drop in real estate values sucked much needed equity out of the townhouse she just sold. Jones signed up for Section 8 housing and for Dakota County Senior Housing.
The waiting list for both is long.
"I'm anywhere from 30-ish to 100 (on the lists)," she says.
That's 30 to 100 people ahead of her also waiting for housing assistance depending on the program.
Forty-year old home remodeler Wilbur Marshall of St. Paul has watched his business shrink to almost nothing. He says his wife and three children are living in a shelter. He spends his days looking for remodeling jobs.
"I just don't have the resources and the help. If I was given that help I would definitely take advantage of it, and there's a lot of things that I would make happen," he says.
Scott Ramsey is also having trouble finding work.
"Being a cook I could normally always find a job, but I just haven't had any luck," he says.
On a recent Sunday night Ramsey is lined up with hundreds of others waiting for a free evening meal at a downtown Minneapolis church.
Ramsey says he isn't destitute, though he receives general assistance welfare because of a medical condition.
He can't afford a place to stay and doesn't want to live in a shelter so he's been living in a tent for six months while he looks for work.
"Even if I had a job I'd have to save money for a whole year in order to get a place so I don't see any end in sight," he says.
Scott Zemke, sitting in his downtown Hopkins office is witnessing sharply higher numbers of people asking for help, all kinds of help.
"We're seeing a lot more people who have never accessed these programs before and who never thought they'd have to access these programs before," he says.
Zemke is director of the Community Action Partnership for Suburban Hennepin County. Requests for heating assistance, he says, are up 30 percent from last year. His office has expanded from one foreclosure counselor to seven in 18 months as demand rises.
Rex Holzemer has a broader view.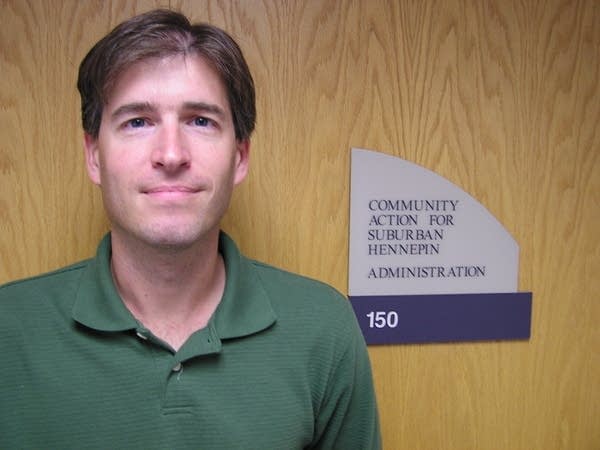 Holzemer is a human services program director for Hennepin County, at more than one million people the state's most populous county.
Requests for help, he says, for financial assistance, medical assistance, food support once known as food stamps are all up.
Last year, Hennepin county had 81,000 cases of people getting help, Holzemer says.
"In July of this year we had about 87,000 cases," he says.
Cases often means families, Holzemer says. The 87,000 cases add up to more than 200,000 people, or about one in five Hennepin county residents who receive some kind of public assistance.
However Mary Nelson says that number doesn't tell the full story. Nelson is a human services program director for Ramsey, the state's second most populous county.
A more telling number is how many people ask for help but are turned away because they don't qualify, she says.
"There's a nine percent increase in the number of people requesting assistance from us. I think we continue to see increasing need out there in the community for our services," she says.
The increasing number of people seeking help is outstripping what Minnesota counties can supply. Congress recently approved a bit more heating assistance money.
However, overall, Hennepin County's Rex Holzemer says, the amount of state and federal money for human services has been cut.
"Decreases in the range of 10 to 12 percent in our budget over the last years at the same time as we're trying to address all these case load increases.
Non-profits which supply help are also witnessing sharp increases in requests for help. Minneapolis-based Loaves and Fishes is seeing double digit increases during some months at their dining centers, according to executive Dean Wiegel.
Loaves and Fishes operates eight dining centers, six in Minneapolis and St. Paul and two at suburban locations serving more than 1500 meals each weekday.
Back to the big picture.
There's little argument more money is needed to help people with food, housing and medical care.
However, the real solution is not higher taxes to pay for more social services. The real solution he says is a stronger economy, Scott Zemke says.
"I think the biggest thing is for people to actually be able to work and have a decent paying job with a livable wage, I mean that's the best thing you can do for an individual," he says.
For the moment the declining economy appears to be putting that solution father into the future.
Gallery
1 of 1
Your support matters.
You make MPR News possible. Individual donations are behind the clarity in coverage from our reporters across the state, stories that connect us, and conversations that provide perspectives. Help ensure MPR remains a resource that brings Minnesotans together.