Deadline Wednesday for bridge collapse victims
Victims of the Interstate 35W bridge collapse face a deadline this week for getting compensation from a special fund established by the Legislature.
Claims must be submitted by Wednesday for the fund, which devoted $37 million to compensate survivors of last year's collapse.
The fund covers people who were on the bridge at the time of the collapse, as well as family members of the 13 people killed.
A special panel appointed by Minnesota Supreme Court Chief Justice Russell Anderson will consider the claims.
Gallery
1 of 1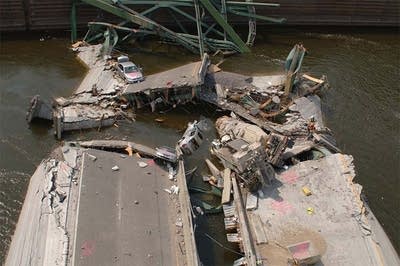 Gain a Better Understanding of Today
MPR News is not just a listener supported source of information, it's a resource where listeners are supported. We take you beyond the headlines to the world we share in Minnesota. Become a sustainer today to fuel MPR News all year long.