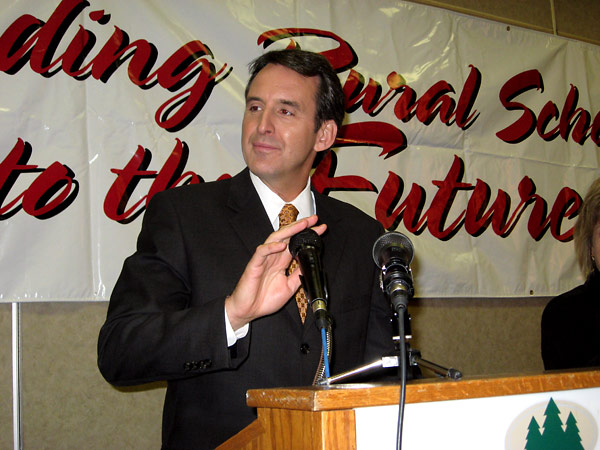 Gov. Tim Pawlenty used a conference of rural educators Thursday to renew his push for a list of proposals for next year's legislative session.
They include a state-run summer school for 8th graders, along with higher requirements for students wishing to major in education in college.
But Pawlenty also criticized a new funding proposal that's sure to be debated at the Legislature next year. The plan's Democratic supporters call it the "new Minnesota Miracle."
It would add $2.5 billion for education each year, but the governor says there's no plan to pay for the entire package.
"As you hear these proposals, I would encourage you to not be drawn into proposals that are selling you something that's not practical, in some respect," he said. "They're promising great things with no suggestion how to pay for it."
DFL representative Mindy Greiling is sponsoring the new funding bill. She will speak at the conference Friday, and has said the DFL caucus will meet after the election to discuss which ideas to support to raise the money needed for the plan.
Pawlenty also told the conference that he'd like to require all high school students to take at least one class online before graduating.
The governor has long called for more online options for students - but told the gathering this morning that he'd like to see it required, in part.
He points to colleges offering more and more online courses and says K-12 schools should be considering the same for their tech-savvy students.
"They're going to do this anyhow - the only question is 'Are we going to be ahead of it, or trailing it?'" Pawlenty said. "And it's already happening in higher ed. -- you should see the online enrollment in MnSCU -- it's skyrocketing, we can't even keep up with it."
MnSCU is the acronym for Minnesota State Colleges and Universities.
The call for a required online course came during a question-and-answer session with the educators. Most other questions, though, focused on what school funding he'll propose next year.
Pawlenty says he'll wait for a new state economic forecast to come out in November before offering specific numbers.