As the sun sets over downtown Minneapolis, people begin to gather at the Soap Factory across the river.
The Soap Factory's Executive Director Ben Heywood wants to welcome them to a point.
"My brief to the artists was that what we wanted was an experience that no one would ever want to repeat," he said.
Heywood says the Haunted Basement is more theater than display.
"The way it works," said Heywood, "it's that you come down into the basement in groups of four every four minutes. So it's less a continuous experience in a big long shuffling line and more of a performance activity."
The Haunted Basement came about because of one person: Chris Pennington. He's a teacher, but he's also an artist.
"And we used to hang out here at the Soap Factory," he said. "And we knew the basement was pretty scary, so we said 'Wow what a great place for a haunted house'."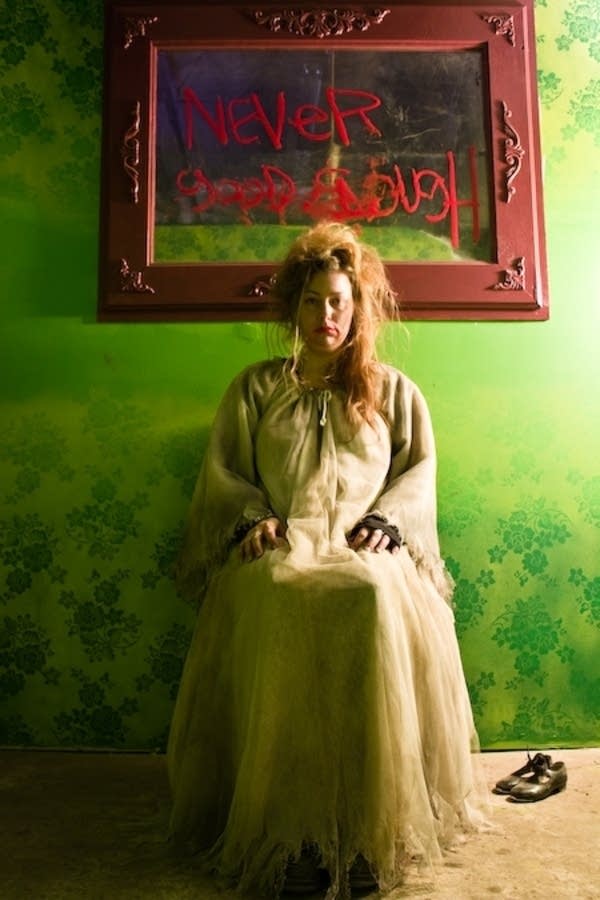 The Soap Factory was once just that, a place where workers melted down animal fat for soap. The old boiler and elevator are still there, as well as all the old coal chutes.
Pennington and a bunch of friends got to work building scary rooms, making creepy corners creepier and recruiting their friends to jump out at visitors.
They opened the Haunted Basement last year as a fundraiser. They didn't know if anyone would turn up, but Ben Amel who worked on it last year says they were swamped.
"There was times last year when we turned away more people than went through," he said.
This year the Haunted Basement is open longer and later. Also it went online, so people can sign up for certain times.
There's a good crowd in the foyer. As the line moves forward there is a real nervous tension in the air. The occasional scream can be heard from the basement.
But is this art? Ben Amel thinks it is.
"They say good art evokes emotion," said Amel. "And while we target one specific emotion for this and tend to focus on that, we tend to do that quite well."
In the foyer people start looking for advice. Some one says you shouldn't be at the front or the back of your group, and maybe not the middle either.
"You don't want to be in front, and you don't want to be in back," said the guy at the gate. "And the middle's no good."
"What do you mean the middle is no good?" asked a man in a black jacket.
"There is no good," smiled the gatekeeper at the entrance.
"And how long is it, about?" one man asked a woman at the gate.
"Oh about 20 to 25 minutes," she said.
"What!" my companions cried in unison.
She pulls back the gate, and we head down into the darkness. The gatekeepers close the gate and signal the visitors arrival.
It would spoil things to describe all what happened as we forged our way through the gloom. But there were plenty of scares, some strange smells and even a revolving room.
There are scary clowns too.
It's all been a great satisfaction to the people who built the haunted basement, including Gabriel Shapiro. He says times are tough and it feels good to scream.
"It's totally cathartic," said Shapiro. "It's really a great people to just, they build up all this tension, they laugh, they scream, they react to the totally strange environment that they are in and then they come back into the real world, and they feel better for having been able to have this release. That's what drives people to do this wierd thing and pay for it," he laughed.
And a lot of people are paying for it. The Soap Factory's Haunted Basement is almost sold out of the more than 6,000 tickets for its run through November 2nd. While it's a major fundraiser for the Soap Factory, Ben Heywood sees another benefit.
"The vast majority of those people have never been to the Soap Factory before, most of those people have never been to an art gallery before," he said. "Quite a lot of people have never been to this bit of Minneapolis before."
They may be scared now, but Heywood predicts many will be back to explore what the Soap Factory has to offer at other times of the year.