Barack Obama's historic victory informs school lesson plans
NORTH HIGH SCHOOL, MINNEAPOLIS
John Heegard's Advanced Placement History class usually goes over events that happened more than three days ago, but not this week.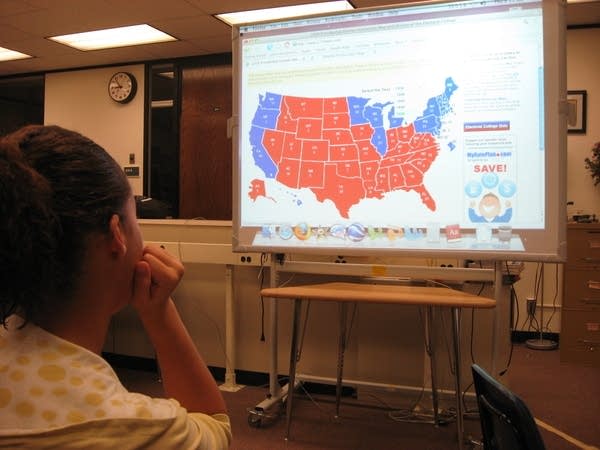 "I teach history. This is history in the making, so we spent Wednesday and Thursday talking about the election and what it meant," said Heegard, who at 50 also noticed he'll be older than the nation's president for the first time.
Heegard's first-period class at North High School was learning about Adams and Jefferson before taking a break this week to focus on the election. Probably a good choice, too. This class of mostly African-American students seemed too excited to talk about anything else.
Sophomore Aamina Muhammed, 16, skipped class Tuesday to go to the polls with her mom and stand on a street corner, waving Obama signs.
"We saw gang bangers coming out to vote for this man," she said. I didn't know how to feel when I heard he won - I was just like 'AAAH!' My grandpa recently just passed away and he couldn't vote until he was 32."
Muhammed isn't even old enough to vote, and neither are any of her classmates. But they all sensed this is an important moment for their generation.
"I think we're more excited than adults, because this is our future," added Muhammed, her classmates agreeing. "It's all of our future, but I feel becuase we're much younger it's going to change us more."
Thursday's class featured a Web site projected onto a screen that showed electoral maps from this and previous elections.
Heegard, looking over a map of the 1948 election, hopes to take the natural excitement these kids have had for Obama and tie it in with other points in history.
Remember how negative this year's campaign was? That's nothing compared to the mudslinging Adams and Jefferson did - rumors of Jefferson's affair with a slave were printed in newspapers.
The class also looked at how red and blue states have shifted over the years. New England used to be a lock for Republicans, for example. Think Obama's win was big? Heegard showed them the map of 1936 election, when Franklin D. Roosevelt won more than 500 electoral votes that year -- all but two states -- against Republican Al Landon. But even if the students' excitement doesn't translate to better scores on that Adams vs. Jefferson test, 16-year old Ashya Burgess doesn't care. Too much has happened this week that you can't get from a book.
"With a black president," she said, "this is opening a lot of doors for the future and for us to see this."
UNIVERSITY OF MINNESOTA, U.S. ELECTIONS CAMPAIGNS - ANDERSON HALL
For university political science professors on the lookout for teachable moments, this year's election must seem like a manna from heaven.
"Good morning. It's hard to know how to start the first class after the election when it seems like all fall we've been saying 'So what's going on in the campaign?' Now the results are in and the result are historic on many levels," says Assistant political science professor Kathryn Pearson.
Pearson thought the best approach for her class was to open it up for discussion.
"This is an election that these students will remember for the rest of their lives I'm sure. I just wanted to allow them to talk about it and ask questions."
The discussion begins on the topic of race, and what the election of Barak Obama will mean for race relations in the U.S.
But it also turns to political considerations. How will the Obama administration fulfill its promise of change?
"People can't say in a month 'Oh, you haven't done all this stuff'. At least he kind of made it clear 'This is a process, we're going to work towards it,' but don't expect thing to instantly turn a 180," a student says.
"Yeah, (this is) very much about setting expectations," Pearson says. "(This is) common in politics but important here."
Students who speak up during the hour long discussion come from all over the political spectrum. But as in many college classrooms, there are more liberals here than conservatives. That's seems just fine with Alexander Abrams who describes himself as a Republican.
"When you're at a place like the University of Minnesota it's a diverse campus with diverse people with diverse interests and I find it fascinating to hear different perspectives," he says.
It's easy to spot political affiliation in the classroom, according to student Mike Rose. Rose can hear it in their comments, or literally see it on their t-shirts. He prefers a scientific view of the recent election, but with a nod to its historic nature.
"I like to hear when people can see both sides and can analyze the scope of things. Whether you voted for him or not it is a monumental election."
If she's done her job, professor Kathryn Pearson says that's what her students should be able to do.
"We've really talked about the fundamentals of this election and the campaign and putting it into historical context and so I hope that it's given them the ability to do that."
Don't feel bad for Pearson and her students just because the election is over. They've got plenty to talk about. From a deeper analysis of the two Presidential campaigns to an undecided U.S. Senate race in Minnesota, this is the election that just keeps on giving.
Gallery
1 of 1
Your support matters.
You make MPR News possible. Individual donations are behind the clarity in coverage from our reporters across the state, stories that connect us, and conversations that provide perspectives. Help ensure MPR remains a resource that brings Minnesotans together.