Erling Jonassen's extraordinary experience took place in the jungles of the Philippines, where he spied on the Japanese and fought them in a guerrilla war that has never received much attention.
It ended three years later, when Gen. Douglas MacArthur made his famous "return" to the Philippines.
Erling Jonassen's mother and father immigrated to Duluth from Norway. He graduated from high school in 1937, deep in the Depression. With no jobs to be had, he enlisted in the service and got training as an airplane mechanic.
In December 1941, Jonassen found himself stationed in the Philippine Islands. Just a few hours after the Japanese bombed Pearl Harbor in Hawaii, they invaded the Philippines.
American and Filipino soldiers offered a bloody but hopeless defense, which at least slowed the Japanese advance across the Pacific to give Australia time to mobilize.
Gen. Douglas MacArthur retreated from the Philippines for Australia, and from there he issued his famous promise, "I shall return."
Tens of thousands of American troops were left behind. Most were captured and put in camps -- this was the time of the Bataan Death March, which killed as many as 11,000 men.
Some of them, like Erling Jonassen, melted into the jungle. Jonassen and his buddies felt they'd been used -- sacrificed by their military leaders.
"There's a lot of guys that died that were cussing the Americans for leaving them sitting there, high and dry, with no chance of anything," said Jonassen. "They were the most tremendous people you could ever imagine. They fought until they were sick, they fought while they were sick and while they were starving. They just fought until they died. No good. Whole damn thing was no good."
Jonassen lost some good friends. Like most of them, he was just a kid.
"I think the official surrender was May 7, because I was 21 years old May 5, and I indicated that those bastards did not kill me until my 21st birthday at least, so I felt kind of good about that."
The time came when his commanding officer told the men they had to surrender to the Japanese.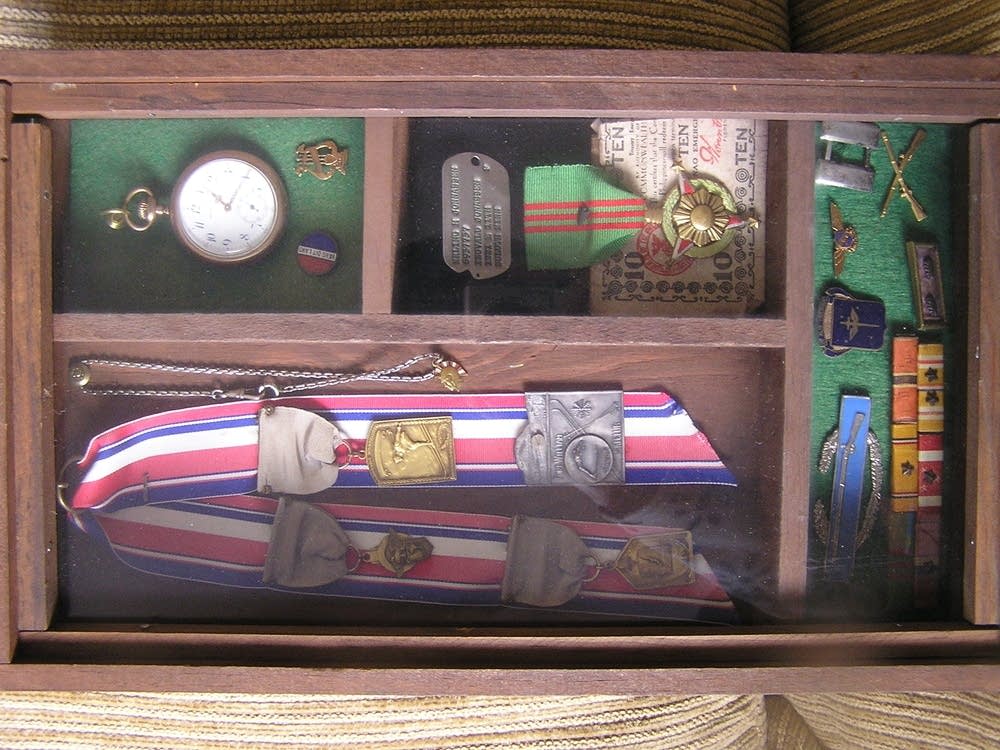 "A couple of the guys asked, 'What if we don't want to surrender?'... And he said, 'You guys that don't want to surrender, take off, and good luck.'"
Jonassen and a dozen other men grabbed guns, ammunition and supplies, and took off for the jungle. Their plan was to get to the coast, find a sailboat, and island-hop to Australia.
But they never made it.
They heard about some American civilians who were organizing Filipino fighters into a guerrilla force. These were plantation managers, mining engineers, lumber men who'd lived in the Philippines for years. They were familiar with the territory and the local people.
The U.S. military commissioned them as officers, and they put Erling Jonassen in charge of about 150 Filipino fighters. This skeleton military outfit took its orders from the U.S. command in Australia.
"At the very beginning of this operation, we would go out in groups of six, seven, 10, and we would ambush Japanese trucks, and the result of that was (the) Japanese punish(ed) the Filipino people."
Then word came from Australia, changing their mission.
"'Don't kill any Japanese, we'll take care of killing the Japanese, you give us intelligence, keep civil government as best you can,'" Jonassen recalled. "And that's exactly what we did until MacArthur came back to the islands."
They maintained primitive radio communication with neighboring forces, and relayed information on Japanese movements to the U.S. command. They printed money to keep the economy going.
Every so often, U.S. submarines would make secret visits to the coast. They brought supplies, and sometimes took away American soldiers who were having trouble handling the situation.
Jonassen chose not to leave.
"It was a temptation to go, but by that time it was a little bit personal too, so I stayed. And so did a bunch of other guys."
Jonassen suffered recurring bouts of malaria and other diseases. Supplies were scarce. Jonassen used a school notebook to record his observations of air traffic. He wore civilian clothing to blend in with the population.
There were occasional firefights with the Japanese, who certainly knew the Americans were there.
"There was one time I had a message from them asking me to surrender, and being guaranteed a very good stay with them in their prison," said Jonassen. "So they knew us; they knew our name, rank, serial number. They had a 5,000-peso reward, dead or alive, on all Americans for all the time we were there. They knew all of us. They didn't collect once, that's the Filipino people. They are that good."
If you ask Erling Jonassen whether the hardships he suffered during the war were worth it, he says it's up to history to decide. But he's proud of his role helping to maintain order for the Filipino people -- and helping other American soldiers.
"We picked up pilots that had gotten in trouble and fallen to the ground. The natives would bring them to us, they'd say, 'What the hell's going on here? Who are you?' We got two separate ones that we sent back to the coast that went back by submarine."
Soldiers hidden along the coast could pinpoint the location of ships so submarines could torpedo them.
"I think in that respect we probably saved one heck of a lot of American lives."
Erling Jonassen was promoted twice during his time on the Philippines. He received a Presidential Citation and a Bronze Star for his service.
Today, at 89, he lives in Duluth. He reads history books, keeps up with his favorite sports teams, and enjoys family gatherings, especially with his two grandchildren.