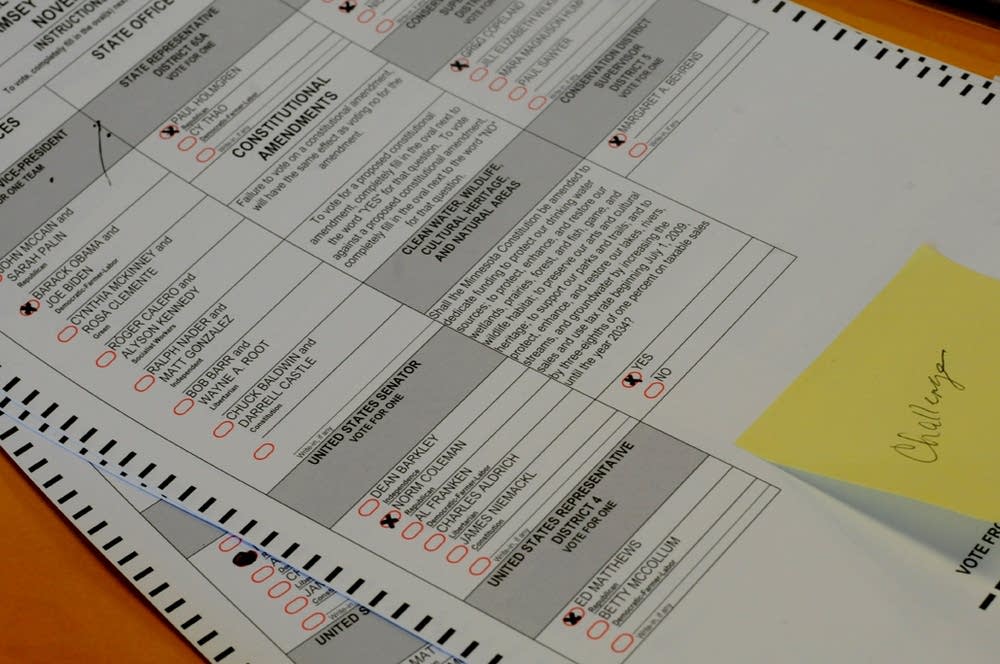 Nearly three-fourths of the 2.9 million ballots have now been recounted, and the total number of challenged ballots has grown to 2,800, prompting new complaints from both campaigns, as well as the secretary of state.
When the statewide recount began last week, Secretary of State Mark Ritchie said it looked like there would be few challenged ballots. But each day brought more and more objections from the Coleman and Franken campaigns. Now, Ritchie said he thinks the campaigns are trying to create a mountain of challenges as a political and fundraising strategy. And, he's worried about the recount staying on schedule.
"If it stays at this level, there will be 3,000 or 4,000 challenged ballots," Ritchie said. "And if the challenged ballots stay at that level, this will stretch on for a long period of time."
Ritchie said he hopes both campaigns follow through with their earlier pledges to reconsider some of the challenges before those ballots are sent to the state Canvassing Board. That might still happen, but for now the campaigns are busy blaming each other of making too many frivolous challenges.
Coleman attorney Fritz Knaak accused the Franken campaign of using ballot challenges to make the recount margin look tighter than it really is.
"We believe that Franken campaign's increased challenges are an attempt to artificially deflate the lead that Senator Coleman takes to the canvassing board meeting," Knaak said. "And the goal is a public relations boost. Basically it's a pitch to appearances rather than reality."
A recount attorney for the Franken campaign denied the allegation. Marc Elias said it's the Coleman campaign that's boosting the frivolous challenges. Elias said Franken volunteers are already taking a second look at challenged ballots and trying to shrink the pile.
"There's no benefit to us to have ballots that go before the canvass board that are clearly not meritorious challenges," Elias said. "Because ultimately, the canvass is going to decide what the count is. There's nothing I can do in challenges or the other side can do in challenges to change that."
Elias is also raising questions about what he believes to be missing ballots. He wants an investigation into why the number of recount ballots in some precincts don't match the counts recorded on voting machines. One of those discrepancies was found in Ramsey County. But the county elections manager, Joe Mansky, said he thinks some ballots probably jammed in a voting machine.
"Jammed ballots are actually counted," Mansky said. "But the judges don't realize that, so they pull them out of the counter and run them through again, which effectively get them counted twice."
Secretary of State Ritchie said he'll look into the Franken campaign concerns about missing ballots, but he has not seen anything unusual in the recount.
The State Canvassing Board is scheduled to meet Wednesday to discuss a Franken campaign request to count any absentee ballots that were wrongly rejected. County and local officials must complete their recount work by next Friday. The board will meet again December 16, to begin reviewing all challenged ballots.