Minneapolis gives up on finding missing ballots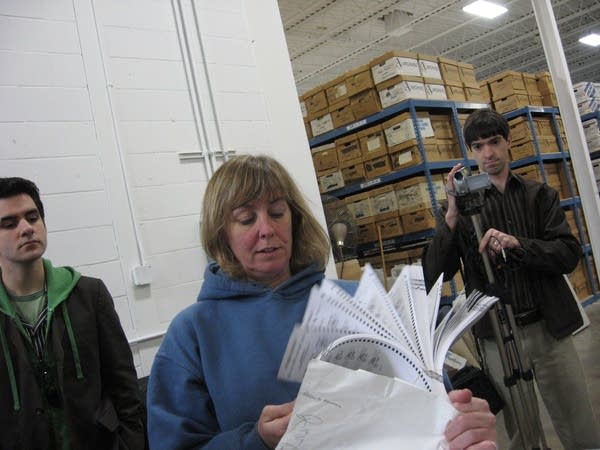 Elections officials looked in every nook and cranny of the Minneapolis Elections Warehouse on Friday for the 133 missing ballots. They took the weekend off and decided today that the ballot search is over.
In a statement, the city said workers could not find the packet of missing ballots, and she will submit the precinct's election night totals to the Secretary of State's office. Minneapolis Elections Director Cindy Reichert said she doesn't know what happened to the missing ballots.
"Obviously there was a mistake made at some point. Somebody either dropped them in the street; perhaps they're in a landfill by now. We really don't know," said Reichert. "We know they're not in our warehouse, and we've exhausted every avenue that we have, and so the matter has been turned over to the Secretary of State."
Secretary of State Mark Ritchie said the five member state canvassing board could decide what to do about the ballots at its Friday meeting. He said he isn't sure what action the board will take, but he suggested that the count taken from the optical scanning machines on election night would suffice.
"They are completely aligned with the sign-ins from the roster, so they provide us with a fairly accurate record of what happened on Election night," said Ritchie.
Coleman campaign spokesman Luke Friedrich wouldn't say if the election night totals should be accepted. He said the Secretary of State's office should consider other scenarios, such as voters signing in and not voting or ballots being run through the machine twice.
Before you keep reading ...
MPR News is made by Members. Gifts from individuals fuel the programs that you and your neighbors rely on. Donate today to power news, analysis, and community conversations for all.
"The decision by a senior member of the Secretary of State's office, as well as the Secretary of State himself, to insist that there are missing ballots when there are a number of other plausible scenarios is disappointing," said Friedrich.
Officials with Al Franken's campaign, who pushed for the search, did not return calls for this report. Franken's attorney Marc Elias said earlier in the day that the canvassing board should use the count from election night.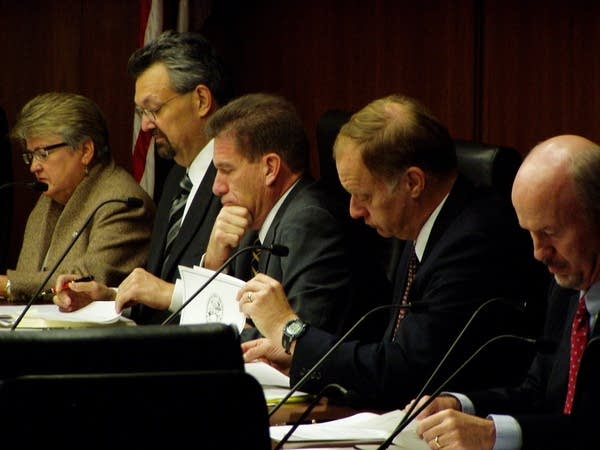 "We remain hopeful that these ballots will be found, but we are pleased that the voters in that precinct will have their votes counted whether they are found or not," said Elias.
The missing ballots are an anti-climactic end to the manual recount of 2.9 million ballots in Minnesota's U.S. Senate race. If the original totals from the Minneapolis precinct are included in the recount, Republican Norm Coleman will have a lead of 192 votes over Democrat Al Franken, but the race is far from over.
The next step in the process is for the State Canvassing Board to rule on the thousands of ballots challenged by both campaigns.
Originally, both campaigns challenged more than 6,600 ballots. But attorneys for both campaigns say they intend to withdraw thousands of ballots before the board meets on December 16th. Franken campaign attorney Marc Elias said the Franken campaign has withdrawn 425 challenges in addition to the 633 ballots it withdrew last week.
Coleman campaign spokesman Luke Friedrich said Coleman's campaign will also withdraw more challenges then the 650 it has already taken back.
Meanwhile, local elections officials started sorting rejected absentee ballots at several sites across Minnesota.
As of the end of the day Monday, elections officials at 11 sites have started going through rejected absentee ballots to determine if any were wrongly set aside. They found 61 absentee ballots that should not have been rejected. Anoka County Elections Director Rachel Smith said she found 22 ballots.
"Remember that our election judges were dealing with over 150 absentee ballots, plus all of the voters on Election Day. Every once in a while there is a mistake made. Out of Anoka County, we did 12,000 absentee ballots so 22 is pretty good," said Smith.
Franken's campaign has been pushing elections officials to sort and open any rejected absentee ballots that were wrongly set aside. The Secretary of State's office has asked local elections officials to start the sorting process. The office and the canvassing board are awaiting a legal opinion on whether it can direct local elections officials to open those ballots.
The Secretary of State's office says 55 counties and about a dozen cities will start sorting their ballots, but elections officials in some counties, including Ramsey and Cottonwood, won't.
Cottonwood County Auditor/Treasurer Jan Johnson said the recount should include only votes that were counted on Election Day.
"This is totally beyond the scope of a recount. This is getting into what would normally be considered the scope of an election contest," said Johnson.
Ramsey County's Elections Director Joe Mansky added that he didn't want to get in the way of an argument between the Franken and Coleman campaigns regarding rejected absentee ballots.
Franken's campaign attorney said the ballots should be sorted, but Secretary of State Ritchie said said he asked counties to do it on a voluntary basis. Ritchie said the canvassing board wanted only to get an idea of how many wrongly rejected absentee ballots might be out there.
Gallery
1 of 1