Franken scores victory with Canvassing Board; Coleman takes issue to court
The universe of ballots in Minnesota's Senate race just got larger -- nearly 1,600 votes larger. Local elections officials who thought their work was done last week may have some more work to do.
The five-member State Canvassing Board recommended that local elections officials review their rejected absentee ballots, and count any that have no legal basis for being rejected.
Board member Edward Cleary, who is a Ramsey County judge, said any ballots that were wrongly set aside should be counted.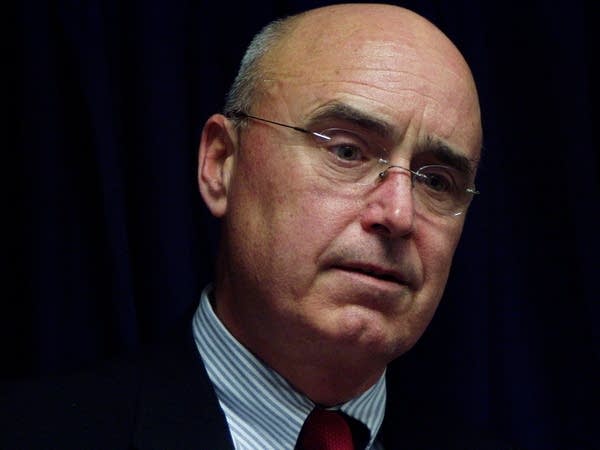 "I think we're disenfranchising voters who have followed the command of the law, who submitted the absentee ballots according to the command of the law. It would be disrespectful to those voters not to count those votes," said Cleary.
The board took the action after Attorney General Lori Swanson told the members that any voters who complied with the law should have their votes counted.
There's no guarantee, however, that the counting will occur. The board doesn't have the legal authority to require local officials to sort and count the ballots. But Secretary of State Mark Ritchie, who chairs the board, said he's hoping it will be done.
MPR News is Reader Funded
Before you keep reading, take a moment to donate to MPR News. Your financial support ensures that factual and trusted news and context remain accessible to all.
"We've stated this pretty strongly that we want this done, because we all want anyone who was wrongly rejected to have their own vote counted," said Ritchie. "That implies, and should be a message to the county people and others, that we would like this done soon."
At least one county elections official says he won't comply with the request. Cottonwood County Auditor/Treasurer Jan Johnson said he believes the Canvassing Board is stepping into an area that a judge should decide, if the election is contested in court.
"The scary thing about this is they're mixing recount and contest -- or trying to -- and I don't think it's appropriate," said Johnson. "There are specific procedures and they were designed that way for a reason, and I think they should stay that way."
Ramsey County's elections director said he's waiting for a legal opinion before he takes action. He says he's informally sorted the ballots and found 156 absentee ballots wrongly set aside.
Local elections officials at 49 different sites have already sorted their absentee ballots and found that 638 were wrongly rejected. The Secretary of State's office estimates there are as many as 1,587 wrongly rejected absentees statewide.
If true, those numbers could play a big role in determining the winner of the Senate contest. Republican Norm Coleman holds a slim lead over Franken, but thousands of ballots are being challenged in the recount.
As it became apparent that the board was going to request the absentees be counted, Franken attorney Marc Elias cracked a wide smile. After the hearing, he said it was a great day for democracy.
"These 1,500 people never had their voices heard. Their ballots have never been counted," said Elias. "These are people who woke up, cast lawful ballots, and due to administrative errors, didn't have their votes counted. These folks haven't been counted once, let alone recounted."
Elias also praised the board for accepting election night totals from a Minneapolis precinct that was missing 133 ballots.
Coleman's campaign attorney Fritz Knaak sat stone-faced throughout most of the hearing, but started frowning once it became apparent he lost his argument on the absentee ballots.
After the hearing, Knaak said he was disappointed.
"The actions today by the Canvassing Board can only be described as confusing to us," Knaak said.
Knaak said he planned to file a petition with the Minnesota Supreme Court, to seek uniform rules for sorting and counting absentee ballots. He's asking local elections officials to hold off on the count until the court takes action.
"What we're trying to is to ... establish a consistent statewide standard. If indeed this is going to go on, then by golly, it needs to go on in a way that is the same for everybody," said Knaak. "And everybody in the same situation that needs to have their ballot counted is going to have their ballot counted."
Franken's attorney called Knaak's petition cynical and desperate, and characterized it as an attempt to run out the clock.
Even though Coleman's campaign is asking local election workers to slow down, Secretary of State Ritchie is telling them to speed up. After the hearing, Ritchie said he hopes the Canvassing Board can finish its work by next Friday.
On Tuesday, the board will start reviewing the ballots challenged by the campaigns. To date, there are nearly 3,500 ballots still in dispute.
That number is still much too large for Ramsey Count Judge Kathy Gearin, who sits on the Canvassing Board. At today's meeting, she scolded both campaigns for challenging so many ballots.
"I just hope that both sides are respecting every single ballot that they see, and raising only challenges to these ballots that are serious," said Gearin. "It's going to take us a long time. We'll do it. But please, please be serious."
Franken's campaign pulled back another 750 challenges today. Both campaigns are expected to withdraw hundreds, if not thousands, more before Tuesday's meeting.
Gallery
1 of 1