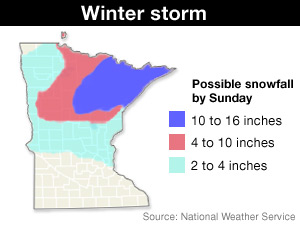 A blizzard warning has been issued for the Twin Ports of Duluth and Superior, Wis. through noon Monday.
A winter storm warning is also in effect for most of the rest of the Northland, including the Iron Range and the North and South shores of Lake Superior, from 4 p.m. Saturday through noon Monday.
Total storm accumulations across the region are forecast to range from 6 to 18 inches, with areas from the Duluth-Superior area to the Arrowhead to receive the greatest amounts.
The National Weather Service predicts northeast winds of 25 to 30 mph, with gusts to 45 mph, will cause areas of blowing and drifting snow during the storm.
The weather service reports that travel may become near impossible across the region on Sunday.
------
Information from: Duluth News Tribune, http://www.duluthsuperior.com