Pawlenty announces short-term budget cuts
With the state facing a $426 million shortfall in the current budget, and an even deeper deficit projected for the next two years, Governor Tim Pawlenty said it's time for state government to tighten its belt.
To solve the short-term deficit, Pawlenty used his emergency authority to hold back money that had already been set aside for cities and counties, human services, the state's two higher education systems and the operation of most state agencies.
"We're not choosing between good options, so we're making very tough decisions," Pawlenty said. "But it's necessary. And it's no different than again what families are going through as they reset their priorities, reset their budgets, or what businesses are going through. They expect the same from state government."
Cities and counties will absorb the largest share of the cuts, a combined total of $110 million in state aids and tax credits. Small cities with populations under 1,000, and counties under 5,000, were exempt from the cuts. Pawlenty insists the cuts are manageable for local government and he repeated a warning to city leaders not to cut police and fire protection.
Grow the Future of Public Media
MPR News is supported by Members. Gifts from individuals power everything you find here. Make a gift of any amount today to become a Member!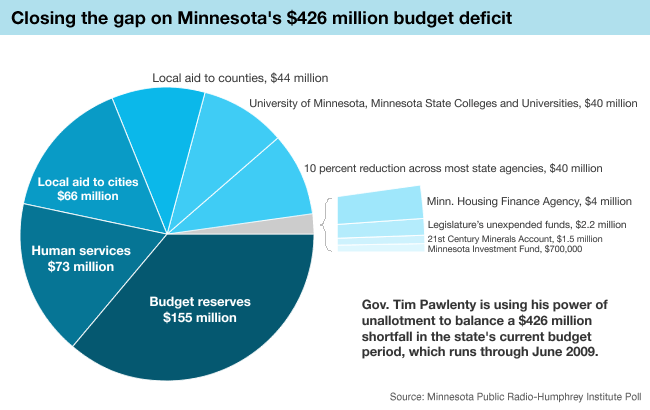 "There are lots of options, not in all cities, but in many cities, where they can go to reduce spending or to tighten their belts before they might impact police and fire," he said. "And city council members, any mayor, any city administrator who would say their first course of action is going to be to affect public safety, I would politely say they have misplaced priorities."
Minneapolis will lose more than $13 million while the hit to St. Paul will be $5.7 million. Rochester loses $1.9 million. Pawlenty suggested the state's largest cities could do away with departments that duplicate services available through the state, such as human rights protection.
Jim Miller, executive director of the League of Minnesota Cites, said local officials will be scrambling to adjust their budgets that were passed just months ago. The state will send out the second of two annual aid checks to cities in one week. Miller said no elected officials want to cut police and fire protection, but they may have no choice.
"When 80 percent of your budget is salaries, and probably 60 percent of your budget is fire, police and public works, when you start looking at significant revenue reductions, it doesn't take a lot of math to come to the conclusion than in some cases police and fire are going to be affected," Miller said. "It's just inevitable."
Three key areas of the state budget were spared from the cuts, including military and veterans affairs, public safety and K-12 education. DFL House Speaker Margaret Anderson Kelliher said she has concerns about the impact of the cuts on local governments, as well as the human services programs that wil lose a combined $73 million. But Kelliher praised Governor Pawlenty for taking a priority approach to the shortfall.
"Trying to nuance these cuts around small cities and towns was probably a good thing," Kelliher said. "They are the least capable of reacting quickly to this. I think sparing the classroom at this point was important."
DFL leaders in the Minnesota Senate disagreed with the governor's approach to the deficit. They favored across-the-board cuts to all spending areas, including education.
More budget cuts are looming for state lawmakers. State Economist Tom Stinson told legislators last week that Minnesota's short-term deficit will grow by $30 million to $70 million. The exact amount won't be determined until February.
Lawmakers are also facing a projected $4.8 billion deficit in the next two-year budget. They'll begin wrestling with the bigger, long-term problem during the 2009 session, which starts January 6.
The list of cuts outlined today by the governor includes:
$110 million from Local Government Aid

$73 million from health and human services programs

$20 million from the University of Minnesota

$20 million from MnSCU, the Minnesota State Colleges and Universities System

$40 million, or 10 percent, of state agencies' budgets

$4 million from the state's Housing Finance agency

$2.2 million from the Legislature

$1.5 million from the 21st century minerals fund

$700,000 from the Minnesota Investment Fund

Gov. Tim Pawlenty speaks at the state Capitol.

MPR File Photo/Tim Pugmire