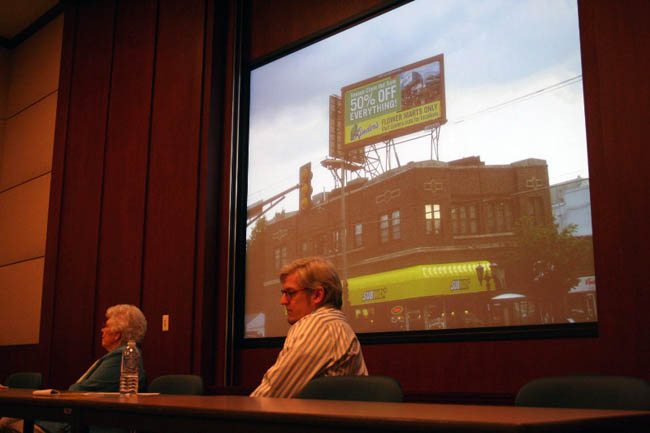 Anti-billboard activists in St. Paul say they have made slight progress in their battle against the big signs, but there's still work to be done.
St. Paul is home to 561 billboards. That's about a 10 percent reduction since 2001, when the city enacted a ban on new billboard structures.
Jane Prince, a volunteer with the anti-billboard group Scenic St. Paul, said many of the signs are peeling and dilapidated. She said she hopes the city will consider charging billboard companies a fee to pay for city inspections.
"At a time of serious budget problems at the city level and the economy, the fact that the billboard companies own all this real estate in St. Paul and are not required to pay for its inspection is a wrong that needs to be corrected," Prince said.
Marvin Liszt is an attorney for Clear Channel Outdoors, which owns most of the billboards in St. Paul. He says some beautification activists who are hailing a billboard ban in Brazil should not seek similar action here.
"My understanding is what happened in Sao Paulo, Brazil, the government just came in and took them down. And of course, in the United States, we have a constitution, we have due process of law. The government doesn't have the right to do that kind of thing, and I don't think anyone would want the government to have those types of rights," Liszt said.
The controversy over billboards has simmered for years in St. Paul. Clear Channel Communications, which owns most of the billboards, sued the city in 2006 over a new restriction on existing billboards.
At the time, the company said the ordinance was unconstitutional and limited the ability of businesses to advertise.
Scenic St. Paul unveiled a slideshow Wednesday featuring photographs of every billboard across the city.