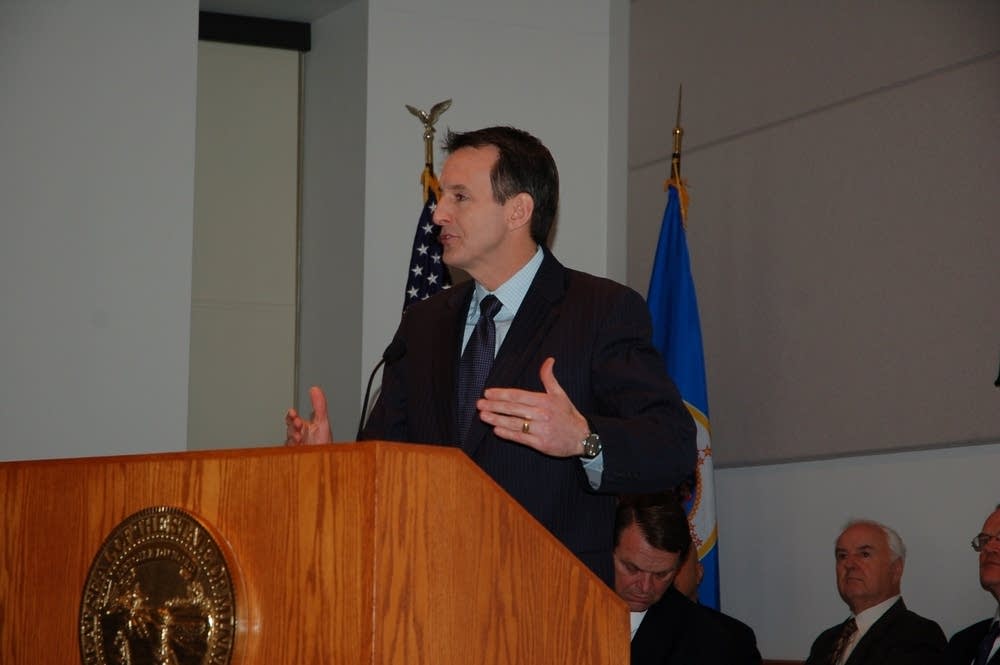 Governor Pawlenty's budget cuts state spending by more than 2 percent from the previous two-year budget. The spending cuts to nearly every sector of state government total $2.5 billion.
Under Pawlenty's plan, 84,000 people will lose their health care eligibility. Spending for colleges and universities, aid to cities and counties and hospitals and long term care facilities are all facing cuts. Pawlenty said that the economy is forcing difficult choices.
"We are not able to continue to fund everything at ever increasing levels so tough decisions need to be made about what's most important for Minnesota," Pawlenty said.
But Pawlenty may be putting off some of those tough decisions for another day. That's because he uses one-time money to erase 60 percent of the $4.8 billion deficit. He delays paying schools $1.3 billion until the next budget cycle.
"This is a device that the state uses all of the time when we have a budget deficit," he said.
He's relying on money from President Obama's proposed economic stimulus package as well.
"We're placing $920 million into the calculations today," Pawlenty said. "That number will increase. Let me just be candid with you but that number will increase."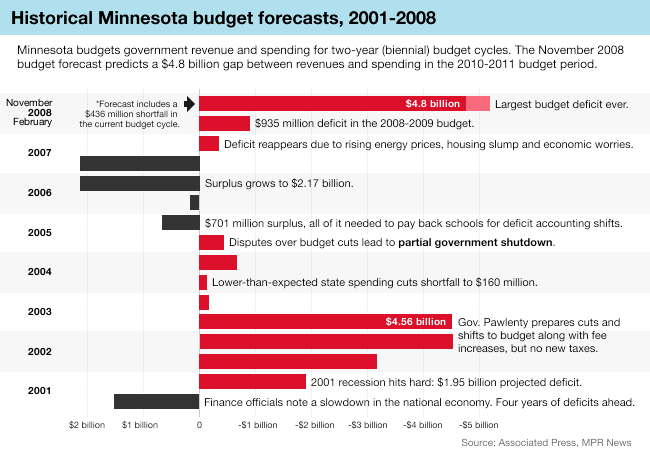 Pawlenty is also hoping to sell half of the annual payments tobacco companies make to the state for an upfront lump sum of $920 million.
"It is a way to cushion against making even worse and more difficult and counterproductive choices," he said.
Pawlenty's plan to use billions in one time money to balance the budget troubles some DFL lawmakers.
"He's got the credit card full and so he's getting a new credit card in the mail and is saying 'Oh, I'm going to use that credit card to pay off this credit card,'" said State Representative Loren Solberg.
Solberg chairs the House Ways and Means Committee and the Grand Rapids DFLer said he's not happy that Pawlenty is balancing the state's two-year budget with one time money. Solberg said that means the state will continue to face budget trouble for years to come.
"He is continuing to not address the structural balance of the state," Solberg said. "Using one-time money for ongoing expenditures is very very risky."
Several lawmakers also expressed concerns about Pawlenty's plans for the tobacco settlement money. They say they'll need to examine whether it makes fiscal sense.
The problem for DFL lawmakers is that they know Pawlenty won't support tax increases and they are already grimacing at the amount of spending cuts in Pawlenty's budget plan. DFL Senator Tarryl Clark expressed concerns over some of these cuts.
"Some of the questions that we might have is if 84,000 Minnesotans are going to be cut off of health care, how are they going to be paying for those bills in their family?" Clark said. "If people are going to have a harder time going to college and post-secondary education, the driver in our economy with jobs, how are they going to be prepared for jobs that we would like to see?"
Republicans in both the House and Senate say they generally back Pawlenty's budget plan. They also said DFLers should bring forward their own budget plan if they aren't pleased with Pawlenty's plan.
House and Senate Democrats say they intend to hold public hearings across the state to gauge the interest in Pawlenty's budget plan. They may also choose to wait to release their budget proposal until the next revenue forecast is released on March 3.
Many at the Capitol expect that the economic downturn and recent job losses will continue to take a toll, and that the next forecast will show a gap bigger than $4.8 billion.