The money that's funding Minnesota's U.S. Senate race recount battle is coming from two sources: the campaigns' internal efforts and joint fundraising committees each has set up with their respective political party.
The cash has been pouring in on both sides.
Including money from their joint committees, Franken led Coleman slightly in recount fundraising with more than $3.2 million compared to Coleman's $3.1 million.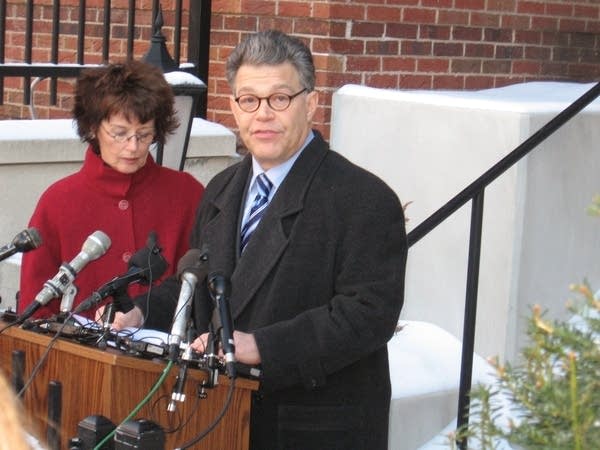 Parts of the Franken Recount Fund donor list read like a celebrity who's who: $12,300 from Mike Meyers; $5,000 from Ben Stiller; $2,000 from Burt Bacharach.
Contributors to the Coleman fund include former Bush White House strategist Karl Rove and Hubbard Broadcasting executive Stanley Hubbard.
Franken campaign spokeswoman Jess McIntosh said the post-Election Day efforts are expensive.
"Obviously former Sen. Coleman's election contest is an expensive prospect, and we've assembled an excellent legal team," she said. "But a really good chunk of our expenditures involves our volunteers and our staff. A statewide hand recount is fueled by a lot of pizza, a lot of rental cars, a lot of gas. It was statewide, and we had thousands of people working on it."
Although Franken raised slightly more money, Coleman ended the year with more recount cash on hand -- more than $2 million compared to Franken's less than $ 1.5 million.
Like the Franken campaign, the Coleman side is happy with it's 2008 recount fundraising, said Coleman spokesman Luke Friedrich.
"It's coming from all over. I mean people across the state and across the country have a strong interest in making sure that we get this right," he said. "I think there's obviously strong support in making sure that every vote is treated equally and treated fairly and that we can really determine who won this."
In addition to the millions the two campaigns raised, tens-of-thousands of dollars of joint fundraising committee money also ended up going to the state DFL and Republican parties. The parties can use the money to help the campaigns pay recount-related expenses.
The newly released numbers do not include 2009 fundraising, and both campaigns, along with their joint committees, are still raising recount money.
"The figures we're already seeing are just mind-boggling," said University of Minnesota political scientist Larry Jacobs.
Jacobs said he's not surprised so much outside money is pouring into Minnesota's recount, and he said he expects the battle will continue to attract a lot of money.
"We're not even close to the end of this recount, now contested election," he said. "The U.S. Senate race, now that we're in overtime, is continuing to chalk up huge amounts of money."
Franken held a Washington D.C. fundraiser around the inauguration of Barack Obama a couple of weeks ago. The National Republican Senatorial Committee is putting together a fundraiser for Coleman next week.