State budget deficit shrinks to $4.57 billion with stimulus help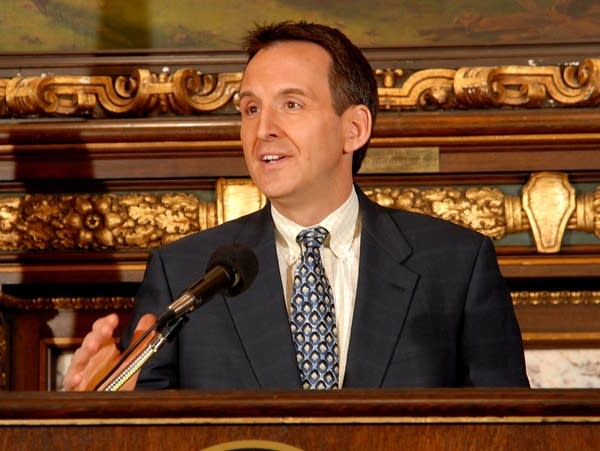 If the federal economic stimulus money designated for Medicaid wasn't on the way, Minnesota's $4.8 billion budget deficit would have grown to $6.4 billion.
Management and Budget Commissioner Tom Hanson says the economy continues to deteriorate, with unemployment rising and state revenues down sharply.
Hanson said the shortfall lawmakers must solve during fthe next two year budget period is now down to about $4.6 billion, but he also pointed out a longer-range deficit of $5.1 billion in 2012 and 2013.
"The federal stimulus helps, but I want emphasize it's one-time money. It's not a permanent solution," said Hanson. "On this slide you'll see we have an ongoing structural imbalance in our budget, and that's just finance speak for we spend more than we collect."
Grow the Future of Public Media
MPR News is supported by Members. Gifts from individuals power everything you find here. Make a gift of any amount today to become a Member!
Minnesota is expected to get more than $4 billion from the federal stimulus, but Hanson said that current law allowed him to factor only the Medicaid reimbursement money into the forecast. He says an additional $800 million in aid to the state could end up in the budget fix.
Gov. Tim Pawlenty says the forecast is a challenge, and it will require spending cuts to make up for the reduced revenue. "Government needs to do the same thing that Minnesota families are doing and families all across this country are doing, what businesses are doing in the private sector, and that is live within its means, tighten its belt, and make sure that we have our lifestyle, our government lifestyle, match up with the revenues that are coming in the door. And that is what we intend to do with our budget," said Pawlenty.
Pawlenty says he needs to adjust his budget proposal in the next few weeks to reflect the new forecast, as well as the federal stimulus money, but he says the basic structure of his proposal will remain the same. That means K-12 education, veterans programs and public safety are protected from spending cuts. The Republican governor also warned Democrats that he remains opposed to tax increases.
"Everything needs to be on the table. The last thing that the people of Minnesota need, and people who are small business people, business people across the state who are trying to save or keep jobs, is a tax increase in this state," said Pawlenty.
Democrats still aren't saying if they'll propose tax increases, but they say they want all budget-balancing options on the table.
[image]
Senate Majority Leader Larry Pogemiller (DFL-Minneapolis) said that also means all budget areas are open to spending cuts.
"There will be belt tightening across the board for all sectors of our governmental services, state, local, school districts, counties, and it's It's going to be a challenging time," said Pogemiller.
House Speaker Margaret Anderson Kelliher (DFL-Minneapolis) says she's committed to solving the entire budget problem and positioning the state for future growth. Kelliher compared the state's financial picture to an economic car crash.
"The help that we've gotten from the federal government is like short-term pain medication administered to the patient, and it is certainly helpful," said Kelliher. "But the underlying problem remains, and we have a long way until we're on the road to recovery and we're well again."
Kelliher says Democrats will begin work soon on an alternative budget proposal. She says House and Senate tax committees will deal with specific revenue proposals.
House and Senate Republican leaders, who side with the governor on taxes, say they want to see those proposals soon to have time for a thorough debate.
Gallery
1 of 1