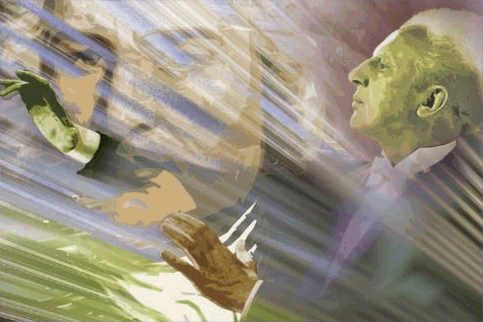 Have you noticed that it doesn't matter if Sean Connery is playing a Brit or an Irishman or even a Russian -- all his characters have the same unmistakable Scottish burr? It's not authentic, but it's still charming as heck.
Leopold Stokowski has a similar signature. His fingerprint is unmistakable in any of his orchestral transcriptions, whether he's transcribing Boccherini or Bach or William Byrd.
This week's CD features Jose Serebrier leading the Bournemouth Symphony Orchestra in the second volume in a series of Stokowski's transcriptions.
Serebrier has had a long relationship with Stokowski, which started when Stokowski conducted the premier of 17-year-old Serebrier's first symphony.
He saw and heard firsthand how Stokowski could change the sound of an orchestra instantly, not only by physically rearranging the musicians but also by merely having a certain sound in his inner ear, and expecting -- demanding -- that sound from the orchestra.
Serebrier isn't a Stokowski clone, however, and his Bournemouth Symphony Orchestra has its own elegant, polite, even careful vibe.
You can hear it in "Sleepers, Awake" by J.S. Bach. It's all about sustaining a long line of music, overlapping and weaving threads of melody and harmony and countermelody to create a seamless tapestry of sound. It's not hard to hear the choral and organ origins of these pieces, and how that informs the orchestral performances.
Stokowski came to music the way many do, through the church choir. But he didn't just fall in love with choral music. There in the choir loft, he was introduced to the King of Instruments - the pipe organ. It changed forever the way he heard and played and arranged music.
Although the organ that Bach played in the 18th century was simpler and sounded different from what Stokowski played in the 20th, the stops (sets of pipes) for both eras were named for instruments of the orchestra-- trumpet, violin, oboe, flute. An orchestra, right there at your fingertips.
Movie music composer Bernard Herrmann allowed that Bach never heard his Toccata and Fugue the way Stokowski presented it. But, he said, Bach "must have imagined a great cosmic sound, and Stokowski's transcription is a metamorphosis of that sound."
This CD of Stokowski transcriptions reminds me that though, like Sean Connery, the accent might not change, the characters are always unique and engaging.