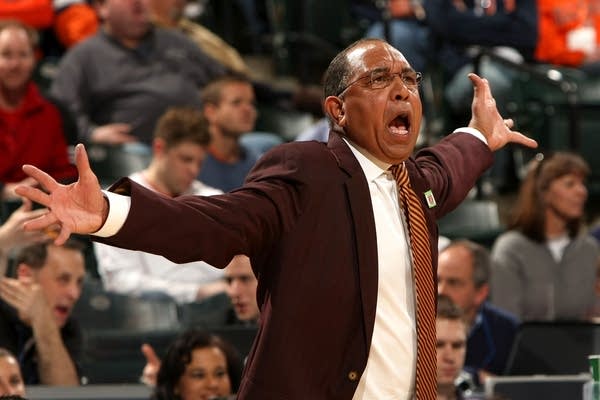 (AP) - Tubby Smith was in the middle of a press conference about needing just two years to shepherd troubled Minnesota into the NCAA tournament when he heard someone chattering on a cell phone in the back of the room.
"Can you take that phone call elsewhere, please?" Smith chirped, clearly annoyed at the interruption.
It didn't take him long to learn that it was Minnesota athletic director Joel Maturi informing University president Robert Bruininks that the Gophers (22-10) were given a No. 10 seed and will play seventh-seeded Texas in Greensboro, N.C., on Thursday.
"Oh, Coach I'm sorry! Tell Dr. Bruininks I'm sorry," Smith said as his head hit the table sheepishly and laughter filled the room. "Somebody should have told me that was my boss. ... I didn't just do that."
After turning a program that was 9-22 the year before he got here into an NCAA tournament team in just two seasons, Smith can say whatever he likes.
"To get to March Madness and be a part of it is something [the players] will cherish forever."

Gopher men's basketball coach Tubby Smith
After Kentucky's famously demanding fan base started to turn on Smith, he left one of the nation's most storied basketball programs for one of its most downtrodden.
The Gophers were coming off the most losses in the 111-year history of the program and still weighed down by a massive academic fraud scandal that brought with it heavy NCAA sanctions and a forfeiture of the school's only Final Four appearance.
All Smith has done in his two seasons in the Twin Cities is lead the Gophers to consecutive 20-win seasons and injected optimism, confidence and stability into a once-proud program that lacked all of the above under Dan Monson.
"To be going there after two years here, we really are pleased with where we are with the program," Smith said. "Certainly want to thank Joel Maturi and Dr. Bruininks for giving me this opportunity to lead the Gophers and hopefully we'll continue to build on this."
This is exactly where Maturi expected the Gophers to be when he lured Smith away from the bluegrass. But this soon?
"I don't think anybody expected it to happen in two years," Maturi said.
Smith did.
"I thought we'd do it in one year," Smith said. "I was disappointed we didn't do it last year. I thought last year's team, we let some games slip away that we should have won."
In his first season on campus, Smith helped the Gophers to 11 more victories than that rock-bottom season of 2006-07. They advanced to the semifinals of the Big Ten tournament, but had to settle for an NIT bid.
That ended a string of 14 consecutive NCAA tournament berths for Smith, who went all 10 seasons in Kentucky and two years each at Georgia and Tulsa dating back to 1993.
This year, with only two seniors on the roster, the Gophers used a soft non-conference schedule to race out to a 16-1 start. But losing six of their final nine games of the regular season had them wondering if they had done enough to get in.
The East Region was the third one announced on the selection show, so the coaches and players had to wait about 15 minutes to hear their name called.
"At first we were getting nervous," senior Jamal Abu-Shamala said. "You see some teams that get in at the spot we could be at. But when they called their name, it was one of the greatest feelings. Everyone went crazy. We're just so excited."
It's the first NCAA berth for Minnesota since 2005, when the Gophers lost to Iowa State in the first round. Only one player remains from that team, and it was center Jon Williams, who was a redshirt and did not play.
"It was a little more nerve-racking this time around," Williams said. "In the end, it just shows that hard work pays off."
A victory over Texas (22-11) would make for a likely second-round matchup with second-seeded Duke in an arena just an hour down the road from the Blue Devils' campus in Durham, N.C.
No matter what happens, though, Smith said this is an experience his players will never forget.
"To get to March Madness and be a part of it is something they'll cherish forever," Smith said. "When that happens, it's just an overwhelming feeling."
The Metrodome in Minneapolis will host first-round games on Friday, featuring:
No. 2 Michigan State vs. No. 15 Robert Morris;
No. 7 Boston College vs. No. 10 USC;
No. 3 Kansas vs. No. 14 North Dakota State;
No. 6 West Virginia vs. No. 11 Dayton.
The winners will play in the second round on Sunday at the Metrodome.
(Copyright 2009 by The Associated Press. All Rights Reserved.)