(AP) High school and college students were let out of class Monday to help with sandbagging as residents raced to hold off possible flooding on the rising Red River.
City officials planned to fill more than 1 million sandbags, but with more rain forecast they increased the need to nearly 2 million sandbags - about 500,000 each day by the end of the week.
"We're confident that we can get the bags delivered," said Bruce Grubb, Fargo's enterprise director. "Getting them made is a more daunting challenge."
North Dakota State University canceled classes Monday and told students transportation would be provided to and from volunteer sites.
Minnesota State University in Moorhead also canceled classes for Monday and Tuesday, and urged students and staff to help with sandbagging.
Fargo high schools also excused busloads of students to help.
"The students are eager to help. We're ready to go," Fargo school spokesman Dan Huffman said.
Administrator Pat Zavoral estimated the city was about 40 percent protected as of Monday.
Officials in Fargo, with about 90,000 residents, and across the river in northwestern Minnesota issued urgent pleas Sunday for volunteers to help with sandbagging as a storm increased the flood threat in an area already expected to be swamped by a record crest.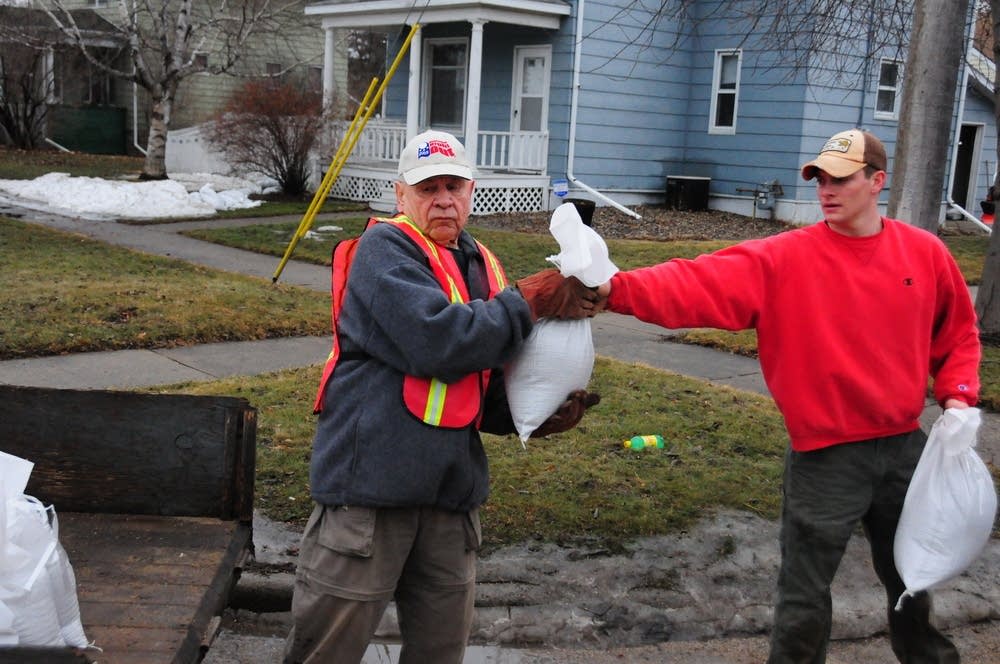 "We need this help," Cass County Sheriff Paul Laney said Sunday. "We need to stay calm, we need to stay cool, but we need to get serious and get this done."
Flood stage at Fargo is 18 feet, and the National Weather Service said the Red River had reached 25.3 feet Monday morning. The weather service said the river is expected to crest in Fargo early Friday at around 40 feet - which would be a record.
Officials said a dike protecting downtown Fargo was being raised to about 43 feet and an emergency levee south of the city was being completed.
The Minnesota National Guard said Sunday that more than 200 soldiers were being sent to the Red River Valley to help with the flood fight, and the North Dakota National Guard said about 250 members were ready.
Fargo is borrowing some expertise from Louisiana. The National Guard and the city plan to bring in seven miles of 4-feet high interlocking plastic containers that can be filled with sand to form temporary dikes, a system that was used during Hurricane Katrina.
"It's collapsable and easy to move," Zavoral said.
Flooding also forced people from their homes in small ranching and farming communities in south-central North Dakota.
North Dakota National Guard members used boats Monday morning to ferry about five rural residents from farms in Emmons County, said county spokeswoman Marlys Ohlhause.
Also in Emmons County, 50 to 75 homes were evacuated Sunday night in Linson, a town of about 1,300 south of Bismarck, said county emergency manager Shawna Paul.
About 40 families abandoned their homes in Beulah on Sunday and early Monday, said Mercer County emergency manager Richard Sorenson. County rescuers used a boat to pick up two people from their homes Monday, he said. Beulah is a coal country town of about 3,150 northwest of Bismarck.
"There are no injuries - just a lot of people stressed out and worried," Sorenson said.
Other towns in western Minnesota are also getting ready for high water. In Hawley, city officials are not expecting too much trouble from the Buffalo River.
The river is predicted to crest Tuesday night at 11.3 feet, which would match the historic high of 1921.
But Vice Mayor John Young Jr. says Hawley is able to escape major flooding, thanks to a dike built in the early 1960s.
Along the Red River, Halstad plans to bring in volunteers to start sandbagging Tuesday. The Red is forecast to crest at 40.5 feet on Sunday, which is 14.5 feet above flood stage and near the 40.8-foot level of the 1997 flood.
But a levee around Halstad kept out the water in 1997.
(Copyright 2009 by The Associated Press. All Rights Reserved.)