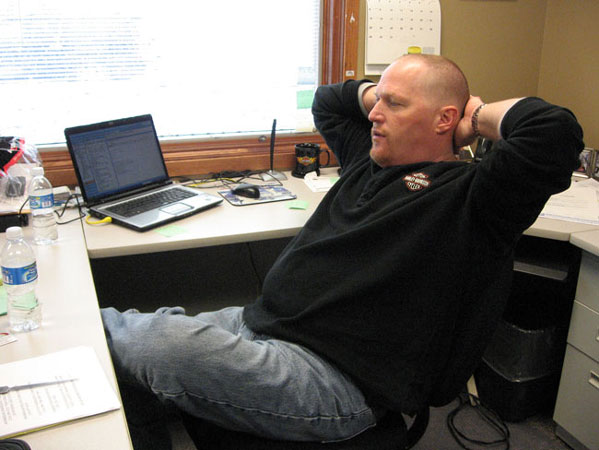 For Fargo's local news media, the story of the Red River flood of 2009 is personal. Most people in this small-town city know someone who's lost their home to the waters.
But perhaps more than any other media outlet, AM radio KFGO is the sound of Fargo's "fight against the flood." The station carries news conferences live, helps lost dogs find their way home and has connected those in need with true flood essentials, including sandbags, sump pumps and port a potties.
"Welcome back to the Mighty 790 KFGO. Our 2009 flood coverage continues with Joel Heitkamp. We're going to take phone calls in just a bit, but I want to go over some of the notes I've got on the Fargo press conference."
It's a sound that's familiar to anyone in Fargo-Moorhead. Every morning, just after the 8 a.m. briefing at City Hall, KFGO radio host Joel Heitkamp leads the post-game analysis. He shares the latest flood emergency information and then opens the phones. People call in to share stories, offer tips and ask for volunteers. It's true grassroots radio, North Dakota style.
"I love getting a chance each and every day to have a conversation with my neighbors," said Joel Heitkamp, a motorcycle-riding, former state senator with more than two decades in North Dakota's water utilities. He makes his show available for city officials to get flood information out to the community.
"We get the players on as quick as what we can, but it's still that listener out there that needs and wants to know about her home, or her grandmother, wants to thank the caregivers out there," said Heitkamp. "Those type of things, we need to get those out, so it's phone calls, phone calls and phone calls."
Heitkamp is a local celebrity, but he's clear about the role he plays. He knows he's not a journalist, he's a talk show host. His show is designed to let people have an unfiltered conversation with each other. His show normally airs for three hours each weekday, but Heitkamp's been pulling a double shift throughout the flood.
He and his colleagues have spent many nights sleeping at the station. KFGO has been on live, providing emergency information 24-hours a day for at least two weeks, and people are listening.
In downtown Fargo next to the Red River, a group of workers maintaining a stretch of dikes are on break next to their pickup trucks. Tim Jahner says they listen to KFGO all day, because the station covers everything.
"Minute by minute," he said, "I think it's excellent. I mean, we listen to it all day long running the equipment so we know actually what is going on with the homeowners."
Jahner's coworker Ivan Susag says Joel Heitkamp is one of his favorite hosts. He really knows North Dakota.
"I think I've heard that KFGO has the most listeners of any station in town. There is a reason for that," he said.
KFGOs ratings have been high during the flood. Station officials say they've had Internet listeners from every state in the U.S. and from 52 countries around the world. Hits to the Web site peaked at more than two million unique visitors in one 24 hour period in the last ten days. Heitkamp says that's because they give people what they want.
"There is a reason KFGO is called 'Live, Local, First,' because we want to be, and are, the ones that people know is theirs - it's their radio station. If the owner was sitting here, he'd say it's not mine it's theirs, we have got to be that source of information," said Heitkamp.
"Fight the flood of 2009, and we are going to continue to do that here on the Mighty 790 KFGO. We are going to be your connection to get word out. Give us a call. We'll visit, We'll talk by email, right after this."
As snow falls outside, Heitkamp is in the studio for his afternoon show. He sits across from his producer, monitoring a wall of TVs, taking notes on a yellow legal pad. During commercial breaks, he works on the computer and checks his blackberry. He reads off some emergency numbers and then opens the phones.
"Go ahead Justin," said Heitkamp.
The caller says he and his friends want to volunteer.
"Justin, the other thing that I would encourage you to do is don't forget that you can call 476-4000, Justin, and they will get you work volunteering. Okay, good luck to you, buddy and thanks for doing it. Now, I'm going to head off to Kevin. Kevin, you're on the Joel Heitkamp Show," Heitkamp told the caller.
Heitkamp is just warming up. He'll take calls like this for the next three hours straight. He says he sees his show as a public service for the people of Fargo-Moorhead.
"These are my friends and neighbors and family. When it comes to flood protection for this city, if you're a legislator, these are desperate moments, because you're sitting there going 'My God.' This was in front of us. We could have done something about this. Well, it's time to get it done."
He doesn't shy away from sharing his opinions. He wants city and state officials to build permanent flood protection around the river. For now, he and KFGO plan to cover the flood until cleanup is complete, even after the rest of the world has moved on.