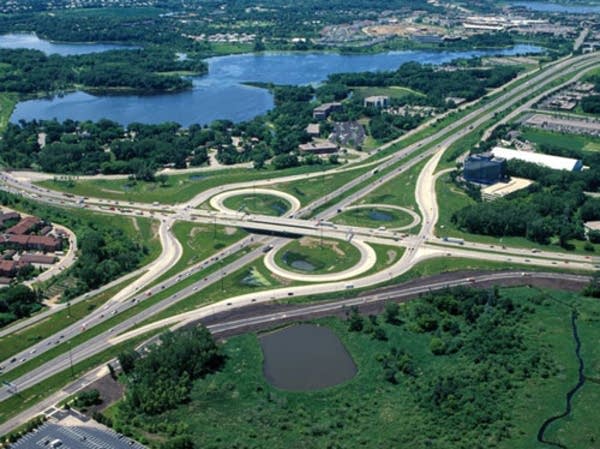 Three stop lights and a lot of traffic. Added together those elements cause driver delirium at the U.S. Highway 169 and I-494 interchange every rush hour.
Lights turn red, traffic backs up. A lot of frustrated drivers would welcome a fix.
The fix being proposed would eliminate those stop lights, add some lanes and other improvements to speed the flow all for the price tag of $140 million.
Over the years, the Minnesota Department of Transportation has made various improvements to make the interchange work better. And now the gush of federal transportation stimulus money - $602 million dollars for Minnesota - affords a chance to take another whack at U.S. 169 and I-494, said MnDOT west area manager, engineer John Griffith.
"It feels like we're always back in here about every 10, 15 years," Griffith said. "I think the benefits of having this phase-1 done is going to help that interchange immensely in terms of the traffic operations."
MnDOT's design - what Griffith calls phase 1 - does not include some bridges, ramps and frontage roads federal officials say are necessary. The feds are OK with the state plan as long as MnDOT returns a few years later to add them.
However MnDOT officials don't relish taking nearly three years to rebuild the interchange, waiting a few years, then returning for more construction at an additional cost of at least $40 million.
The two sides are trying to negotiate their differences. If they can't agree, that probably ends talk of a rebuild for the present, officials say.
The U.S. 169 and I-494 interchange sits on the boundary of three prosperous communities, Edina, Bloomington and Eden Prairie. A speedier interchange will allow businesses there to blossom, advocates say.
Others argue a new $140 million interchange is just as likely to siphon existing businesses from other suburbs who want to take advantage of the better traffic flow.
That's Will Schroeer's view. Schroeer, who works in the Twin Cities for Smart Growth America, the Washington, D.C.- based advocacy group, takes the position that better planning and transit need to be added to the country's transportation mix.
Using road building to ease congestion is like a game of whackamole. Backups relieved in one location pop up at another, Schroeer said.
"The mole is back. Now we have to take another whack at it," Schroeer said. "And as a taxpayer how often do you keep whacking at these things."
Put another way, at what point do elected officials and taxpayers decide building more roads and bridges alone can't address transportation problems?
We're at that point, said Hennepin County Commissioner Jan Callison. Callison offered the resolution unanimously passed by the county board recently in support of rebuilding the interchange. She said county officials know just adding lanes is not a solution.
"That's why I think you've seen Hennepin County lead with light rail," Callison said. "You see the Metropolitan Council looking at alternative bus modes, bus rapid transit as well as Hennepin County. I think there's a recognition across the region we're not going to build our way out but that doesn't mean we stop fixing problems."
Or at least some problems.
A decision to rebuild the U.S. 169 and I-494 interchange would soak up a lot of stimulus dollars. Dozens of smaller Twin Cities transportation problems have already been put aside for lack of funds.
The proposal to rebuild the interchange faces a key test on April 15. That's when the Metropolitan Council's transportation advisory board meets to recommend options for spending the federal stimulus dollars set aside for Twin Cities projects.