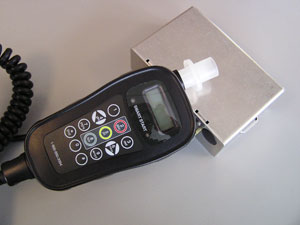 The decades-long effort to curb drunk driving in Minnesota and across the country has yielded big reductions in traffic deaths. But progress has slowed the past few years, with the number of alcohol-related fatalities seesawing around 200 each year.
On July 1, Minnesota will expand statewide a voluntary program that encourages repeat drunk driving offenders to use an ignition interlock on their vehicle.
More than 100 drivers in Hennepin and Beltrami counties are currently participating in the voluntary program. The ignition interlock requires drivers to blow into the mouthpiece in order to start their vehicle. If the device detects alcohol, the car won't start.
Besides saving lives and preventing injuries, convicted drivers who agree to use ignition interlock can get their revoked license back sooner, a big factor in being able to keep a job and attend court-ordered counseling, according to Jean Ryan, the Minnesota Department of Public Safety impaired driving program coordinator.
"There's a lot of people that really do need their driver's license to be productive in society, go to work, even many of these people need to go a treatment program, and ignition interlock provides them the ability to do that," she said.
St. Louis Park attorney Mike Friedberg, who co-owns a franchise that distributes the devices, downplays the possibility of people trying to defeat ignition interlock, including having someone who is sober blow into the device.
The sober person would need to stay with the drinking driver since the machine demands periodic retests during the trip, according to Friedberg.
"If they want to drive around providing a breath sample while you're driving drunk I guess they can do that if they want. I wouldn't recommend it," he said.
The ignition interlock device, which costs about $4 a day to lease, also stores the breath test results and makes them available to the courts so officials can monitor driver behavior.
Minnesota's plan stops short of mandating the devices, as New Mexico did.
For years New Mexico was the country's leader in drunk driving deaths. In 2005 lawmakers there approved a mandatory one-year ignition interlock requirement even for first time DWI offenders.
Rachel O'Connor, New Mexico's DWI program leader, says it's hard to know how many lives have been saved and injuries prevented by the requirement. However last year ignition interlock prevented lots of impaired driving episodes, she said.
"It stopped about 60,000 alcohol-involved trips in New Mexico and that means times where someone blew into the interlock and it actually turned positive and the car did not start," she said.
Ignition interlock is no silver bullet, O'Connor said. A large share of traffic deaths are caused by drunk drivers who haven't been caught before and thus don't have ignition interlock on their vehicles.
"The issue is that about 65 percent of fatalities come from first-time offenders which mean that interlock doesn't touch any of that because it only comes into play after someone has been convicted," she said.
At best, ignition interlock is one more way to bring down the number of drivers who persistently drive drunk.
One in eight licensed drivers in the state have a DWI conviction on their record, according to Minnesota officials. One in 18 have two or more.
Traci Toomey, a nationally recognized impaired-driving researcher and a University of Minnesota associate professor of public health, expresses the outrage felt by many when they learn the prevalence of drunk driving in Minnesota.
Toomey is a big fan of ignition interlock devices. She and many others working to reduce death and injury from drunk driving say ignition interlock should be standard equipment on vehicles, the way airbags are today.
"It is crazy that we have people that (are) four times, five times, six times and higher in terms of being repeat offenders," she said. "We need to get these people off the road."