No compromises yet in Minn. budget negotiations
Conference committee negotiations continued today on several bills, including an education bill that will likely hold school funding at current levels. With six days left to go in the session, the governor and DFL leaders went behind closed doors to try to reach an agreement on how to erase a $4.6 billion deficit.
At 40 percent of state spending, funding for public schools is always the biggest piece of the budget puzzle. This year, the Senate voted to reduce education spending by 3 percent. But it appears that the House position of flat funding has prevailed in the conference committee negotiations.
DFL Rep. Mindy Greiling of Roseville, chair of the House K-12 Education Finance Division, said that would be a victory for students.
"Because we haven't kept up with inflation for schools since 1991," Greiling said. "So every time we don't enhance the revenue, they fall behind without keeping up with inflation. So, this just keeps their head above water."
Greiling is also holding out for her so-called New Minnesota Miracle provision, which lays the groundwork for a new school finance system that would begin ramping up funding levels in 2014. Her Senate counterpart, DFLer Leroy Stumpf of Plummer, said that future commitment to increased funding has yet to be resolved. Stumpf says the Senate has severe reservations about the plan.
"If we can't raise enough money to balance the budget, how are we ever going to raise enough money to pay for the Minnesota Miracle?" Stumpf said.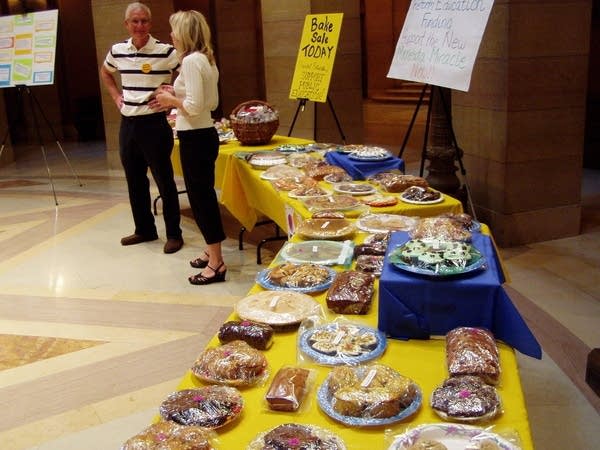 As budget negotiations continued, a group of parents from Osseo came to the Capitol rotunda to share their concerns about school funding. They staged a symbolic bake sale to remind lawmakers about what parents are doing to raise money for their local schools. Organizer Mary Ellen DeBois said the needs have grown too large.
"We're trying to add classroom assistants. We're trying to do things that the state should be funding," DeBois said. "We're tired of having our kids going knocking on the neighbors door asking them to buy frozen cookie dough to help pay for their schools."
DFL House Majority Leader Margaret Anderson Kelliher has participated in lots of fundraisers for her own children's schools, and she praised the Osseo parents for delivering their message to the Capitol. Kelliher told the group that a $1 billion tax bill vetoed by Gov. Tim Pawlenty last Saturday offered part of the answer to school funding this year.
"We need to work together now as a legislature to come together and override the governor's veto of that bill," Kelliher said. "Without that new funding we will see more dramatic and drastic cuts and dire consequences in our schools as well as the health care system."
Later in the afternoon, Kelliher and other legislative leaders were in the governor's office for their first face-to-face meeting in two weeks. After the meeting, Kelliher said the fight ahead will center on the need for ongoing revenue. DFL Senate Majority Leader Larry Pogemiller of Minneapolis agreed.
"The House and the Senate are very united in this sense that without some permanent revenue in about that billion dollar range, you absolutely cannot mathematically stabilize the budget. It cannot be done," Pogemiller said.
But the governor opposes tax increases, and he hasn't changed his mind.
"That's one of the sticking points which is they want to raise taxes to get that billion dollars," Pawlenty said. "I've been opposed to that, and in fact vetoed the bill last week. And so that remains a sticking point."
Republican legislators share Pawlenty's view on taxes. House Minority Leader Marty Seifert of Marshall said it's time for Democrats to show some flexibility.
"They're going to have to get off their stubborn position of raising taxes on the average person out there, and get back to reality that the average person out there is reducing expenses, looking at what they're doing, reforming lifestyles," Seifert said. "We're going to have to do that in government as well."
Seifert said he thinks a budget deal can still be reached, but said Democrats appear to be throwing in the towel by advancing a so-called "lights on" bill to fund government services for another year at base levels.
DFL leaders say the measure is only a precaution in case negotiations don't go well.
Gallery
1 of 1
Your support matters.
You make MPR News possible. Individual donations are behind the clarity in coverage from our reporters across the state, stories that connect us, and conversations that provide perspectives. Help ensure MPR remains a resource that brings Minnesotans together.