Jazz traditionalists who disapprove of the Bad Plus looking far beyond the Great American Songbook for cover material, probably won't like its latest record, "For All I Care."
Well, they may not object to the classical pieces given the Bad Plus treatment, including two by Milton Babbitt.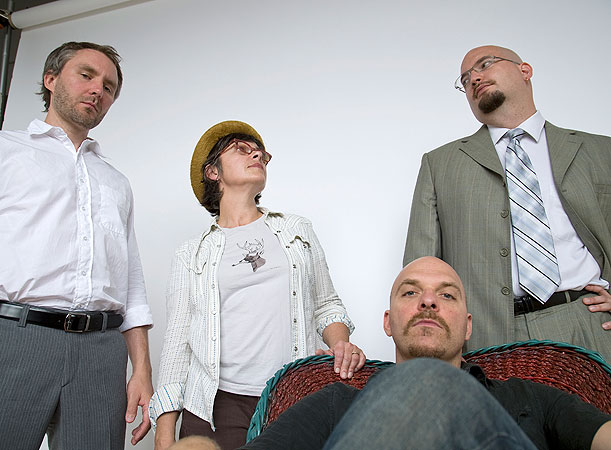 But there are four songs on the latest record that were once radio chart toppers, from the likes of Pink Floyd, The Bee Gees, Nirvana once again and Heart. The band also deconstructs tunes by Yes, Wilco, Roger Miller and the Flaming Lips.
You'll get no apologies from Bad Plus bassist Reid Anderson. Anderson said covering contemporary popular music is what jazz groups have always done, and The Bad Plus's approach to covers has been pretty consistent.
"We're trying to take this piece of music and really just break it apart and look at it from a number of different perspectives and put it back together again, so that music is part of us now as well," he said.
On "For All I Care," The Bad Plus decided to stretch its sound by adding vocalist Wendy Lewis. Reid Anderson and drummer Dave King are Golden Valley natives, and pianist Ethan Iverson's from Wisconsin. So they knew Lewis's work in the Minneapolis indie rock band Redstart.
Anderson said they were drawn to Lewis's honest, unadulterated singing style.
"We're trying to take this piece of music and really just break it apart and look at it from a number of different perspectives and put it back together again..."

Bad Plus bassist Reid Anderson
"I think there's a very pure quality to Wendy's voice," he said. "She's not trying to dress anything up with some sort of histrionics or some kind of melismatic vocalizations or anything, it's pure. It's real."
Meanwhile, Lewis saw her role as a fourth instrument in the group. For Lewis, it was a liberating experience.
"I think that's something I've been coveting my whole life, to not have to be in that 'being lead singer' position, because sometimes it very distracting from the music, frankly," she said.
A few critics have questioned whether the addition of Lewis distracts from The Bad Plus's instrumental prowess. But most, including Cleveland-based freelance jazz writer Matt Marshall, think Lewis brings a new dimension to the band.
Marshall said too much jazz singing today sounds like lite rock or even elevator music, but Lewis's voice has an edge.
"And so she brings a different approach and a power that's often missing in jazz singing," Marshall said.
Marshall likes The Bad Plus's rhythmically shifting, sometimes atonal, occasionally thunderous reinterpretations of classic rock and pop hits. But he also appreciates their potential to turn new young fans on to jazz.
"These are songs that younger people already know, but they're not played the same way that they know them," he said. "So that right there gives them a hint of what jazz really is all about."
Over its nearly ten-year history, The Bad Plus has released about as much original material as it has covers. But the band's interest in mainstream pop music, said Reid Anderson, remains deep.
"I think it's incredibly healthy and important for jazz to have this relationship with popular music that's contemporary, and for young jazz musicians to be playing music that connects with their life experience," he said.
In other words, for jazz to stay relevant today, it has to respond to today's music.