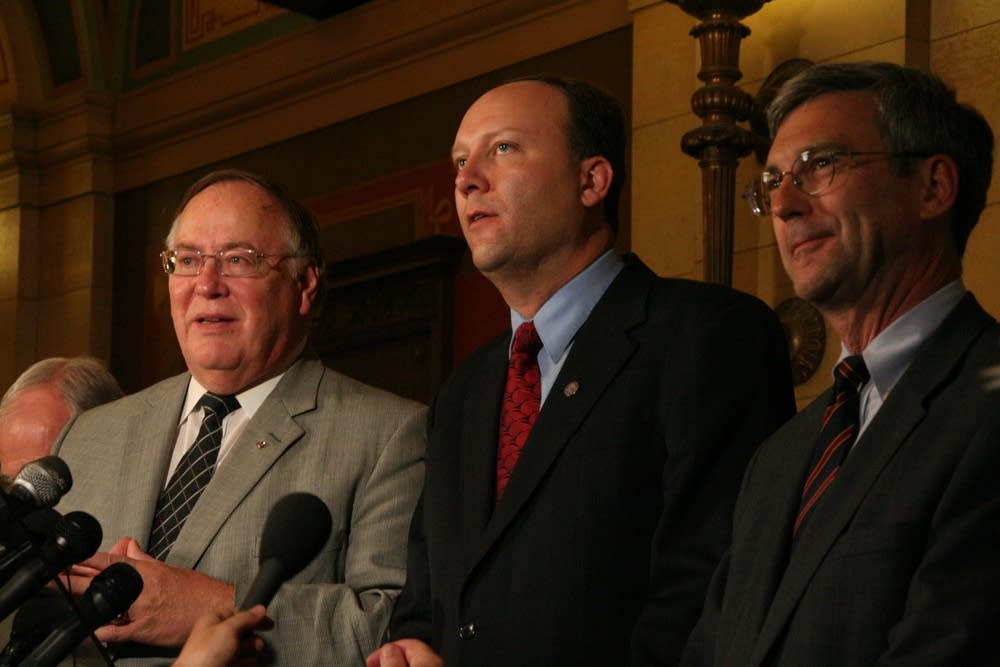 "I think the announcement came about a month before a lot of us expected it to happen," said former State Auditor Pat Anderson.
Anderson said she's considering a potential run for governor and would make the announcement in a month or two.
"Many people thought he would run for a third term, so you're catching the Republicans a little off balance in that sense," Anderson said.
Anderson's name is on a long list of Republicans who are said to be considering the job.
After Pawlenty made his announcement, top legislative Republicans, including House Minority Leader Rep. Marty Seifert, R-Marshall, Sen. David Hann, R-Eden Prairie, Senate Minority Leader Dave Senjem, R-Rochester and Sen. Michelle Fischbach, R-Paynesville held a brief news conference to praise Pawlenty.
When asked to raise their hands if they were not considering a run for governor, none did.
"Today is Tim Pawlenty's day and not anyone else's," Seifert said.
But Seifert is wasting no time. He scheduled a Wednesday morning news conference "regarding his role as leader of the House Republican Caucus." One of Seifert's assistants also emphasized that Seifert's name should be on the list of possible candidates for governor.
Others on the list include former U.S. Rep. Jim Ramstad, former Minnesota House Speaker and current Department of Labor and Industry Commissioner Steve Sviggum, and businessman Brian Sullivan. The three could not be reached for comment for this story.
Another former legislator, and candidate for attorney general, Charlie Weaver, said he's open to running but said he has to consider family obligations.
"I've run a statewide race. I know what it takes and it's a significant sacrifice," Weaver said. "But it's also one of the best jobs in the state. It's something I'll kick around with people this summer."
"The cost of admission has really skyrocketed over the last couple of cycles."

Sen. Geoff Michel, R-Edina
Weaver said any serious candidate would have to make a decision by the fall in order to mount a serious campaign. Candidates will have to win the backing of rank-and-file Republicans, hire key staffers and raise millions for the general election.
Fundraising is a key consideration for Sen. Geoff Michel, R-Edina. Michel said he's leaving his options open because being governor is "the best job in politics."
But he estimates that candidates may have to double Gov. Pawlenty's spending of $3.9 million during the 2006 campaign.
"Being a chief executive, you can really drive an agenda," Michel said. "That's really appealing, but the cost of admission has really skyrocketed over the last couple of cycles," Michel said.
Some lawmakers, including Rep. Paul Kohls, R-Victoria, say they'll talk with family members and supporters to gauge if there's interest in a potential run.
"I think our prospects were good before; I think they're great now."

State DFL chairman Brian Melendez
When asked what strengths he could bring to the office if he ran, Kohls compared himself to Pawlenty.
"I line up pretty well with Governor Pawlenty," Kohls said. "Republicans are going to have little if any concern with me. I think that I'm representative of a lot of people in Minnesota. I'm a father. I've got another job. I'm paying a mortgage, and I'm living the struggles that most Minnesotans are living.
State Rep. Laura Brod, R-New Prague, told the Associated Press that she hasn't made a decision on whether she'll run.
Although Republicans have seen heavy losses across the country and in the Minnesota Legislature in recent years, Republican Party Chair Ron Carey said he's confident that Minnesotans will continue to elect Republicans to the state's top job.
"We have a very strong cupboard full of great Republican leaders that are going to emerge in the coming weeks and months," Carey said.
Others argued that the governor's office is the only remaining check on DFL control of state government. Democrats have not controlled the governor's office since 1990, when Rudy Perpich left office.
As many as 11 Democrats are either running or are considering a run for governor. State Sen. Tom Bakk of Cook, former U.S. Sen. Mark Dayton, Ramsey County Attorney Susan Gaertner, former state Sen. Steve Kelley, former House Minority Leader Matt Entenza, state Sen. John Marty of Roseville and state Rep. Paul Thissen of Minneapolis are officially in the race.
House Speaker Margaret Anderson Kelliher of Minneapolis, Minneapolis Mayor R.T. Rybak, state Sen. Tarryl Clark of St. Cloud, and St. Paul Mayor Chris Coleman are also seen as a potential candidates.
State DFL chairman Brian Melendez said Pawlenty's decision helps Democratic candidates. He said whoever ends up as the party's choice can run on the same message that's been successful for many legislative candidates the last few years.
Melendez said the two key goals would be restoring lost jobs and returning the state's budget to a permanently healthy footing.
"We've been preparing for a year now to run against Pawlenty," Melendez said. "Now we're going to be running against someone with much less experience. I think our prospects were good before; I think they're great now."
For his part, Pawlenty declined to say who he would support, but said he'll work hard to elect the Republican candidate in the general election.
"We'll allow the process to emerge and percolate for a while," said Pawlenty. "There are going to be a lot of great candidates and many of my good friends running against each other, so it's going to put me in an interesting spot."
(The Associated Press contributed to this report.)