Missing Somali teen reportedly killed in Mogadishu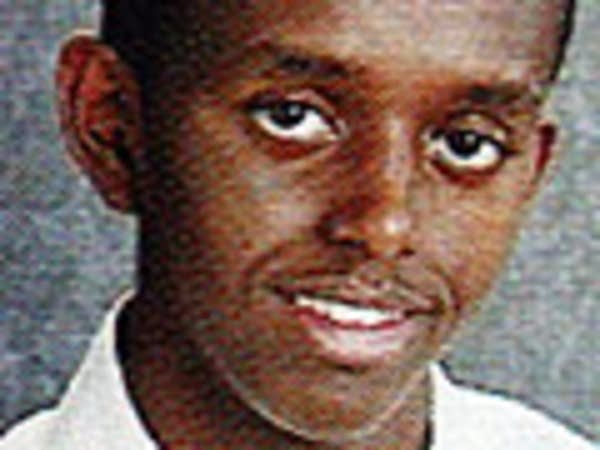 Family members of a young Minneapolis man killed in Somalia are calling on the federal government to arrange for his body to be brought back to Minnesota.
Burhan Hassan, 17, one of a group of young Somali American men who went missing from the Twin Cities last year, was reportedly killed in the city of Mogadishu.
Family and supporters gathered Sunday at the Abubakar As-Saddique mosque in Minneapolis to pray for Hassan and his family. After the regular service, mosque leader Omar Hurre introduced a special prayer for the family.
"We are here today, Inshallah, to support and send our condolences to the family of Burhan Hassan," he said, "who died in Somalia."
Grow the Future of Public Media
MPR's budget year comes to a close on June 30. Help us close the gap by becoming a Sustainer today. When you make a recurring monthly gift, your gift will be matched by the MPR Member Fund for a whole year!
Few details are known about the circumstances surrounding Hassan's death. Federal officials say they are aware of reports of his death but cannot confirm it. Relatives say the family received a phone call from one of Hassan's friends in Somalia informing them of his death and burial in Mogadishu.
But exactly what happened to the teenager is unclear.
Hassan left the Twin Cities last year, apparently to join the fighting in Somalia. Many in the community fear the men may have been recruited by Al-Shabaab, which the U.S. considers a terrorist organization.
Somalia has been without a functioning government for almost two decades. Recently, a fresh wave of violence has swept the country as insurgents fight to install a strict Islamic state.
Mosque director Omar Hurre says they are distraught over what has happened.
"They have been grieving through all that period that he was missing and right now the situation is worse. As we pray today for them," he says. "We hope that they will get better and they will be strong through these difficult times."
The FBI has been investigating a possible link between terrorist groups and the missing men since last year. Dozens of young men have disappeared.
Friends and relatives say Hassan was known as a shy and studious boy. They say he was so skinny, they doubted he was physically strong enough to be a fighter.
Omar Jamal of the Somali Justice Advocacy Center in Minneapolis says there is no doubt his death can be linked to radicals.
"It's very sad," he said. "The community is mourning a life being cut short by senseless killing and I think this has to come to an end. Al-Shabaab must be defeated and those people must be held accountable for putting them in harm's way."
Jamal says he's hoping Hassan's death will lend a sense of urgency to the federal government's investigation into the missing men.
Meanwhile, Jamal is helping the family to try and arrange for Hassan's body to be returned to Minnesota for burial. The family is also demanding that an autopsy be performed to determine the exact cause of death.
---
Editor's note: An earlier version of this story misspelled Hassan's last name because of an editing error.
Gallery
1 of 1