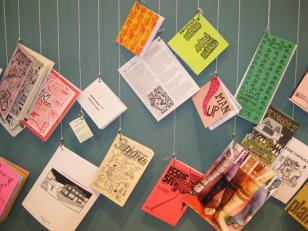 Self-published writers and artists will converge on Minneapolis this weekend for a celebration of independent print publications.
The sixth annual "Zine Fest" brings together creators of homemade magazines, commonly called zines, for a weekend of readings, exhibits, workshops, and film screenings.
Zines are usually low-budget creations with variety of themes, including music, politics, parenting and personal experiences.
The festival has grown in popularity in recent years, despite the rise of blogs and other online publications.
"I think that the role of zines and print today is kind of nostalgic," said event coordinator Sarah Morean. "Zines help build community and individual relationships in a different way than online publications."
The eclectic assortment of exhibitors includes the award-winning cartoonist Ed Choy Moorman and local artists featured in the Good Minnesotan, a comic book anthology.
The event runs from July 11-12, at Stevens Square Center for the Arts.