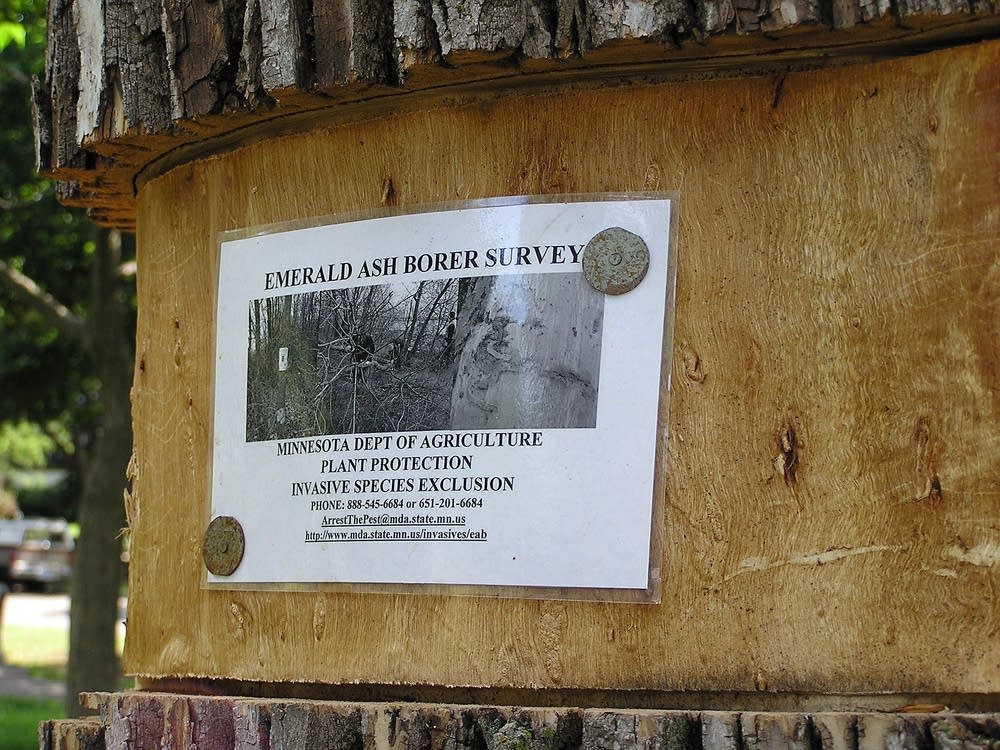 Officials in the Twin Cities are scratching their heads trying to figure out what to do next about the emerald ash borer.
The invasive pest was detected in the St. Anthony Park neighborhood of St. Paul in May. Crews moved quickly to take down dozens of trees, but since then, it's been a game of wait-and-see.
A small park off Raymond Avenue, a few blocks north of University, is ground zero for the emerald ash borer invasion.
After the infestation was confirmed, the city of St. Paul cut down 68 trees, and ground them up on the spot.
"It was down here on Long Avenue," said John Lloyd, who works with the Urban Forestry Institute. "One of our arborists with Rainbow Tree Care found a tree that was suspicious, he brought back pictures and we went, 'Oh, God, that looks like what we're looking for.'"
Once the wood is in chips smaller than an inch, the beetle and its larvae can't survive.
What to do next about the emerald ash borer, however, is complicated.
The half-inch-long green metallic beetle is native to Asia, and since 2002 it's been spreading from Michigan in a relentless path of destruction that now affects 13 states and Canada.
Lloyd organized a visit to Minnesota by a team of experts from Ohio, a state that has been hit hard by the ash borer. They shared their painful experience in a two-day training session for tree care professionals and city officials.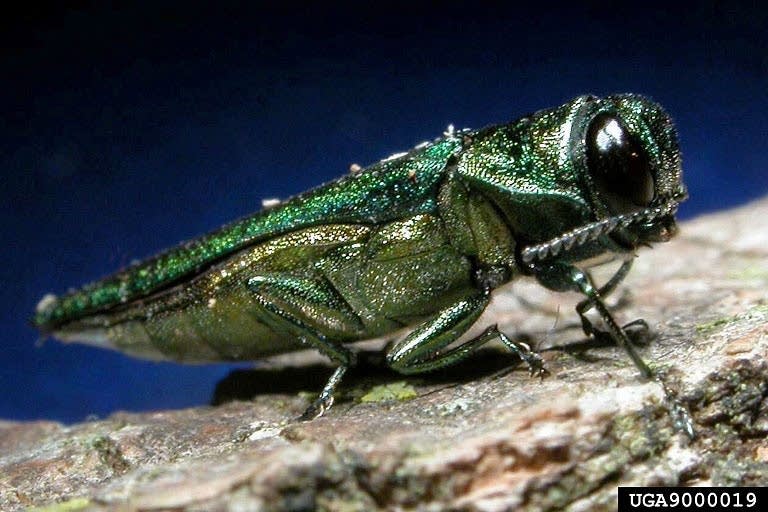 Since the original find in May, no more Twin Cities trees have been identified as infested. But even if they were, they might just be left alone because summer is when the beetles can fly from tree to tree.
Ralph Sievert, the director of forestry for the Minneapolis Parks and Recreation Board, said between Memorial Day and Labor Day, the city will leave the ash trees alone.
"We don't want to be moving the beetle around if we don't have to," he said.
After that, Sievert plans to start cutting down ash trees that have problems, diseased trees or trees that have no particular value, but, so far, he's only planning to cut a few hundred this fall.
"We don't want to rush it because people haven't reached that acceptance point yet," he said. "I don't think they've quite realized if you've got an ash tree, it's dying, unless there's some miracle thing that comes along."
"We're just looking at it as they're going to go and we're going to start getting them out."
With a staff that's 10 members short and a hiring freeze in effect, the city could have to cut back on the normal pruning jobs the city does in the fall and winter.
In St. Paul, Cy Kosel, the natural resources manager for parks and recreation, plans to cut as many as 3,000 trees a year, or one-fifth of the ash trees in the city.
"Hopefully, the idea is that we start getting in the process of slowing down the movement of the emerald ash borer, versus if we don't remove them, we're afraid that it's just going to start to populate much faster, and the situation can get out of hand," Kosel said.
Kosel says he'll hire new staff and buy some equipment, and it could cost nearly $3 million a year.
He says the beetles were probably in the St. Anthony Park trees for four or five years before they were discovered, and they spread on their own up to a mile a year.
Golden Valley Mayor Linda Loomis says she expects the pest to be in her town soon.
"We were pretty devastated with the Dutch elm disease, being we're an older suburb, and a lot of the elms were replaced by ash trees," she said.
Loomis said she worries about the costs homeowners face as they have to have trees removed, and the taxpayers who will pay for the trees on public property.
"The question is, how do we do it given the budget crisis that we're all going through right now, where do we get the funds to have people going out and doing tree inventories?" she said.
The experts from Ohio stressed the importance of planning ahead, and a tree inventory is the first step.
They also said the Twin Cities will need to find open spaces where large numbers of trees can be chipped, because once the ash borer really takes hold, a lot of trees will die in a short time.
Everyone hopes it's not too late to keep the beetles confined to the smallest area possible, and officials are likely to issue a tighter quarantine sometime this month.
The measure would probably restrict movement of ash within cities near the known infestation, including St. Paul, Minneapolis, Roseville, Lauderdale, and Falcon Heights.