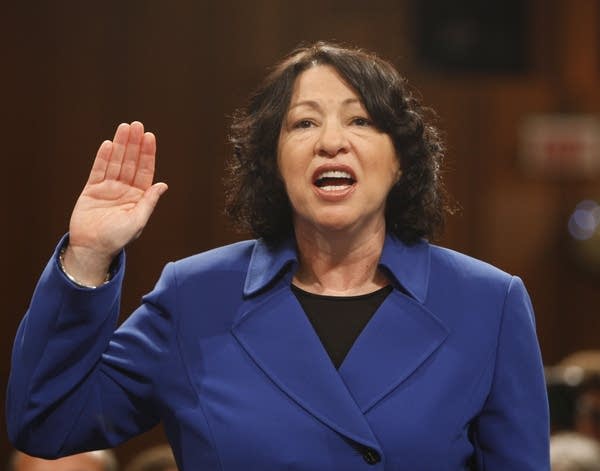 If confirmed, Sonia Sotomayor would be the first woman of color to serve on the U.S. Supreme Court. By adding Sotomayor, the Supreme Court would have a higher proportion of women of color than are in top positions in virtually all U.S. law firms.
Two studies found women of color have little chance of rising to the most powerful ranks in law firms. The National Association for Legal Professionals says less than 2 percent of all partners at the nation's law firms are minority women. In Minnesota, it's less than 1 percent.
The American Bar Association's Commission on Women in the Profession is in the midst of a nationwide study that's showing similar results.
Bobbi Liebenberg, a Philadelphia attorney who heads that commission, said the study, "A Visible Invisibility," found that once hired, women of color don't stay. She said 86 percent leave law firms by their seventh year, a time when they should be on a partner track.
"A lot of this attrition results from the fact that women of color received inferior work assignments, unfair performance evaluations, importantly lack of access to clients and networking opportunities and mentoring opportunities," Liebenberg said.
Liebenberg said women of color also occupy the lowest rung on the compensation ladder. They earn less than white males, male attorneys of color and white women.
The Bar Association's Multicultural Women Attorneys Network is trying to support young minority women lawyers. They recently released a second book of essays from prominent women attorneys of color who share their strategies and tips for succeeding in law.
The network's chairwoman, C. Elisia Frazier, said women of color have the intellectual firepower to match their colleagues, but they're often the only one at their firms and are isolated. She said they don't get the same kind of help in networking and getting ahead in the law firm environment that other lawyers do.
"Law firms do hire women of color, but the issue is what is in place once they get there."

C. Elisia Frazier
"Law firms do hire women of color, but the issue is what is in place once they get there," Frazier said. "And that's what I think this latest round of diversity in the partnerships with corporations and law firms is all about -- it's about your retention efforts; it's about what happens when you get them in the door."
Cheree Johnson is an alumna of the University of Minnesota law school and a chemical engineer. She works as chief innovation counsel at H.J. Heinz in Pittsburgh. Johnson said she's not surprised that women of color don't stay at law firms.
She said if they're intelligent, competent and assertive, they'll face criticism like Michelle Obama and Sonia Sotomayor, that they have an attitude, are strong-willed or too tough. She said white men never face that kind of criticism.
"You're struggling with, 'Am I saying this right, am I coming off too harsh, am I coming off too timid?' and then seeing your counterparts not have to go through that mental struggle -- that makes it very challenging, and also adds stress to an otherwise stressful job as it is," Johnson said.
Johnson said what's needed is not special treatment, just equal treatment. She said she often saw male partners at firms ask younger male associates to play golf or ball after work -- activities that build bonds essential to networking. She said she was never asked to join.
So Johnson began taking golf lessons and asked to join them. She said law firms could do a better job at including women of color in all activities at the firm.
Rachna Sullivan, who's a partner at Fredrikson and Byron in Minneapolis, said she's been fortunate because she's had role models who gave her chances and helped her on good cases. But, she said there just aren't enough role models to go around, and it's tough often being the only one.
"More younger lawyers need that support, they need the role models, they need the opportunities," Sullivan said. "Diverse lawyers get out of what they call the rat race, because they feel they're not getting the support. I think it's going to be a slow process, but I have hope we'll get there."
C. Elisia Frazier said if Sonia Sotomayor is confirmed to the U.S. Supreme Court, her presence will give young minority women an example to emulate. But she doubts that her confirmation will make much difference at law firms.
Frazier said clients have the power to effect change by asking to see a firm's demographics, particularly at the partnership levels. If they don't like what they see, they should take their business elsewhere.
The American Bar Association is working on the last phase of its study, and is surveying women of color in the Department of Justice to determine whether they face the same challenges as their counterparts in law firms. The results are expected to be out in about a year.