MnSCU chancellor gets $32K bonus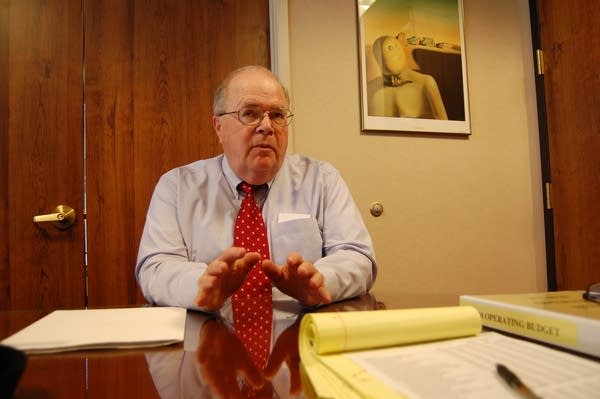 The trustees of the Minnesota State Colleges and Universities System today gave MnSCU's leader a bonus of more than $30,000, even as they approved a new budget that raises tuition and eliminates more than 500 positions.
The trustees praised MnSCU Chancellor James McCormick for his leadership during tough economic times.
The board kept McCormick's base salary at $360,000, but it approved a one-time bonus of $32,500 based on his performance as chancellor in 2008-2009.
Nearly all MnSCU employees have had their salaries frozen this year.
Trustee Ruth Grendahl, who chairs the board's human resources committee, said McCormick could have received as much as $50,000 in incentives.
But in a report, she said the board was "mindful of the economic realities" facing the system and its employees, and kept the bonus at $32,500.
MPR News is Reader Funded
Before you keep reading, take a moment to donate to MPR News. Your financial support ensures that factual and trusted news and context remain accessible to all.
The board also approved a $1.8 billion budget for the 2009-2010 academic year that will raise student tuition by about 3 percent effective this fall.
The board approved the budget with little discussion Wednesday, but discussed it at several recent meetings including an informal workshop Tuesday.
Board Chairman David Olson said the budget met the board's objectives.
"Our goal was to keep tuition as low as we possibly could, and we did a great job of meeting that goal," he said.
The average tuition this fall at MnSCU's 25 two-year colleges will be $4,200. Students at the system's seven four-year universities will pay about $5,800 a year.
Although state support of the system was cut by more than 7 percent between fiscal year 2009 and fiscal 2010, MnSCU is using federal stimulus funds to keep tuition increases down over the next two years.
The proposed budget also eliminates 550 positions through cuts and attrition by the end of fiscal year 2010.
The University of Minnesota recently passed its budget, which eliminates 1,200 positions over the next year.
The U of M, where yearly tuition costs about twice as much as at MnSCU schools, will also raise tuition about 3 percent in the fall.
Gallery
1 of 1