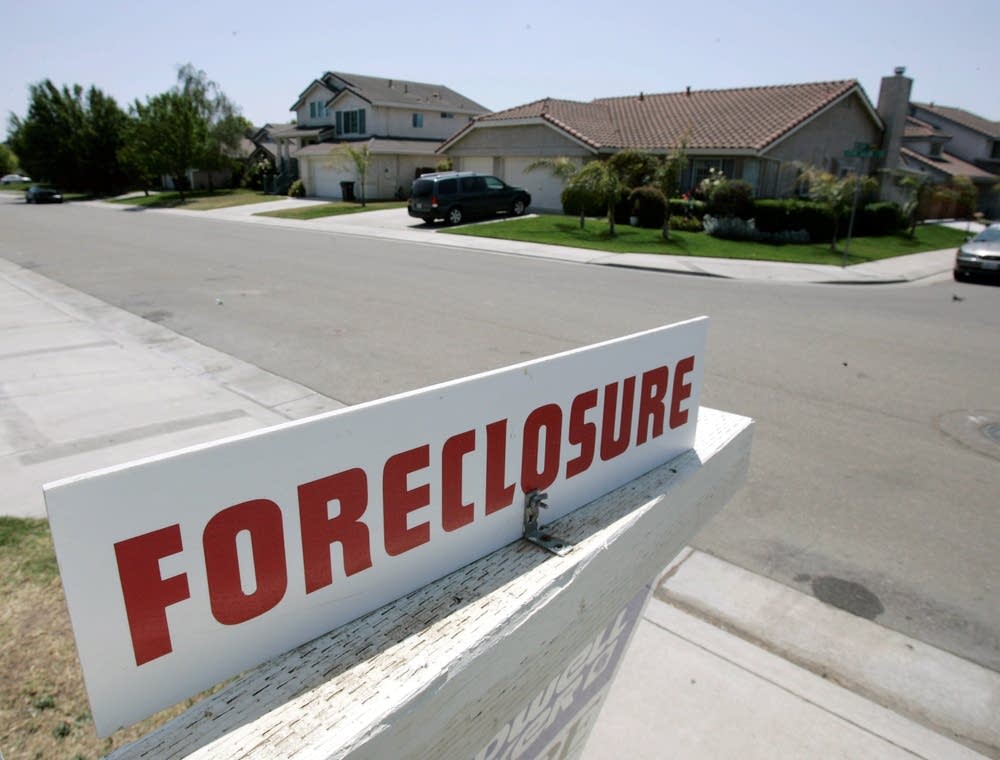 Top officials from the Obama administration and mortgage lenders met in Washington Tuesday to discuss ways to improve the federal foreclosure prevention program called Making Home Affordable.
But attorneys in Minnesota say it's already too late for the thousands of homeowners who have already lost their homes. They have filed a class action lawsuit asking a judge to halt foreclosures until everyone eligible for the program can be evaluated for help.
Attorneys say the moratorium is needed because the Home Affordable Modification Program has been wrongly rejecting applications from qualified homeowners without explanation or the right to appeal.
Attorney Mark Ireland is with the Foreclosure Relief Law Project in St. Paul, the group behind the lawsuit. He says stopping foreclosures will give lenders and servicers the time they need to fairly process applications.
"Not just because it's the right thing to do to have transparency and accountablity, but because it's required by the due process clause of the Constitution. And that is what this case is about," said Ireland.
The lawsuit names the U.S. Treasury Department, the Federal Housing Finance Agency, Fannie Mae, and Freddie Mac as defendants in the case.
Together with the 34 loan servicers in the program, the agencies control about 85 percent of all home loans in the country. They also control a majority of mortgages in Minnesota.
The Obama administration launched the $75 billion Home Affordable Modification Program this spring and has been promoting it with a massive publicity campaign. The president said it would help as many as four million homeowners.
The program is intended for people having trouble paying their mortgage, either because their monthly payments have gone up or their income has gone down because of high medical bills or a lost job.
People like Nichole Williams.
The Brooklyn Park homeowner prides herself on a long history of paying her mortgage on time. But after losing her job as a legal secretary, she quickly fell behind. Right away, she called her loan servicer to request a modification.
"I thought that since I was noteworthy and made my payments on time, I thought that they would deal with me fairly. But that just wasn't the case," said Williams.
She's working again and has been paying her loan. But her mortgage has an adjustable interest rate, and she worries she won't be able to afford it once her payments start going up again.
Her servicer promised to evaluate her application for the Home Affordable program. But instead, she says, she's gotten nothing but the runaround.
"I've been evaluated for the past year and promised this program, but never received it," said Williams.
Similar allegations have been repeated in hearings before Congress. Williams is now a plaintiff in the lawsuit.
Treasury officials have pledged more transparency in how applications are handled. They say, with more than 200,000 trial loan modifications under way, the program is on track to meet its goals of reaching 500,000 trial modifications by November.
Paul Leonard represents the country's major lenders and servicers in talks with the Treasury on foreclosure issues. He says servicers are having trouble processing applications because of the sheer volume of struggling homeowners.
"You have a much larger group of borrowers now who have trouble paying their mortgage that you have to work through with them," said Leonard. So you basically have to set up new systems, add more people, train those people. Because it's much more like an underwriting shop than it is a servicing shop."
The lawsuit filed today is modeled after the farm foreclosure lawsuits of the early 1980s, which prompted safeguards for farmers' due process rights.
Attorney Mark Ireland hopes today's lawsuit will have a similar effect.
"My hope is that by bringing the lawsuit, pressing the pause button here in Minnesota, that the government will press the pause button everywhere, and issue regulations and create safeguards to prevent people from falling through the cracks," said Ireland.
Administration officials today announced plans to improve the program by tracking application response times. They also plan to publicly report servicer performance starting next month.