Four Minnesota teenagers have suffered cardiac arrests this year -- and survived. Three of the teenagers were stricken within just a few weeks of each other.
Kyle Bednar, who lives in the central Minnesota town of Pierz, is one of those teenagers. He recently celebrated his 18th birthday, and his high school graduation, at a party with dozens of friends and family.
Bednar's family is especially glad to celebrate these two milestones, since just a few months ago, Kyle gave them a scare.
While he was attending a graduation night event at his high school in late May, Kyle went into cardiac arrest.
"We were playing games, and I decided I was going to ride a mechanical bull," recalled Kyle. "I was on it, and I passed out. The next thing I remember is waking up at the hospital."
Kyle's mother, Lisa Bednar, was a chaperone at grad night.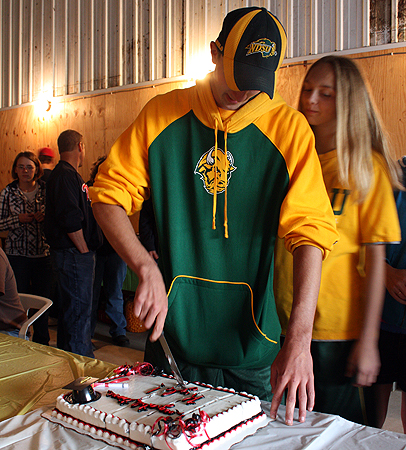 "I was the first one on scene. We called for 911, and then there was a group of four of us that started CPR on Kyle, got the defibrillator and shocked him. We continued CPR until the ambulance actually showed up," Lisa Bednar recalled.
What Kyle experienced was not a heart attack, although experts say people often confuse the two.
"When a person has a cardiac arrest, this is when a person is out completely, the heart stops beating and they are not conscious at all," explained Susie Osaki Holm, manager of a sudden cardiac arrest survival initiative in central Minnesota called Take Heart St. Cloud.
Osaki Holm says in such cases, the heart stops beating because an abnormality in the heart rhythm causes the heart to beat too fast, too slow, or in an irregular fashion.
In Kyle's case, he experienced a heart rhythm called ventricular fibrillation. According to the Mayo Clinic, that's when rapid, erratic electrical impulses cause heart ventricles to quiver uselessly, instead of pumping blood to the body and the brain.
Osaki Holm says during a heart attack, one or more of the arteries delivering blood to the heart are clogged or blocked.
"A heart attack is when the muscle dies and the person is actually still breathing. They're still conscious," she said.
Osaki Holm says one analogy often used to describe the difference between the two is that a cardiac arrest is an electrical problem, while a heart attack is a plumbing problem.
Kyle Bednar was an active athlete in high school. He participated in several sports, including basketball and track. Two other athletes survived cardiac arrest in the past few weeks, but unlike Kyle, both of them collapsed while playing sports.
In June, Michael Ward, 17, of Pequot Lakes was playing basketball at his school gym when he collapsed. And Ted Okerstrom, 16, of Wayzata, also collapsed from a cardiac arrest during football practice that same month.
A fourth teenager, Samantha Kankelfitz, 18, of St. Cloud, suffered cardiac arrest in February and also survived.
Lisa Bednar says CPR alone wouldn't have saved her son's life. But the combination of CPR with the defibrillator, and the cooling therapy Kyle received at the hospital to prevent brain damage, increased his chances of survival.
Now she and the mothers of other survivors are trying to raise awareness in their communities about the need to learn CPR and use defibrillators properly. With every minute that passes without CPR, a patient's chance to survive drops 10 percent.
The mother of one of the survivors expressed concern that some coaches at schools may not know how to deliver CPR, and that defibrillators may not be easily accessible.
Charlie Kyte, executive director of the Minnesota Association of School Administrators, said most school districts in the state have defibrillators and have trained staff to use them.
"Maybe schools need to do a better job to be sure that the defibrillators are placed someplace where a person in an emergency can get a hold of it," said Kyte. "I suspect some schools, because they don't want to have the defibrillator mounted on the hall where some student might cause some mischief, they sometimes put them behind closed doors, be it the nurse's office or a coach's office."
Kyte says schools train staff each year on how to use defibrillators, along with other training that includes CPR. He said a second concern is that when schools hire staff such as assistant coaches, it's possible those people may miss out on the training.
Dr. Keith Lurie is the doctor for two of these four young survivors, including Kyle Bednar. Lurie says 1,000 Americans experience cardiac arrest each day, and he estimates about 5 percent of them are under the age of 25.
"What is uncommon is to have three 17-year-old athletes in the state of Minnesota all have cardiac arrest within a one-month period of time," said Lurie. "What's wonderful is that all three of them survived."
Lurie says cardiac arrest can be inherited, and in at least two of these four cases, doctors don't know the cause. There might have been some problems with their heart from birth that weren't recognized, but may have led their hearts to be electrically unstable.
"But we know that they went into a rhythm called ventricular defibrillation. And when you have that rhythm, it can be treated by delivering greater circulation to the heart during CPR and then shock therapy," said Lurie.
While drug overdose can cause cardiac arrests, that was not the case for any of these teens.
Lurie says the field of heart resuscitation has been undergoing a revolution. There's a better understanding of what needs to be done to resuscitate patients.
First, patients need greater circulation through quality CPR. New tools and technology that many first responders and emergency rescuers use now give patients greater circulation and chest compressions during CPR.
Then patients are taken to cardiac arrest centers in Minnesota where they receive cooling therapy, which allows the brain to recover and heal without any damage.
Lurie said this treatment package, along with new technology and tools, is part of the Take Heart St. Cloud program. This program was also piloted in Anoka County, as well as in Columbus, Ohio and Austin, Texas.
Minnesota will be the first state to take the program statewide sometime this fall, in collaboration with the state Health Department, the Minnesota Ambulance Association, the Minnesota Hospital Association, leading emergency medical service (EMS) providers and hospitals.
Since the program's inception in 2005, the survival rate of cardiac arrest has gone up from 9 percent to nearly 20 percent.
The program is trying to raise awareness about quality CPR among the general public, first responders, and EMS rescuers. It's also strategically placing automatic external defibrillators (AEDs) in residential communities and public places, and teaching people how to use them properly.
All four teenagers now have implanted defibrillators. A recent stress test that Kyle Bednar took showed he's in healthy shape. Even though he experienced a close call, he says nothing's really changed for him.
"It doesn't even really feel like it ever happened. It's kind of like life back to normal," he said.
Kyle says he's just a little more careful when he's physically active. In the fall, he'll be a freshman at North Dakota State University, majoring in mechanical engineering.