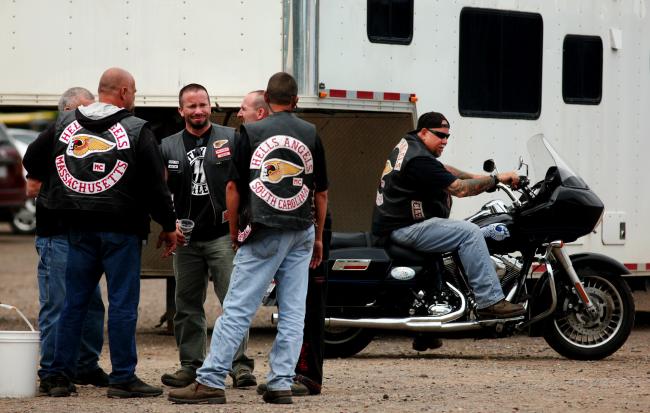 Life has been as close to normal as it can be around the town of Carlton today Friday, that is, given the presence of about 500 members of the Hells Angels and an untold number of law enforcement officials.
The bikers are gathered in Minnesota before their annual ride to the rally in Sturgis, South Dakota.
Minor problems have kept police officers from a number of jurisdictions busy with traffic stops. State patrol and city and county law officers made 280 stops Thursday through about noon on Friday.
One biker, Jeffrey Paul Amato of New York, is in jail, charged with stealing a motorcycle in New Jersey, and possession of a controlled substance. Most of the 80 citations issued, were made to non-bikers.
Traffic is heavy on I-35, with campers and SUVs heading to cabins and resorts for the weekend.
The Hells Angels set up headquarters at the Lost Isle bar, near the tiny town of Carlton, 30 miles south of Duluth.
A lot of them are staying across the freeway at the Black Bear Casino. Scores of gleaming bikes were parked near the entrance, and men in leathers stood around chatting and admiring each others' gear.
The casino was busy with regular customers too. One family staying at the hotel is in town for a wedding.
Jody Alewine and her young sons have just moved to Duluth.
"We're just looking at the bikes," Alewine said. "I'm interested in them. They're cool."
And in the casino dining room, a half-dozen ladies were gathered for an informal high school reunion. They graduated back in the 1940s. Joyce Benson said a bunch of men with motorcycles wouldn't be enough to make them change their plans
"They were all smiling at us as we got out of the car, we had a valet parking us, and they all were looking at us and grinning and waving at us, very friendly when we walked in the door," Benson said. "I think they were enjoying our group, as we were enjoying them."
Members of the Hells Angels politely declined to be interviewed, but several said they were enjoying the scenery and the hospitality of the area. One groused casually about how much it must be costing to pay for all the police, sheriff's deputies and state troopers prowling the roads.
At a news conference, Carlton County Sheriff Kelly Lake said she expects to get federal recovery money to help pay the expenses.
"And then each agency is also contributing and sharing in the cost of this effort, so it's not solely resting on the shoulders of Carlton County," Lake said.
Police and deputies are here from surrounding counties, and from as far away as Ramsey and Olmsted counties.
St. Louis County Sheriff Ross Litman said they're there not just to protect the public, but to protect the members of the Hells Angels as well. He mentioned a rival bike gang in Wisconsin, the Outlaws.
"We're monitoring all of their movements; I don't think that's any big secret," Litman said. "We're aware of which gang or group some of these people belong to, and if necessary we'll follow them to make sure that nothing happens when they do get together."
And if things remain as calm as they have, Carlton County Sheriff Kelly Lake said it's still been a learning experience.
"We have shown through this that we're able to work together and pool all of our resources to come together for an event like this, so it's been worth it for that," she said.
The Hells Angels are expected to ride west into the sunset Sunday, toward Sturgis South Dakota.