Williams vows to stay in her home despite eviction order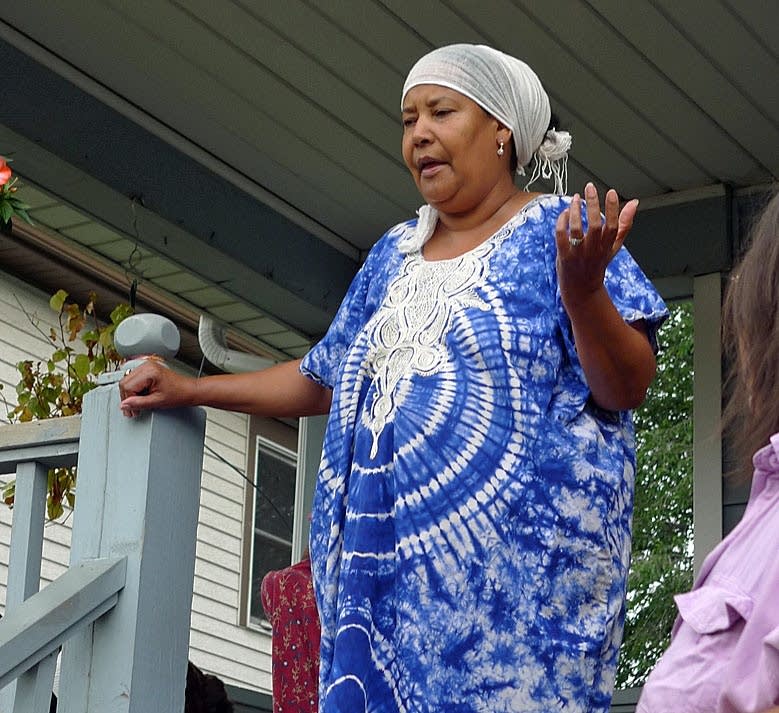 A Minneapolis woman who has refused to leave her foreclosed house spoke publicly today from her front porch, vowing to remain in the house despite being ordered to leave yesterday by Hennepin County Sheriff's deputies.
"We can't give up, that's the bottom line,"  Rosemary Williams told a crowd of supporters, many of whom slept in the house last night. "My mother lived through segregation, and she told me to never give up."
Williams, 60, has been fighting eviction for months, and last week a deal that would have allowed her to stay in her south Minneapolis home fell through.
Sheriff's deputies arrived at the property yesterday, and ordered Williams to leave. Private locksmiths hired by GMAC Mortgage then locked the doors to the house and left the scene.
Shortly afterward, a group of supporters broke into the house and reopened the doors. About 20 people slept at the home overnight, and have vowed to remain and engage in civil disobedience if law enforcement officials arrive to remove Williams from the premises.
"We won't be leaving today or the next day," said Mick Kelly, a supporter of Williams. "We will leave when justice is done and not a second before."
Williams and her supporters said they want GMAC Mortgage to restart negotiations to modify her mortgage.
The sheriff's department has said that any enforcement action would need to be taken by the Minneapolis Police Department. Supporters said police officers stopped by briefly last night to ask Williams to move her van, but then left without asking anyone to leave the property.
Minneapolis police spokesman Sgt. William Palmer did not indicate when his department would take action.
"If the police department is dispatched to a trespassing issue, we will address it," Palmer said yesterday. He declined further comment.
Williams' house is owned by Aurora, a mortgage servicing division of Lehman Brothers, according to GMAC Mortgage spokeswoman Jeannine Bruin. Bruin confirmed that the investor asked GMAC to follow through with the eviction proceedings. GMAC Mortgage has been servicing the mortgage on behalf of Aurora. 
"We would say that anyone who is in the home at this point is in violation of no trespassing orders," Bruin said yesterday. "It's unfortunate we weren't able to reach an agreement that would have allowed Williams to remain in her home. It was the investor's decision to proceed with the eviction."
Williams has lived on the same block for 55 years. She and her mother purchased her current home 26 years ago. When her mother died six years ago, Williams refinanced twice into an adjustable rate mortgage.
When the monthly payments shot up from $1,200 to $2,200, she could not afford to pay, Williams said. Her home was sold at a sheriff's auction in September 2008, and she received notice that she needed to vacate the property by March 30.
Since then, Williams and her supporters have led protests, packed courtrooms, and encouraged other foreclosed homeowners to remain in their homes.  One of those foreclosed homeowners, Linda Norenberg, came to Williams'' house today to offer her support.
Norenberg, 60, said she also plans to fight eviction from her Robbinsdale home. She said her father built the home in 1944. She had to refinance the mortgage several times over the years due to job loss and low wages.  
Norenberg, who makes $9.45 an hour working as cashier, said she cannot afford her mortgage and wants to renegotiate with her lender.
Her house was sold at a sheriff's sale in January. Norenberg was supposed to leave July 30, but has remained in the home, despite the risk of arrest. She said she cannot imagine leaving the house her father built. 
"It brings me close to him," she said. "I get out in the yard after work and I think about my dad and my sister who passed away. It gives me peace."
Gallery
1 of 1