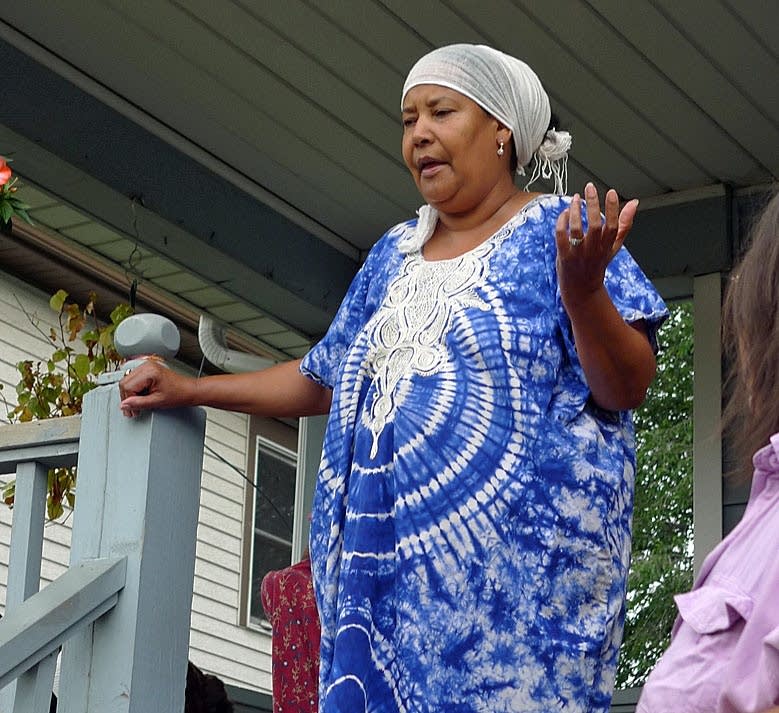 Rosemary Williams, a Minneapolis woman who has publicly refused to leave her foreclosed home, said she turned down an offer yesterday that would have allowed her to remain in the home as renter.
"The fact that they think they can rent their property back to me is absurd," Williams told about a dozen supporters today, speaking from the home's front porch.
Williams has been fighting eviction for months, after she was unable to make payments on her adjustable rate mortgage.
Hennepin County Sheriff's deputies evicted Williams on August 7, but supporters broke back into the south Minneapolis house, vowing to remain until GMAC Mortgage agrees to negotiate a new mortgage.
Williams, 60, said GMAC representatives made the rental offer during a conference call yesterday with Williams and her attorney. GMAC offered a 12-month rental agreement with no option for renewal, she said.
Williams said today that she wants GMAC to negotiate a new mortgage with financing, and that she would not accept any leasing arrangement, even if it included an option to eventually buy the property back. She declined to comment further.
GMAC Mortgage did not immediately return calls for comment. The mortgage company is identified as the owner of the property on the Hennepin County property identification Web site.
But GMAC said on August 7 that the company is the sub-servicer of the mortgage, and is working on behalf of Aurora Loan Services, the property's investor. Aurora is a mortgaging service division of Lehman Brothers.
A spokesperson for Aurora declined to explain the company's relationship to the property, or to comment on the negotiations.
Flo Razowsky, a Williams supporter who listened to yesterday's conference call on speakerphone, said GMAC officials said they would ask Aurora whether it would be interested in arranging a deal for Williams to buy the property.
Jordan Kushner, Williams' attorney, declined to comment on the conference call, other than to say that no deal was reached.
"There are no plans for more negotiations at this time," he said.
Linden Gawboy, a supporter of Williams, likened the rental offer to "sharecropping," and said activists will remain in the house.
The Minneapolis Police Department has not made any arrests.
"We have limited resources and at this time, frankly, we don't feel that it's a good use of our resources," Sgt. William Palmer, a Minneapolis police spokesman, said at the time of the eviction.
Sgt. Jesse Garcia, another Minneapolis police spokesman, said today that GMAC has not contacted the department since yesterday's negotiations. He confirmed that the police department has no immediate plans to arrest occupants of the house.
Last week, Williams turned down an offer from GMAC to give her $5,000 in exchange for leaving the property. A deal that would have allowed her to stay in the home fell through several weeks ago.
That deal involved a non-profit purchasing the home, selling it to another non-profit, and then leasing the property to Williams, who said she hoped to be able to purchase the property back.
Williams has lived on the same block for 55 years. Williams said she and her mother moved into her current home 20 years ago. In August 2005, following her mother's death, Williams obtained a $174,300 30-year adjustable rate mortgage on the property from BNC Mortgage, Inc. according to court documents.
When the monthly payments shot up from $1,200 to $2,200, she could not afford to pay, Williams said.
GMAC became the mortgage servicer in December 2007. GMAC spokeswoman Jeannine Bruin has said that the mortgage company offered to remodify the loan immediately after becoming the servicer, but that "Ms. Williams could not meet the ARM payments, nor could she make the lower payments under the modification."
Williams' home was sold at a sheriff's auction in September 2008, and she received notice that she needed to vacate the property by March 30.
Since then, Williams and her supporters have led protests, packed courtrooms, and encouraged other foreclosed homeowners to remain in their homes.
Williams and supporters plan to visit Minneapolis Mayor R.T. Rybak's office tomorrow to ask for assistance locating another non-profit that could purchase the home and sell it to Williams.
"We need somebody else to intervene on her behalf," said supporter Cheri Honkala. "And we think, 'Why not the mayor?'"
Jeremy Hanson, the mayor's spokesman, said Williams has met with the mayor twice at open house meetings, and that staff members have referred her to community resources.
Supporters say they expect a protracted fight involving Aurora, GMAC, and various city officials. "It's going to be a long hurry-up-and-wait process," Honkala said.