Northstar Commuter Rail line opening Nov. 16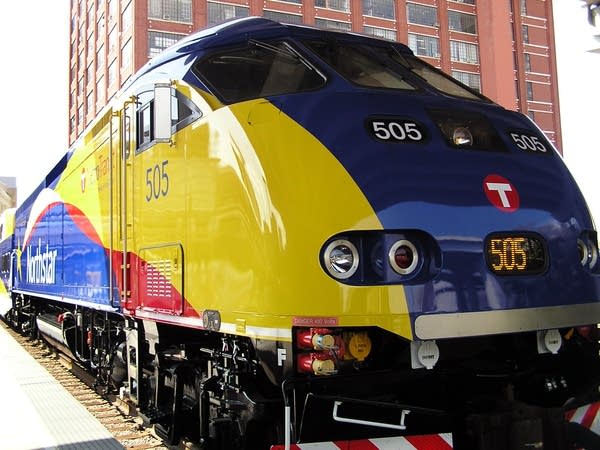 After 13 years of planning, officials announced today Northstar commuter rail service begins Monday, November 16.
Northstar will carry rail passengers from Big Lake northwest of the Twin Cities along the fast growing Highway 10 and Interstate 94 corridor to downtown Minneapolis. Other transit options coming this year and in the next few years mark a dramatic turnaround for what has been a transit-starved region.
A brand new blue, yellow and white Northstar locomotive attached to four passengers cars idled as officials gathered next to the new Twins stadium in downtown Minneapolis to announce the start date.
Beginning Monday, November 16, if you live near Big Lake, Elk River, Anoka, Coon Rapids, and Fridley and want to avoid the traffic snarls on Highway 10 and I-94 on your commute to downtown Minneapolis, you can ride Northstar.
The train will travel up to 79 mph and fares range from $3.25, from Fridley, to $7 from Big Lake. The fares from riders will cover about one-fourth of the cost of operating Northstar.
Metro Transit will operate the trains on the 40-mile route.
Spokesman Bob Gibbons said the schedule will be set soon.
"We're bringing trains into downtown to hit the key work starts in the morning," Gibbons said. "So starting at 6:30, 7, 7:30, 8 and 8:45, and similarly going home in the afternoon at about half-hour intervals starting at about 3:15."
Gibbons said there'll be a reverse commute train in the morning and one in the afternoon for a total of 12 train trips each weekday. Three trains will run on each weekend day and the fares will be lower, Gibbons said.
The Northstar station in downtown Minneapolis, at the foot of the new Twins stadium, will connect with light rail. The Twins have donated $2.7 million to build what they call a vertical circulator. Passengers can go in a door next to the new ball park, up the escalator and get on the Hiawatha light rail train on a platform just above Northstar.
Metropolitan Council chairman Peter Bell said at today's announcement the Twin Cities transit system will look quite different in a few years.
"By 2014, we'll have completed six transit ways totaling one 115 miles in length," Bell said.
That will likely include the Central Corridor light rail line, which will also pull up next to the Twins ball park on its route from downtown St. Paul.
Later next decade, there could also be a Southwest Corridor light rail from Eden Prairie and a line from the northwest suburbs pulling into downtown Minneapolis. Hennepin County commissioner Peter McLaughlin predicts the passengers from those lines will be using a still to be built intermodal station at the foot of the Twins ballpark.
"It won't be a 19th train depot, it will be a 21st century hub, a district where all these lines will come together and people will be able to move around the region and around the state," McLaughlin said.
The total cost of the Northstar project is $317 million.
That price tag includes the 18 brand new Northstar commuter rail cars built by the Canada-based company Bombardier, which each cost $2.5 million.
The one-time cost of leasing the track owned by Burlington Northern Sante Fe to operate the trains exceeds $100 million. Just over half the $317 million came from Federal taxpayers and Minnesota taxpayers chipped in $100 million. Hennepin, Anoka and Sherburne county taxpayers tossed in another $51 million and the rest, about $6 million, came from the Metropolitan Council.
It'll cost nearly $17 million a year to operate the 40-mile long Northstar commuter rail service with passenger fares expected to bring in $4 million. About $12 million will come from the Counties Transit Improvement Board or CTIB and motor vehicle sales tax revenue.
CTIB collects a quarter-penny sales tax from shoppers in Hennepin, Ramsey, Dakota, Washington and Anoka counties.
No one has worked longer to get Northstar on track than Anoka County commissioner Dan Erhardt, and no one has been more instrumental in getting money for the project than Minnesota congressman James Oberstar.
Erhardt said he talked with Oberstar's office this morning.
"And not only is he still our major supporter he asked when are we going to move along and bring this service directly to St. Cloud or beyond," Erhardt said.
That, Erhardt said, is a $150 million question.
It comes as cities and states around the country are clamoring for the same kind of federal transit help.
Gallery
3 of 3
1 of 3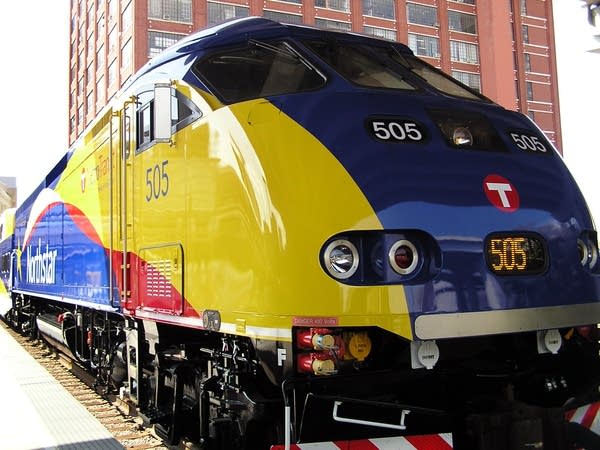 2 of 3
Your support matters.
You make MPR News possible. Individual donations are behind the clarity in coverage from our reporters across the state, stories that connect us, and conversations that provide perspectives. Help ensure MPR remains a resource that brings Minnesotans together.