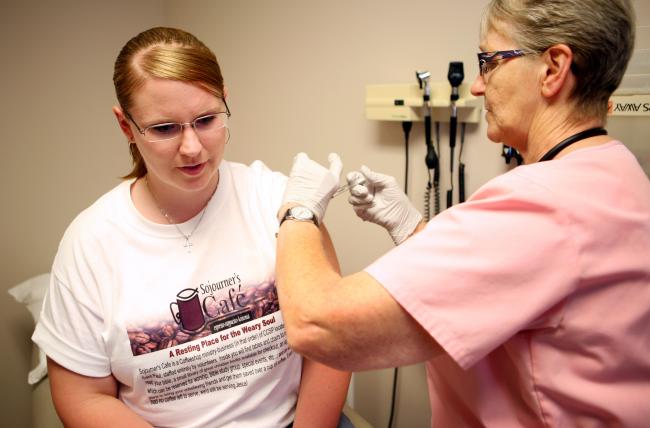 The start of the new school year is expected to cause a surge in the number of H1N1 influenza cases. Already there's evidence of outbreaks on some college campuses, where classes have been in session for a few weeks.
MPR News' health reporter Lorna Benson attended a recent media briefing on the new pandemic flu at the Centers for Disease Control and Prevention in Atlanta. She answers questions about some of the possible scenarios that could arise this flu season.
HOW DISRUPTIVE COULD THIS VIRUS BE IN K-12 SCHOOLS DURING THE NEXT FEW WEEKS?
It depends. Right now across most of the Midwest, including Minnesota, flu outbreaks are considered sporadic. CDC surveillance shows that the virus is infecting some people, but it's not considered widespread here yet. If that pattern continued, we probably wouldn't see a lot of major disruption.
But public health officials don't expect that pattern to hold, because the start of the school year really changes the disease scenario. Suddenly we have thousands and thousands of kids in close proximity for many hours a day, and that's a perfect environment for viruses to spread.
IT SOUNDS LIKE IT COULD BE QUITE DISRUPTIVE.
It could be. Schools could see a lot of absences in the next few weeks and months, among both students and staff. And in some cases they might have to get creative with their schedules.
If, for example, a bunch of instructors get sick at the same time and substitutes are hard to come by because they're being tapped by other schools, that could be a real challenge for some classrooms.
The same is true for extra-curricular activities. If half the football team comes down with flu-like symptoms, games might have to be postponed and figuring out how to make them up later could get complicated.
SHOULD SCHOOLS JUST CLOSE DOWN IN THOSE SITUATIONS?
Right now the CDC is really encouraging schools to try to continue their activities, unless absenteeism among staff gets so high that the school can't function properly. There are a lot of disadvantages to closing a school. Some kids rely on the meals they get at school, and certainly a lot of parents rely on the schools to care for their children while they're at work.
But there are some schools that might be more inclined to close for a few days or longer if the virus shows up in their population. For example, pregnant women are at a high risk for complications from this virus. They only account for 1 percent of the population, but they represent 6 percent of the severe illnesses and deaths associated with this flu. So schools are being encouraged to be especially cautious with these students.
The same is true for schools that serve medically fragile children -- those with underlying health conditions that might be at a greater risk of severe illness if they contract the virus.
MANY COLLEGES AROUND THE COUNTRY HAVE BEEN IN SESSION FOR THE PAST COUPLE WEEKS. WHAT'S THEIR EXPERIENCE BEEN SO FAR?
The American College Health Association has been monitoring the flu situation at 189 U.S. schools. As of last Friday, they reported there are at least 2,000 likely cases of H1N1 influenza among returning college students and staff at those schools.
But that figure does not include a huge suspected outbreak at Washington State University. An estimated 2,200 students at the Pellman campus have reported flu-like symptoms to their college health service staff. That campus has about 18,000 students. So that's a pretty significant percentage of their population that got sick within the first week or so of school.
IS THERE MUCH OF ANYTHING THAT SCHOOLS CAN DO TO PREVENT THE SPREAD OF THIS VIRUS?
Clearly it's a challenge. But public health officials keep saying that good hygiene practices do help. The American College Health Association, the group that's monitoring flu at colleges and universities, says schools that's about all there is to do right now until the H1N1 vaccine becomes available.
WHEN WILL WE SEE THE VACCINE?
In another month or so, the vaccine will probably be available for at least some of the more vulnerable members of the population. School-age kids and college students are included in that group because they are considered more susceptible to catching the virus.